Table of contents:
Introduction
AI has transformed sales processes and made life easier for sales reps. With AI-powered sales tools, you can automate lead scoring, predict the best prospects, personalize outreach, and gain valuable insights to improve your sales strategy.
In this blog, we'll explore some of the must-have AI sales tools to accelerate your sales cycle. Whether you need help with lead generation, prospecting, lead nurturing, or closing deals faster, these tools have you covered.
For example, a tool like Sanka uses AI to analyze your ideal customer profiles and target accounts so you can focus your efforts on the most promising leads. Read on to discover how AI can revolutionize your sales productivity and success.
What Are AI Sales Tools and How Do They Work?
What exactly are AI sales tools and how can they revolutionize your sales process?
AI sales tools are software applications that leverage artificial intelligence to enhance and streamline sales processes.
These tools harness the power of machine learning, predictive analytics, and other AI technologies to automate routine tasks, provide advanced customer insights, improve forecasting, and ultimately increase sales productivity.
Prospecting
AI tools can scour the web and social media to find ideal prospects that match your target customer profile.
For example, Sanka automatically finds relevant prospects based on attributes like company size, location, and technologies used.
It provides rich profiles including key contacts, recent funding rounds, and technologies used to help you prioritize the most promising leads.
Personalization
AI tools leverage data to provide personalized outreach for each prospect.
They can suggest the optimal communication channel for reaching out, customize email templates or LinkedIn connection requests, and provide talking points tailored to each prospect's interests and priorities.
Engagement
Once you start a conversation, AI tools track engagement and suggest the next steps to keep prospects moving through your sales funnel.
They monitor response times, open emails, and meeting invites to prompt you to follow up at the optimal time.
They can even suggest content to share that is most likely to resonate with each prospect based on their interests and behavior.
Forecasting
AI sales tools tap into a wealth of data to help predict the likelihood of closing each deal in your pipeline.
They consider factors like prospect engagement, budget, authority, and timeline to determine each opportunity's probability of closing.
This helps ensure more accurate revenue forecasting and makes it easy to see if you're on track to meet your sales quotas and targets.
Top 10 AI Sales Tools to Drive Results
When it comes to AI tools for sales, the options seem endless. How do you choose?
Focus on the ones that will truly accelerate your sales cycle and drive real results.
Here are the top 10 AI sales tools to consider: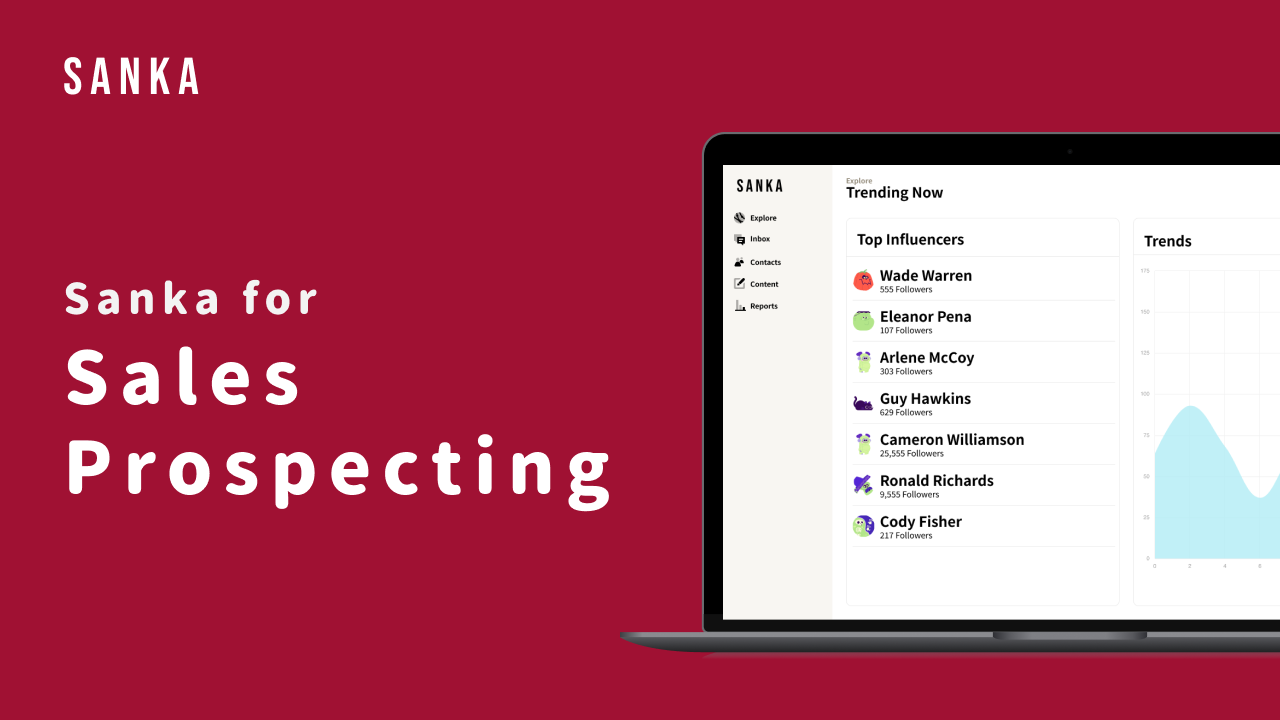 Sanka is an AI-powered sales prospecting and engagement tool designed to help you find and connect with high-quality leads faster. Some of its key features include:
Automated Lead Discovery
Sanka uses AI to scour the web and discover new potential leads that match your ideal customer profile. It evaluates millions of data points to determine lead quality and fit.
The leads it surfaces are more targeted and sales-ready, so you can focus your efforts on the most promising prospects.
Personalized Outreach
Once Sanka identifies a promising lead, it will automatically generate a personalized introductory email to start the conversation.
The emails are customized for each lead based on their online presence and interests.
You just need to review and approve the email, and Sanka will track opens, clicks, and replies to measure engagement.
Prioritized Lead Nurturing
As leads engage with your outreach, Sanka uses their behavior and responses to determine their level of interest and fit.
It will automatically place them into appropriate nurturing streams where they will receive tailored content and follow-up touchpoints to advance them through your sales funnel.
Sanka makes it easy to stay in front of your best leads and move them closer to a sale.
Real-Time Insights
With Sanka, you get a panoramic view of all your prospecting and lead engagement efforts.
Its intuitive dashboard provides insights into lead quality, content performance, email open and response rates, and more.
You can see at a glance which leads are hot, cold, or lukewarm and make data-driven decisions to improve your effectiveness.
Sanka's reporting also helps you prove ROI to key stakeholders.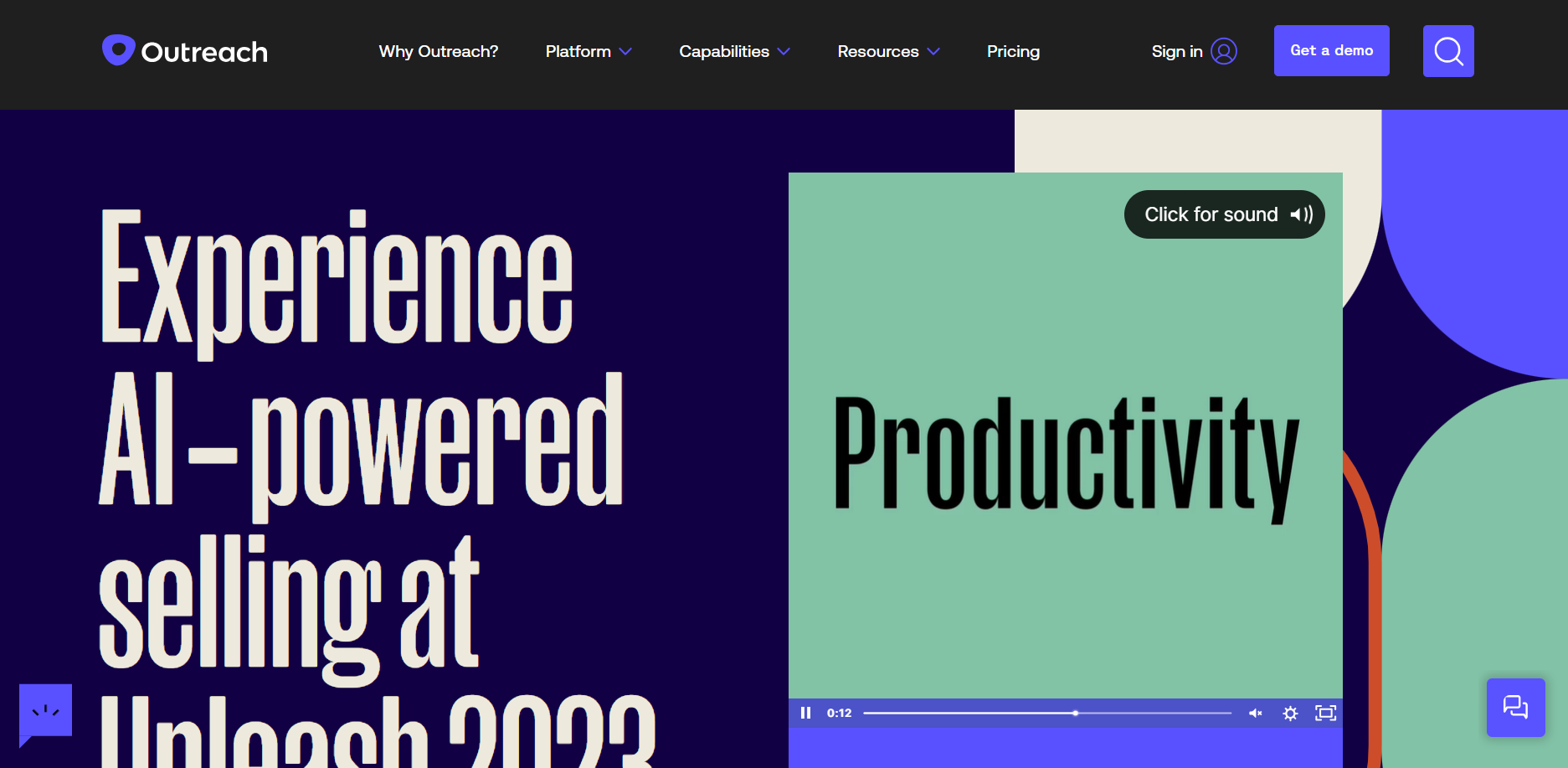 Outreach is a sales engagement platform powered by AI that automates sales workflows and enhances the productivity of sales teams.
The platform streamlines communication, maximizes outreach effectiveness, and delivers insightful sales analytics.
Key Features:
Sequences and automated multi-channel outreach
Templated messaging and AI-powered personalization
In-depth analytics and performance metrics
Conversation Intelligence with transcription and coaching
Integration with CRM and other platforms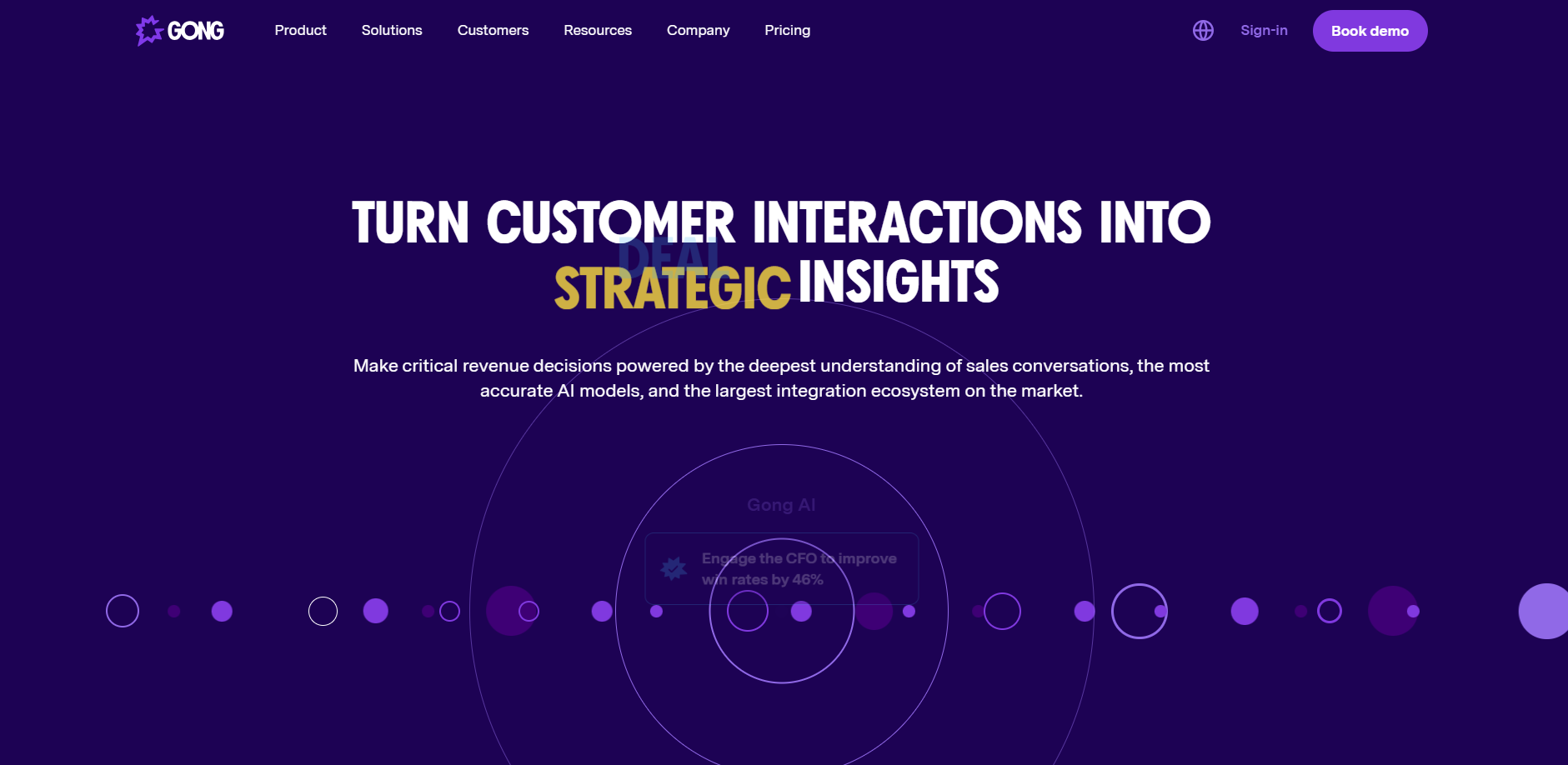 Gong is a conversation analytics platform that leverages AI to extract valuable insights from sales calls, demos, and meetings. The platform helps sales teams improve their communication skills, close deals faster, and maintain a strong alignment with other departments.
Key Features:
AI-driven conversation analytics
Automated note-taking and task tracking
Competitive intelligence and market insights
Deal, people, and market analytics
Integration with CRM and communication platforms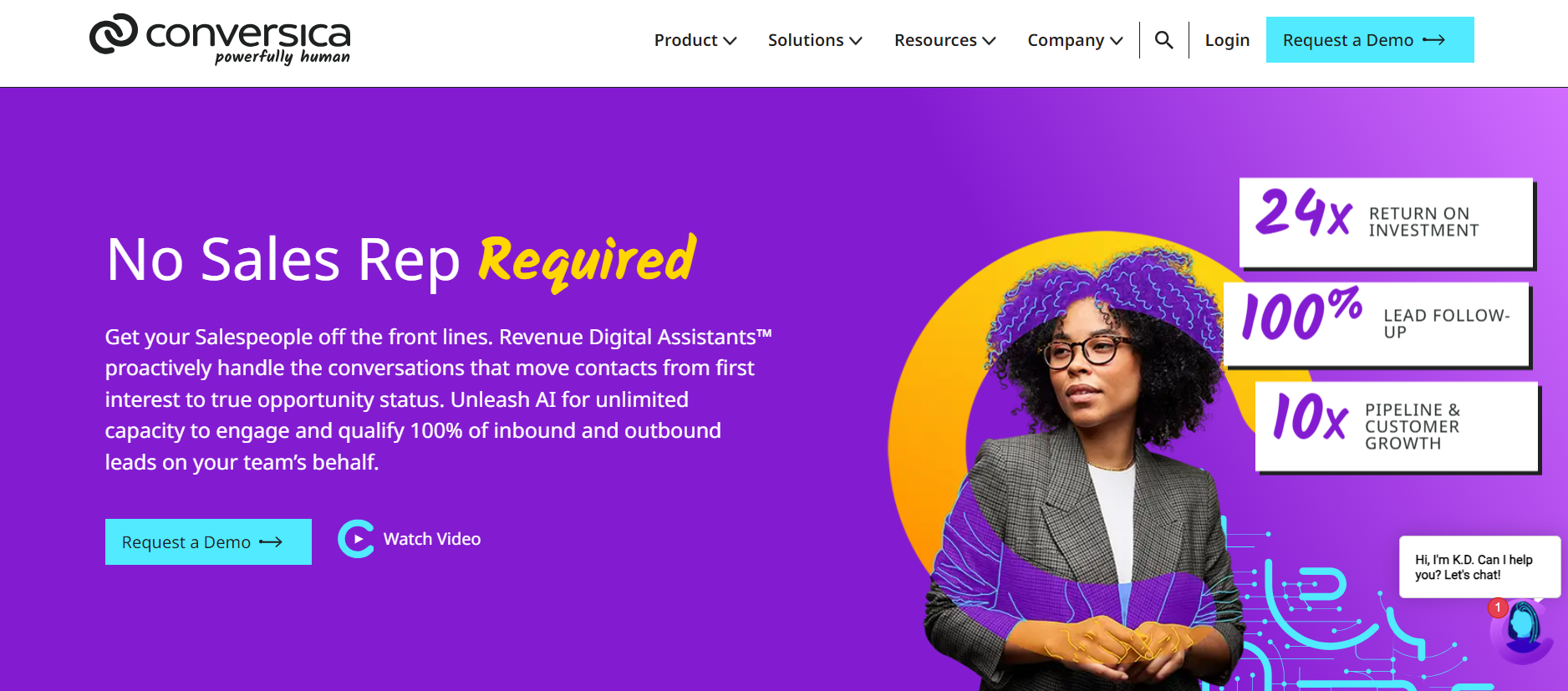 Conversica leverages AI to automatically contact, engage and qualify leads via natural email conversations.
Their software reaches out to leads, carries on personalized discussions to determine their level of interest and passes on the most qualified leads to your sales team.
The platform improves response rates and sales efficiency by allowing sales teams to focus on higher-value activities.
Key Features:
Nurture more leads at scale through AI-powered email conversations
Qualify leads based on their responses and level of engagement
Prioritize the most sales-ready leads for follow up
Free up your sales team to focus on closing deals rather than lead qualification
AI-driven virtual sales assistant
Customizable conversation flows
Real-time integration with CRM systems
Detailed lead engagement history and analytics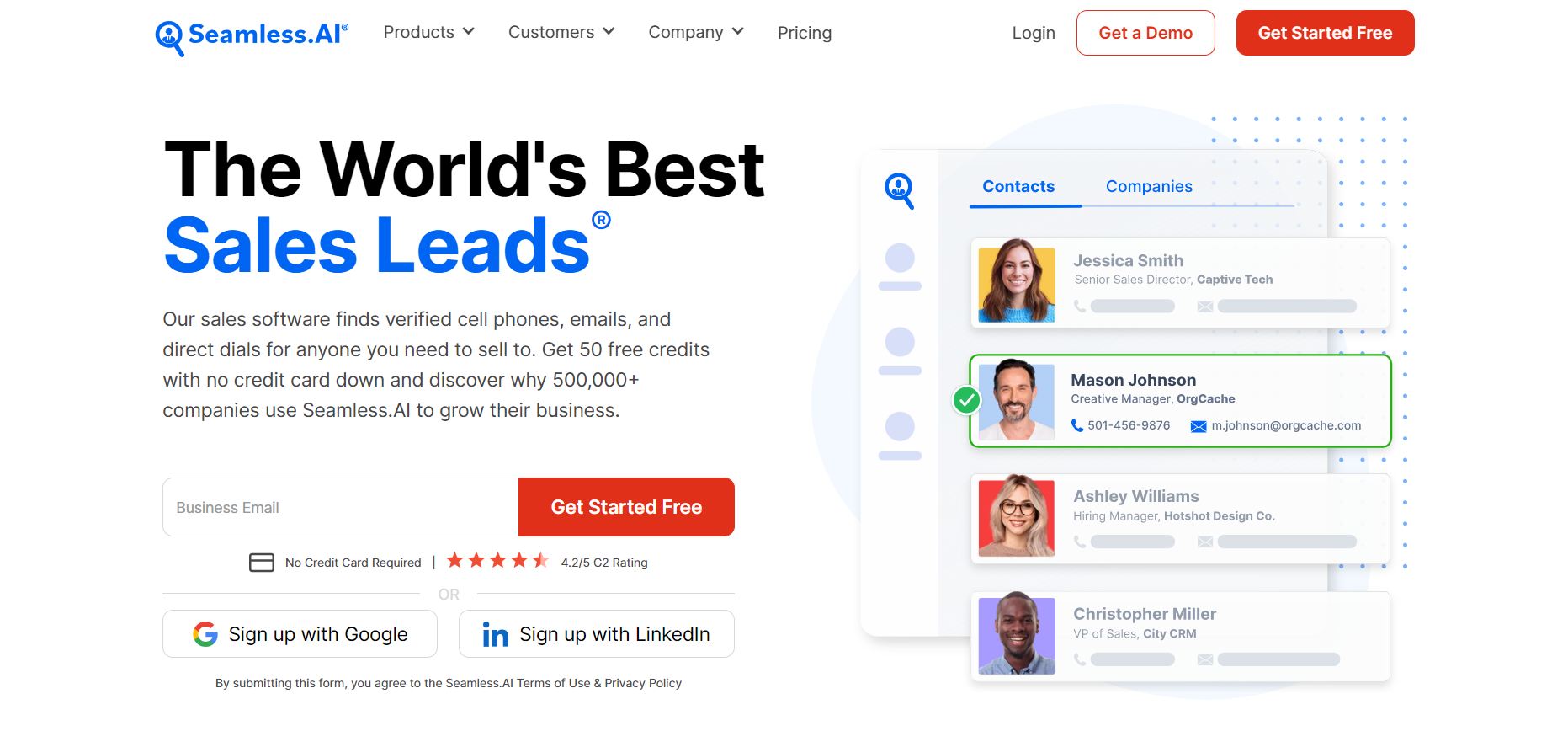 Seamless AI is a comprehensive sales prospecting platform that utilizes AI to provide accurate contact information for potential clients.
By automating lead sourcing and verification, this tool enhances sales reps' outreach efforts.
Key Features:
AI-driven lead search and enrichment.
Real-time contact information verification.
CRM integration for seamless management.
Direct LinkedIn integration for expanded reach.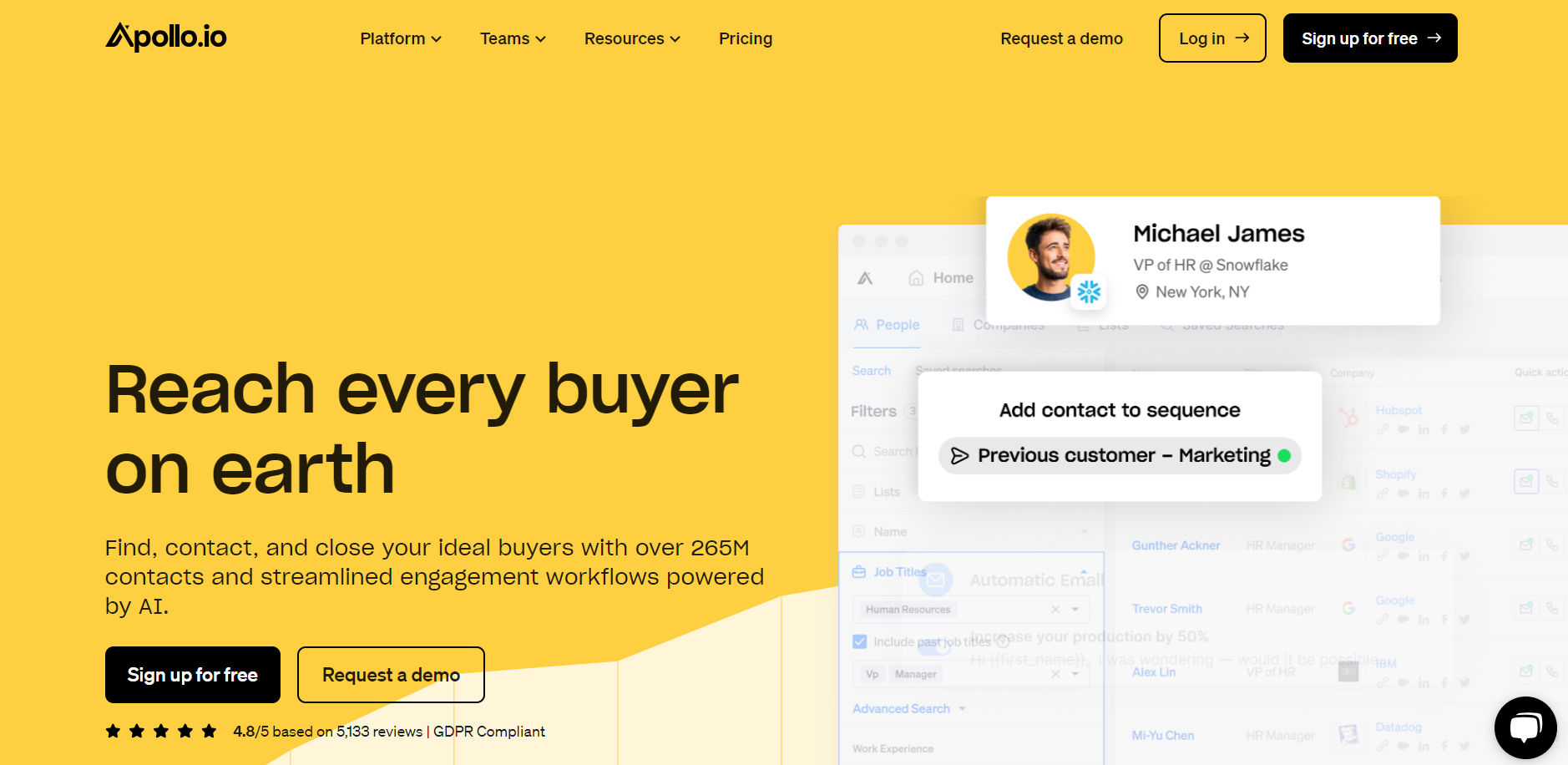 Apollo is an AI-powered sales and marketing platform with applications in sales prospecting.
It automates data enrichment and outreach, enabling sales teams to identify, engage, and convert leads efficiently.
Key Features:
Data enrichment for detailed prospect profiles.
Automated outreach campaigns.
Behavioral analytics for lead engagement insights.
Integration with popular CRM and sales tools.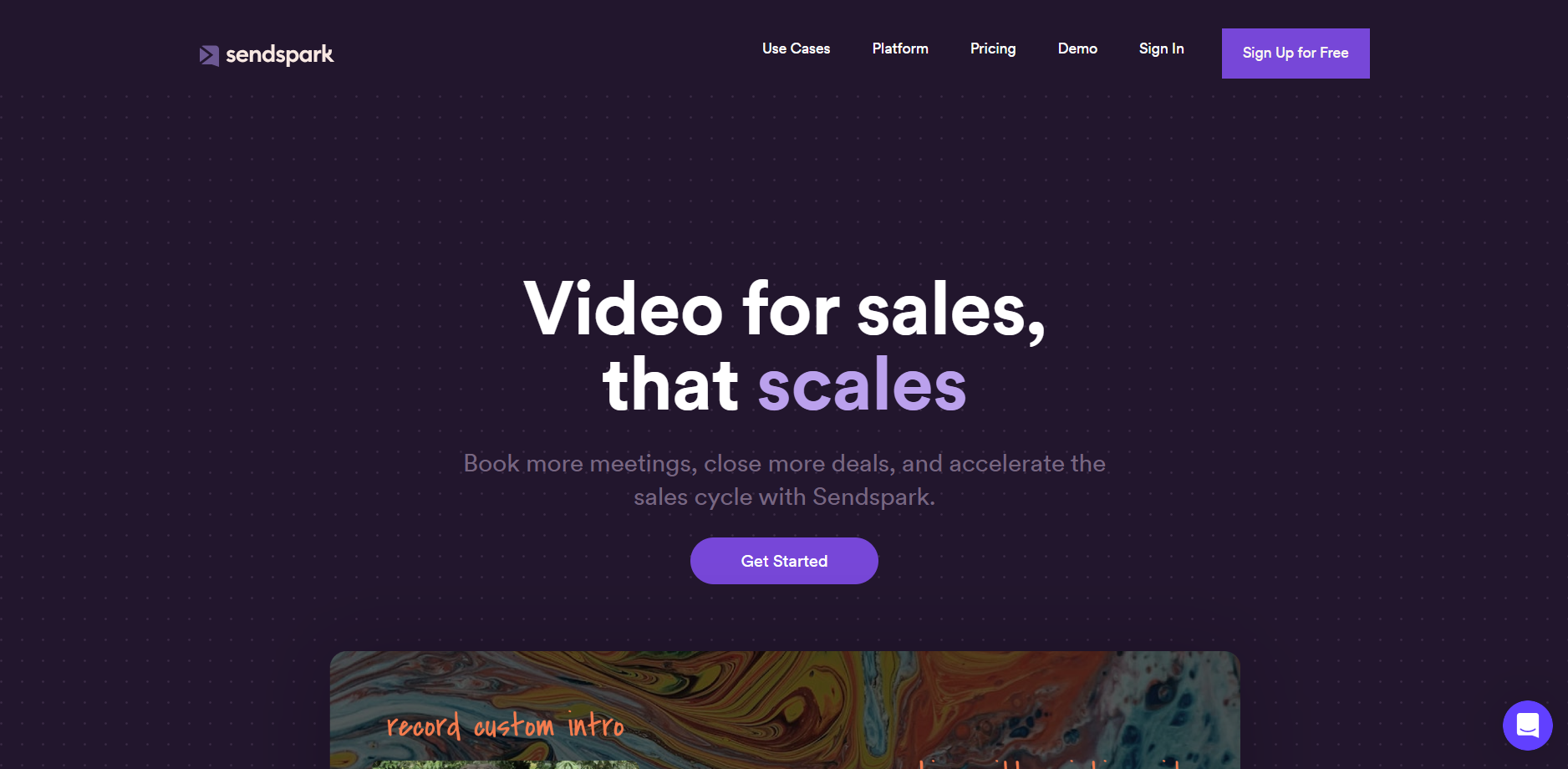 Sendspark combines AI with personalized video messaging to enhance sales communication.
Sales reps can create and send video messages that grab prospects' attention and communicate product value effectively.
Key Features:
Create and send personalized video messages.
Track video engagement and interactions.
Integration with email and CRM systems.
Analytics to optimize video content.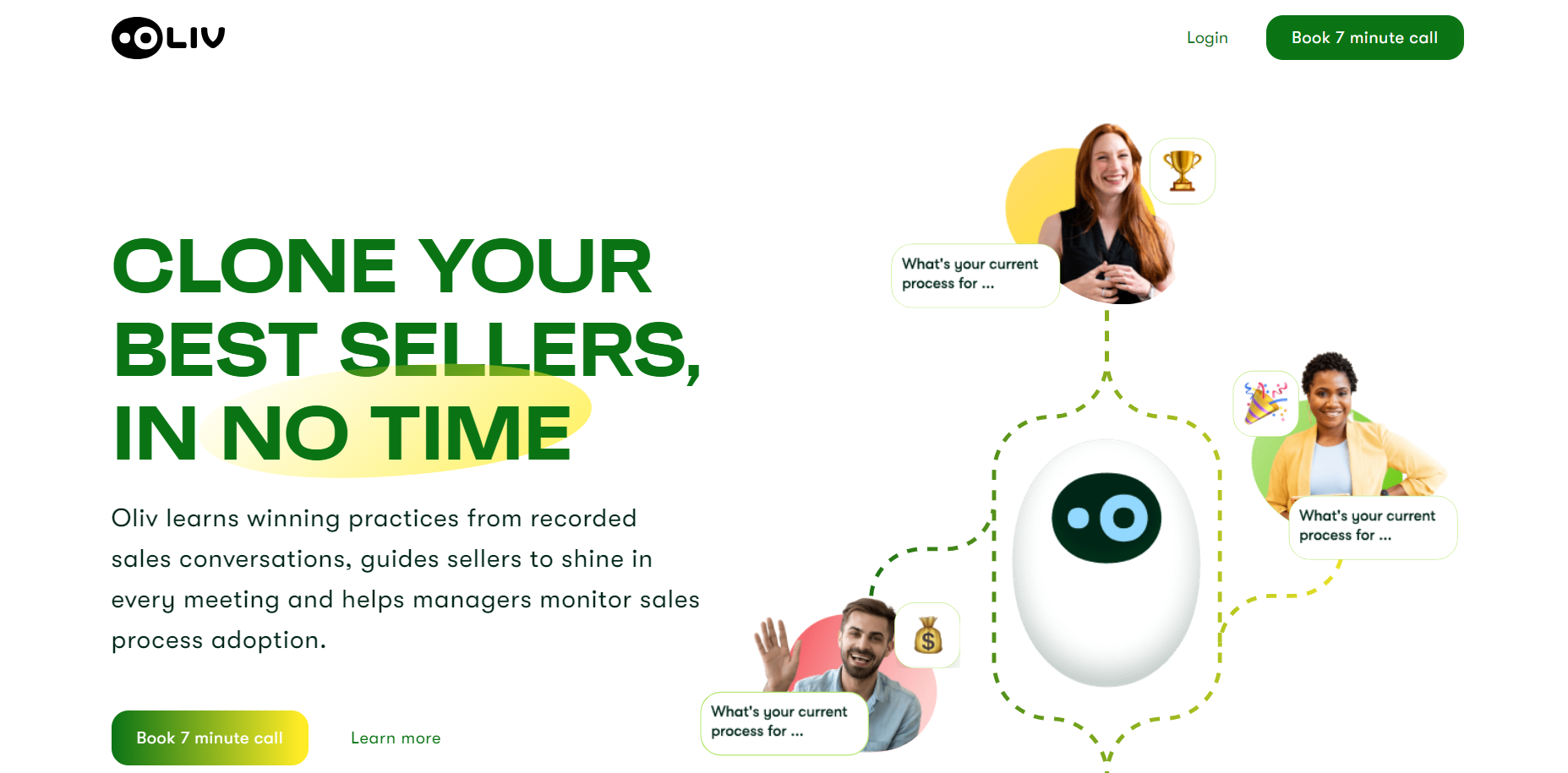 Description: Oliv AI is a conversational AI platform for sales engagement.
It automates lead interactions, answers queries, and guides leads through the sales process.
Key Features:
AI-driven chatbot for lead interactions.
Real-time response to lead inquiries.
Automated lead qualification and nurturing.
Integration with sales websites and tools.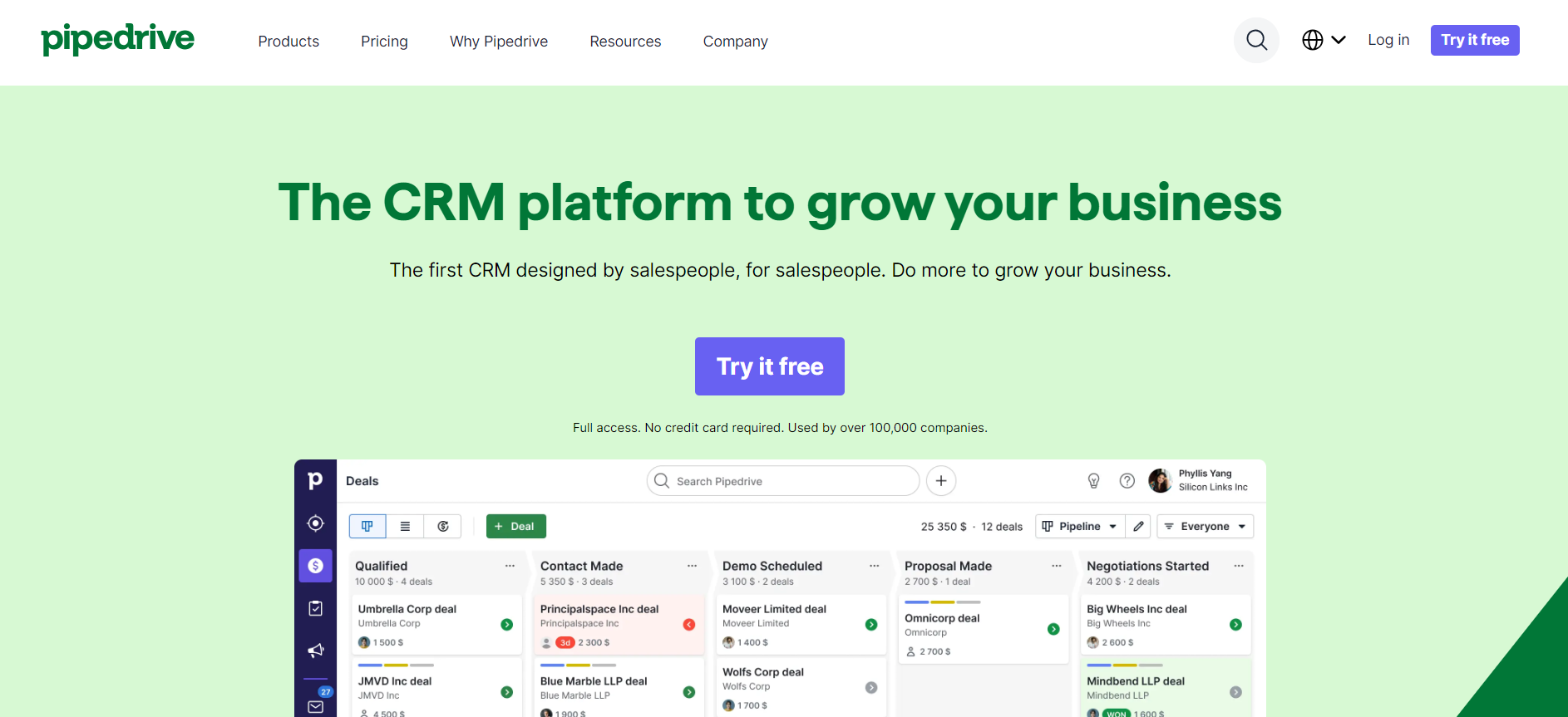 Although primarily a CRM, Pipedrive's adaptable features make it valuable for sales teams.
It offers customizable pipelines, email integration, and automation to streamline the sales process.
Key Features:
Customizable sales pipelines.
Integration with email and communication tools.
Automated task management for sales reps.
Reporting and analytics for sales performance.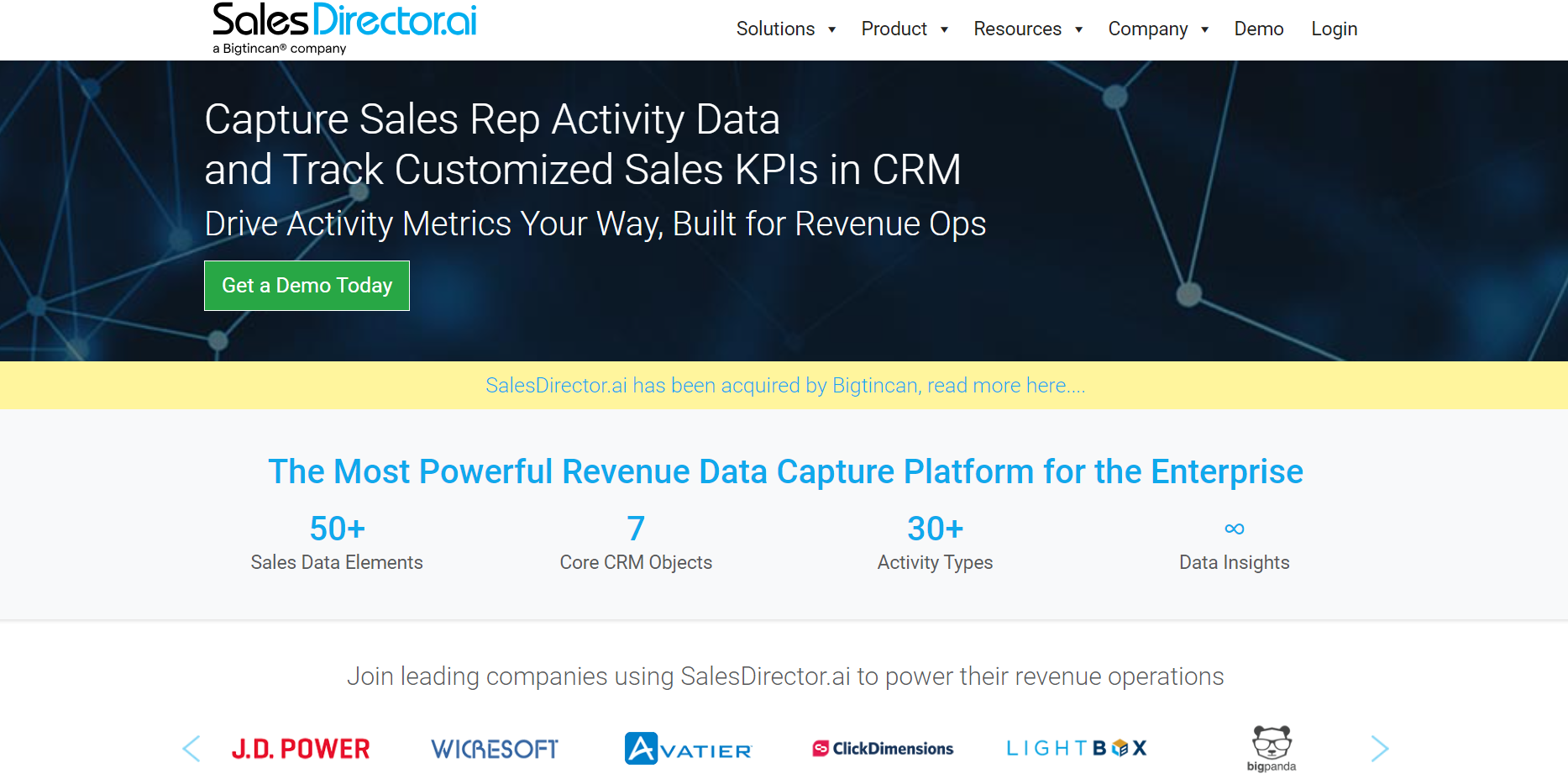 SalesDirector.ai is an AI-powered sales analytics platform that provides in-depth insights into sales performance, deal velocity, and revenue forecasting.
The platform helps sales teams identify growth opportunities and anticipate challenges in real-time.
Key Features:
AI-driven sales analytics and forecasting
Opportunity and risk identification
Pipeline and quota analysis
Deal history analysis and predictive scoring
CRM integration and data unification
Benefits of AI Sales Tools for Business
AI sales tools offer numerous benefits for businesses, some crucial advantages from the sources provided:
Time-saving: AI sales tools help salespeople focus on selling by automating time-consuming tasks, such as entering meeting notes and email notes into the CRM.
Improved efficiency: Businesses can streamline their sales processes by using AI sales tools that analyze performance and automate various tasks, leading to enhanced efficiency.
Data-driven insights: AI-powered tools provide valuable insights like sales forecasting, lead scoring, and pipeline analysis, allowing organizations to make data-driven decisions.
Personalized customer interactions: AI tools help sales teams tailor their interactions with customers by providing insights into customer preferences and behavior, thus improving customer relationships and increasing the likelihood of closing deals.
Improved sales automation and revenue forecasting: With AI sales tools, performance optimization, and revenue forecasting are made possible, leading to better business results.
Competitive advantage: AI-driven platforms enable businesses to monitor their best-performing sales conversations and improve their sales strategy, giving them an edge over their competitors.
Conclusion
You now have all the information you need to supercharge your sales process with AI.
With these tools, you can identify high-quality leads, automate your outreach, and provide insights into your sales calls, which results to focus your efforts on the deals that matter most.
No more wasting time on dead-end prospects or struggling to gain visibility into why some deals stall out.
AI is here to help you work smarter, close more deals, and exceed your sales quotas.
What are you waiting for? Use these tools and see how much of a difference AI can make for your business. The future of sales is here - are you ready to take advantage of it?