Introduction
As an educator facilitating distance learning, you know the challenges of engaging students remotely. Keeping learners motivated and helping them achieve learning objectives requires the right tools and technology.
With so many options out there, determining what's most effective for your needs can be daunting.
We've done the research for you and compiled a list of must-have e-learning tools for distance learning based on functionality, features, and educator reviews.
These tools will enhance your virtual classroom, enabling you to create interactive content, engage students, provide feedback, and track progress.
With the right technology and resources, you can deliver an exceptional learning experience. Read on to discover the best of the best e-learning has to offer.
Introduction to E-Learning Tools: What They Are and Why They Matter
E-learning tools are digital platforms and software that facilitate online learning and education.
They allow individuals to take courses and training on the Internet, providing an alternative to physical classrooms.
These tools are designed to enhance interactions between students and instructors, promote collaboration and engagement, and simplify tasks such as course creation and management.
They can include learning management systems (LMS), course authoring tools, online learning platforms, and assessment tools.
There are many benefits to e-learning tools, including:
Convenience and flexibility. You can access courses and materials remotely on your own schedule. This is ideal for working professionals or those with busy schedules.
Cost savings. Online courses are often more affordable than traditional, in-person programs. E-learning tools eliminate infrastructure costs like classrooms, parking, and transportation.
Scalability. It is easy to scale e-learning tools to accommodate many learners. This makes them well-suited for corporate or organizational training programs.
Adaptive learning. Many e-learning platforms use algorithms and data to adapt to learners' needs. They can adjust the pace, content, and teaching methods to suit individuals.
Gamification. Some tools use gaming elements like points, badges, and leaderboards to make learning more engaging and fun. This can motivate learners and encourage progress.
Assessments. Most e-learning tools provide ways to assess learners through quizzes, tests, assignments, and other metrics. This allows learners and organizations to track progress and outcomes.
Access to resources. E-learning platforms provide a central place for learners to access educational resources like video tutorials, online courses, documentation, and instructor support.
Sanka All-in-one Solution for E-Learning
Sanka is a digital transformation platform that notably helps in saving costs and increasing productivity across various business sectors.
Although it may not be strictly classified as an E-Learning platform, its broad set of business apps and automated workflows can play a vital role in an e-learning context.
It also offers a customizable workflow that is suitable for your business, including the e-learning industry.
With its extensive integrations, Sanka allows you to pair with other specialized e-learning tools.
One can conceptualize Sanka as an E-Learning Solution in the following ways:
Centralized Learning Operations: With its 20 business apps ranging from sales, support, and recruiting to IT, the platform allows you to centralize all tasks related to an eLearning project. This includes course development, learner support, recruitment for course instructors, and more.
Workflow Automation: The platform's ability to automate workflows can be leveraged to streamline repetitive tasks associated with e-learning. For instance, tasks such as scheduling course releases, grading, sending emails, or updates to learners can be automated.
Customization: Sanka's customizable solutions feature can be used to tailor the e-learning experience. It can customize coursework, personalize training modules, and adjust the training environment to meet specific business needs.
Integration: Sanka can be integrated with up to 100 other apps and services. This means it can be paired with other e-learning tools, content management systems, and communication tools to create a comprehensive learning solution.
Onboarding Support: The availability of dedicated staff for system migration and onboarding support makes Sanka an easy-to-adopt platform for organizations transitioning towards e-learning or augmenting their existing e-learning solutions.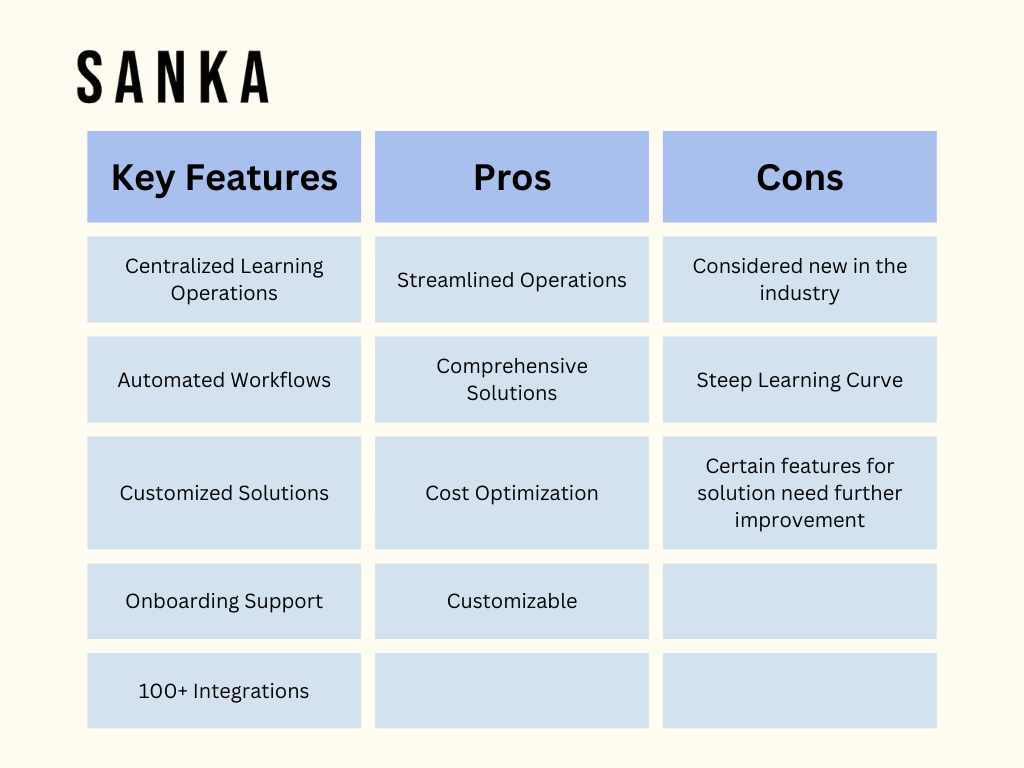 Top 5 E-Learning Platforms for Online Courses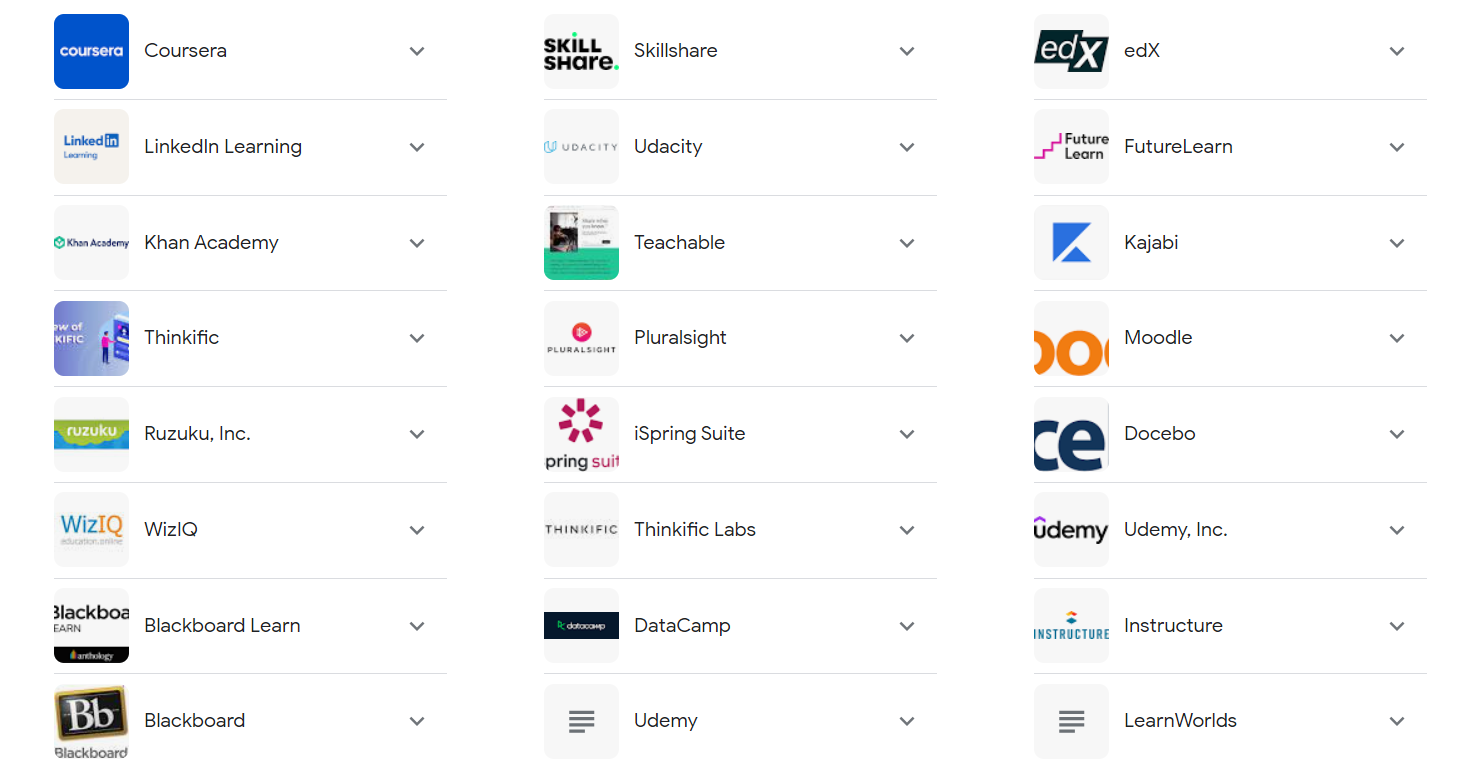 For effective distance learning and online courses, choosing a robust e-learning platform is key. Here are five of the top options:
Canvas is a popular learning management system used by schools and universities worldwide. It offers a simple, intuitive interface for creating and managing digital course materials.
Instructors can add lessons, assignments, quizzes, and discussion boards. Students can view schedules, submit work, join webinars, and collaborate.
Moodle is an open-source e-learning platform trusted by corporations, non-profits, and educational institutions in more than 240 countries.
It provides tools for delivering interactive courses with media-rich content. Moodle is highly customizable and offers built-in features like wikis, databases, and RSS feeds.
Schoology is a leading learning management system for K-12 schools and higher education. It streamlines instruction, learning, grading, collaboration, and assessment.
Schoology integrates with common education apps and LMS platforms. It provides a personalized learning experience for students and helps educators save time.
EdX offers free online courses from the world's best universities and institutions. It hosts MOOCs (massive open online courses) on a wide range of topics.
EdX is open-source, nonprofit, and committed to improving access to high-quality education. Learners can pursue degrees and credentials, or just expand their knowledge.
Udemy is a global marketplace for online learning where experts teach valuable skills. It offers video courses and tutorials on business, technical, and creative topics.
Instructors can charge for their courses or offer them for free. Udemy provides tools and services to help instructors build a successful teaching business.
For learners, Udemy is an affordable, convenient way to pick up new skills and advance your career.
Top 5 Video Conferencing Tools for Virtual Classrooms

As distance learning becomes more widespread, video conferencing tools are crucial for conducting engaging virtual classrooms. Here are the top 5 video conferencing platforms for educators:
Zoom
Zoom is one of the most popular video conferencing tools for education. It offers features like screen sharing, recording, breakout rooms, and annotation tools.
Zoom has plans specifically for K-12 schools as well as higher education. It can accommodate up to 1,000 participants with add-on options to scale up to tens of thousands of attendees.
Google Meet
Google Meet, Google's video conferencing solution, is included with G Suite for Education and is free to schools and universities.
It provides high-quality video calls for up to 250 participants as well as screen sharing, real-time captions, and breakout rooms.
Meet works on all devices and integrates well with other Google tools like Calendar, Classroom, and Hangouts.
Microsoft Teams
Microsoft Teams is a collaboration hub that includes video conferencing features like audio/video calling, screen sharing, background blur, and meeting recording.
Teams support up to 300 participants and work with Office 365 Education, which many schools already use.
Teams also offer class and staff notebooks, assignments, and a range of integrations with popular LMS platforms and third-party apps.
Webex
Webex by Cisco is a popular video conferencing solution for businesses that also serve the education sector.
Webex provides high-quality video, screen sharing, chat, and content collaboration tools. It supports up to 100 participants for free and up to 200 with a paid license.
Webex works on all major devices and operating systems.
GoToMeeting
GoToMeeting is a video conferencing tool for online classrooms, office hours, and faculty meetings.
It offers high-definition video, screen sharing, chat, and meeting recording for up to 150 participants.
GoToMeeting has apps for all devices as well as interactive whiteboards and works with a range of web conferencing cameras and headsets for an optimized experience.
GoToMeeting for Education is available for K-12 schools and higher education institutions.
Best Apps and Software for Creating Engaging Content
To develop compelling digital course materials, instructors require user-friendly tools for designing interactive content.
The following apps and software are among the best options for crafting engaging e-learning content:
Adobe Captivate is a leading e-learning authoring tool that supports producing interactive multimedia content. It's a go-to solution for educators, instructional designers, employers, and anyone in need of creating captivating e-learning experiences.
Adobe Captivate is an industry-leading e-learning content creator that supports various formats, including VR, responsive HTML5, and video to facilitate responsive course design, virtual reality (VR) courses, advanced quizzes, and more.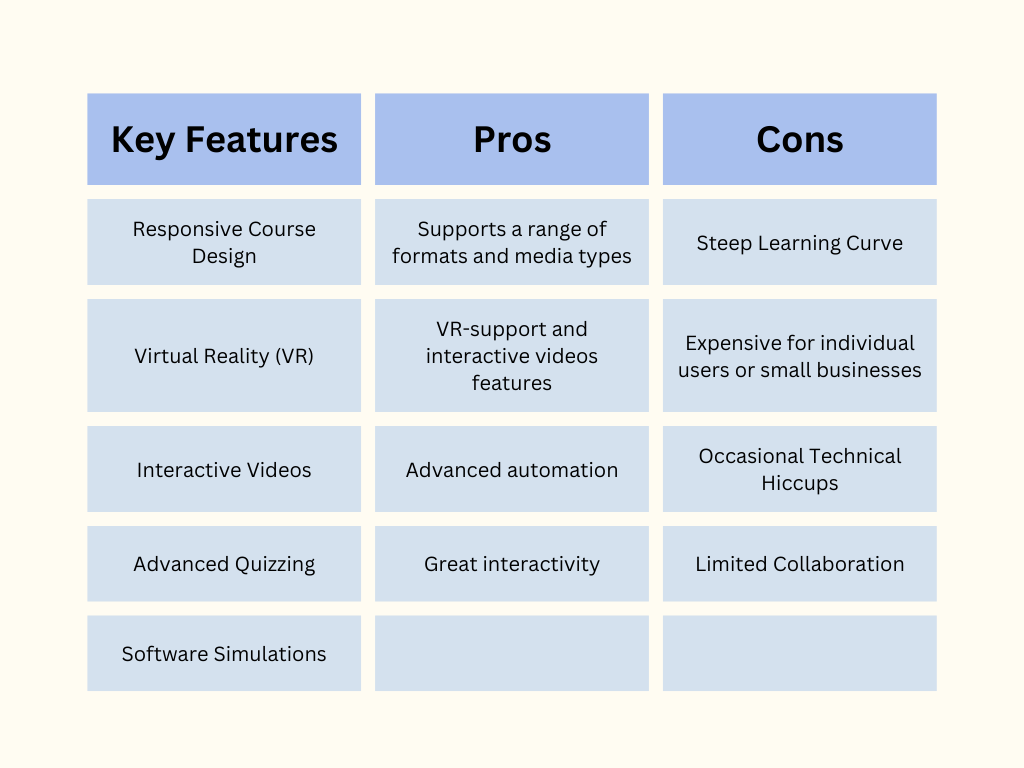 Articulate Storyline 360 is an award-winning tool for creating interactive e-learning. Instructors can easily build courses with quizzes, simulations, videos, and screen recordings.
Storyline's library of pre-built interactions and templates helps you develop content quickly. Publishing outputs include SCORM, AICC, and xAPI-compliant courses.
It's a favored choice for instructional designers, educators, and organizations who seek to develop engaging online learning content.
Its user-friendly interface and extensive template library make it beginner-friendly, while advanced features cater to experienced designers.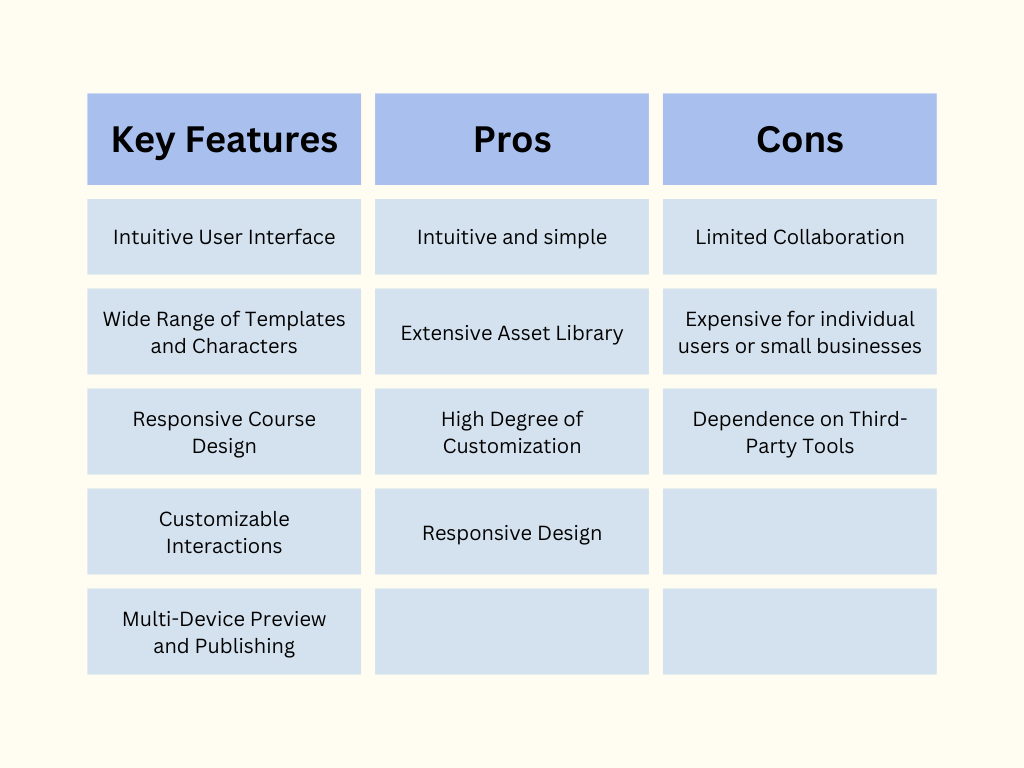 SoftChalk Cloud is a web-based e-learning authoring tool ideal for beginners. It offers an intuitive interface for building interactive lessons, quizzes, and activities.
The software includes content templates, an image library, and widgets for adding media and interactivity. SoftChalk Cloud allows you to easily share and reuse content.
It is an ideal choice for online educators looking to maximize student engagement and effectively track progress.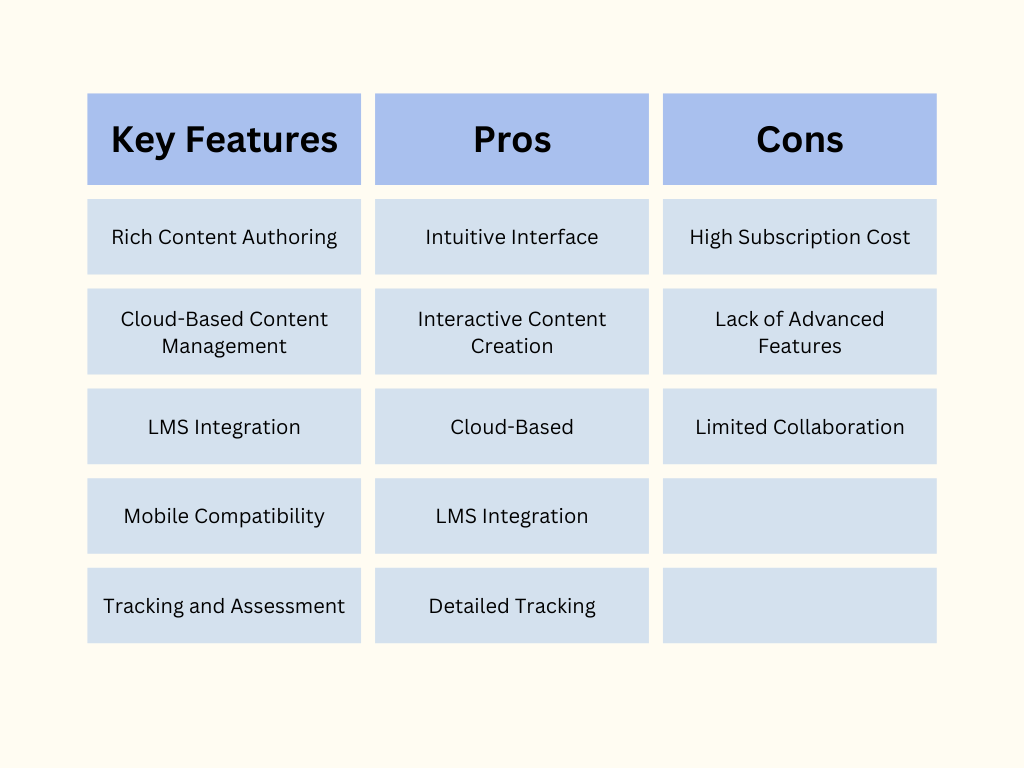 Adobe Presenter Video Express is a free tool for recording presentations and turning them into video tutorials.
It is used by educators, business professionals, and content creators looking to enhance their online and blended learning environments.
You can capture your screen, webcam video, and audio and then add interactive elements like quizzes, annotations, and callouts.
The simple editing features allow you to enhance your videos in minutes. Presenter Video Express creates videos in MP4 format for sharing online or in an LMS.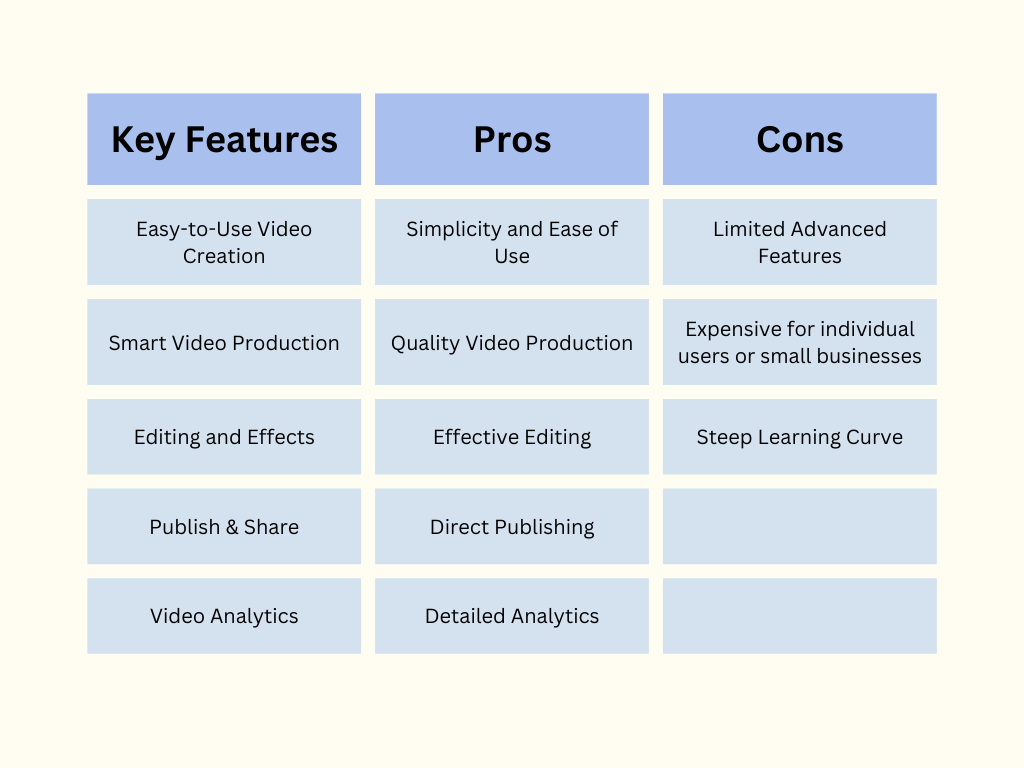 These tools provide instructors with an array of options for crafting media-rich, highly engaging e-learning content for online and blended courses.
By leveraging the features of these applications, educators can develop interactive and immersive learning experiences to enhance student achievement in virtual classrooms.
Other Must-Have E-Learning Tools and Plugins
In addition to the major e-learning platforms, there are many other tools and plugins that can enhance your online learning experience.
These solutions provide specific functionalities that complement the core LMS and content creation features.
Zoom - This web conferencing tool is ideal for hosting live online classes, meetings, and webinars. It offers high-quality video and audio, screen sharing, and other collaboration features. Many LMSs offer direct integration with Zoom.
Google Drive - Use Google Drive to store and share course documents, presentations, spreadsheets, and more. The cloud-based storage allows learners and instructors to access files from anywhere. Google Docs, Sheets, and Slides facilitate real-time collaboration.
Padlet - This digital bulletin board tool is great for online collaboration and sharing ideas. Create Padlet walls for brainstorming discussions, Q&A, resource sharing, and more. Learners and teachers can add text, images, videos, links, and files to the wall.
Kahoot! - Make learning fun and engaging with Kahoot! This game-based learning platform allows you to create quizzes, surveys, and discussions. Learners participate on their own devices and can see their scores and rankings in real time. Kahoot! works for all ages and subjects.
Plagiarism Checker - Use a plagiarism checker tool like Turnitin, PlagScan or Copyleaks to detect unoriginal content in assignments. These checkers compare submissions against a massive database of web pages, academic papers, and student work. They provide instructors with a plagiarism report to ensure academic integrity.
Grammarly - Improve your learners' writing skills with the Grammarly grammar and spell checker. This AI-powered tool checks for errors and provides corrections and explanations as learners type. The Grammarly web plug-in and mobile keyboard apps work anywhere learners write online.
Supplementary e-learning tools and plugins can enhance collaboration, engagement, and learning outcomes.
When combined with a robust LMS, these solutions provide a comprehensive e-learning experience.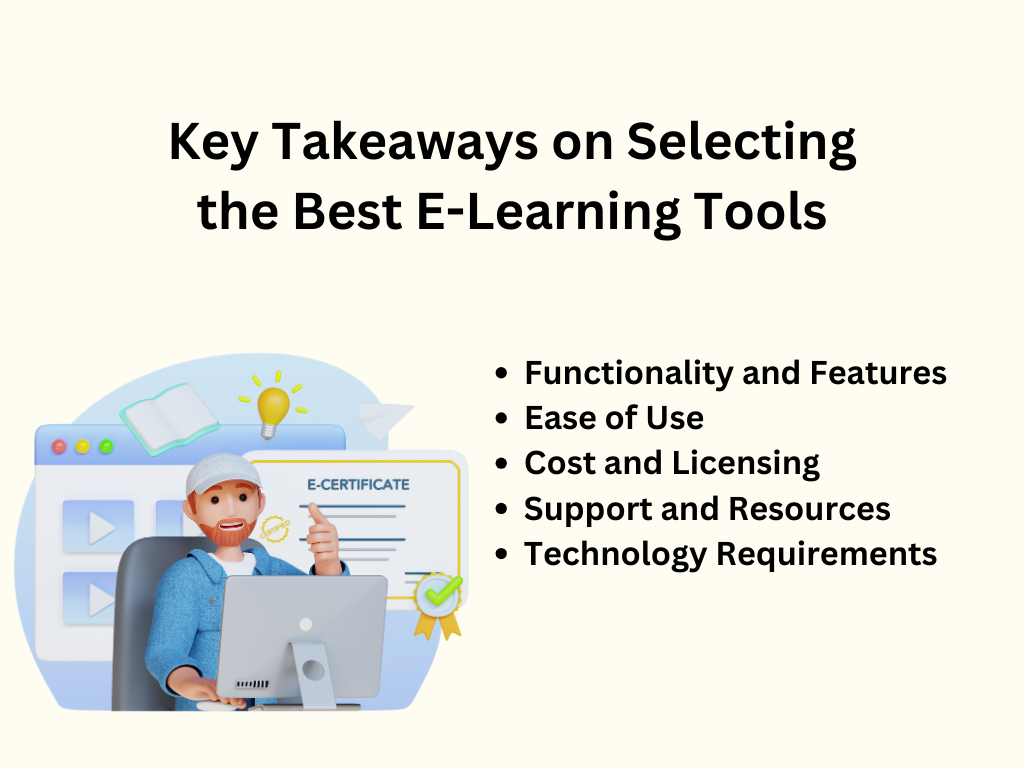 Conclusion
As you have seen, there are many excellent e-learning tools available to choose from. Whether you need a simple tool for creating and distributing training materials or a full learning management system, the options reviewed in this guide have you covered.
With a bit of research to determine your specific needs and priorities, you can find an e-learning solution that will enable you to create compelling and effective digital learning experiences.
The future of education and professional development is online, and e-learning tools are making that future a reality for learners and educators everywhere.
Equip yourself with the right solutions and you'll be at the forefront of this exciting new frontier in learning. The opportunities for connection, growth, and advancement have never been greater.