Introduction
Email marketing remains an essential tool in the marketer's toolkit due to its potential reach and ROI, effectiveness in driving conversions, and power in building customer relationships.
It continues to be an essential component of most marketing strategies, offering high ROI and fostering customer engagement.
Leveraging an email marketing tool can simplify your outreach efforts, allowing you to automate, track, and optimize your campaigns.
So, let's explore the top 13 email marketing tools that you can use to boost your efforts.
Sanka is a powerful digital transformation platform that provides businesses with beneficial apps and automated workflows, helping to save costs and boost productivity.
The platform provides an application known as CampaignScale, which may be arranged to help with email marketing campaigns.
Through their integrated system, Sanka can interact with other email marketing tools or services, potentially providing a more comprehensive email marketing strategy.
Furthermore, Sanka allows for automated workflows. This capability could be advantageously used to automate specific tasks within an email marketing campaign, such as scheduling emails or sending triggered responses.
Its rich feature-set, combined with its ability to create automated workflows and integrate with a wide range of applications could prove valuable for businesses looking to expand or streamline their email marketing efforts.
Key Features:
CampaignScale App
One of the apps offered by Sanka is the CampaignScale, which could potentially be used for managing email marketing campaigns.
Automated Workflows
Sanka accommodates the creation of limitless automated workflows. This function could be utilized to automate tasks related to email marketing, such as sending out scheduled emails or triggering product recommendation emails based on customer behavior.
Integrations
The platform has the capacity to integrate with over 100 other external services and apps, supporting cohesiveness with other email marketing software that a business may use.
Manage Projects and Tasks
Through its TaskFlow app, Sanka may facilitate tracking all tasks and projections related to email marketing campaigns.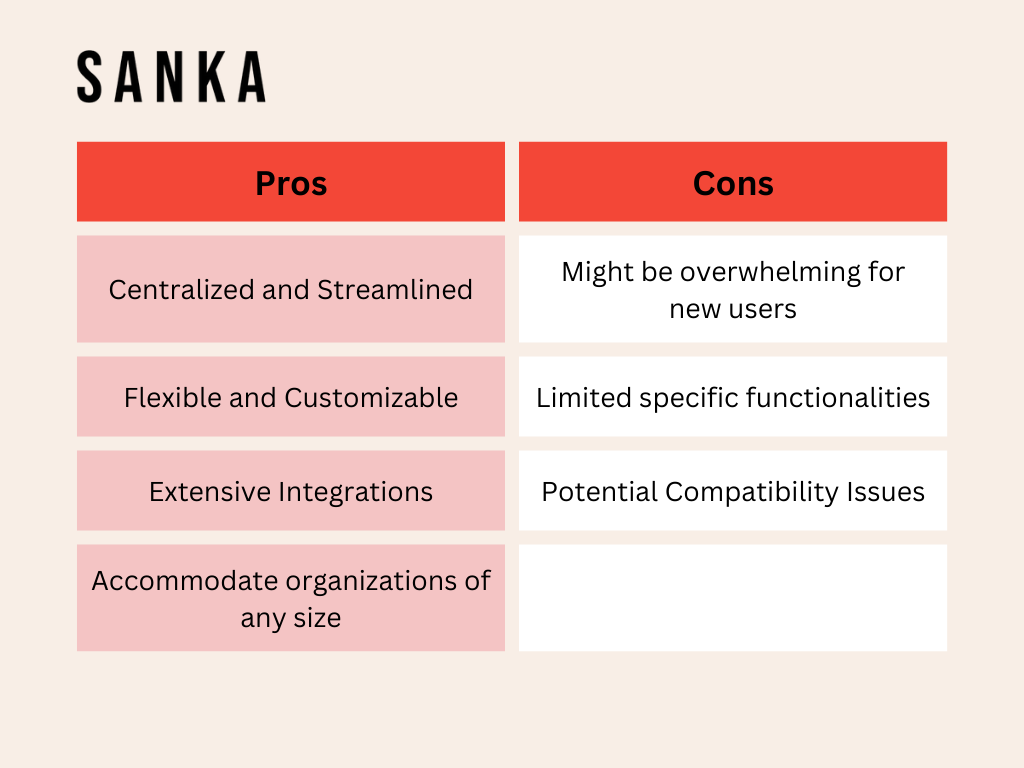 Mailchimp stands as a veteran in the world of email marketing tools. It began as an email platform in 2001 and has since grown into an all-in-one integrated marketing platform for small businesses.
With its feature-rich offerings and versatile options, Mailchimp provides functionality to meet diverse marketing needs.
Its powerful automation, robust reporting, and seamless integration capabilities make it stand out among its competitors.
For small businesses aiming to scale their email marketing efforts, Mailchimp serves as an excellent platform.
Key Features:
Email Campaign Creation
Mailchimp provides an extensive selection of customizable email templates and a user-friendly drag-and-drop editor, enabling you to create visually captivating and professional-looking emails without the need for advanced technical skills.
Email Automation
Mailchimp's automated features allow for timely and relevant interactions with customers. You can automate a wide variety of emails, from welcome messages to order confirmations, based on specific triggers. With pre-configured automation workflows, you can ensure you reach out to your audience at optimal times.
Segmentation and Targeting
Mailchimp offers powerful segmentation tools that let you categorize your audience based on various criteria such as demographics, engagement, purchase history, and more. This ensures more personalized and impactful communication.
A/B Testing
To enhance the effectiveness of your email campaigns, Mailchimp's A/B testing feature allows you to experiment with various elements of your emails including subject lines, content, send times, and see which ones perform best.
Analytics and Reports
Mailchimp's analytics and reporting tools provide insightful data about your email campaign performance. Monitor key metrics such as open rate, click-through rate (CTR), and subscriber activity in an easy-to-understand format.
Integrations
Mailchimp seamlessly integrates with a wide array of popular platforms and services, including Shopify, Salesforce, and WordPress, enabling smooth alignment with your existing workflow.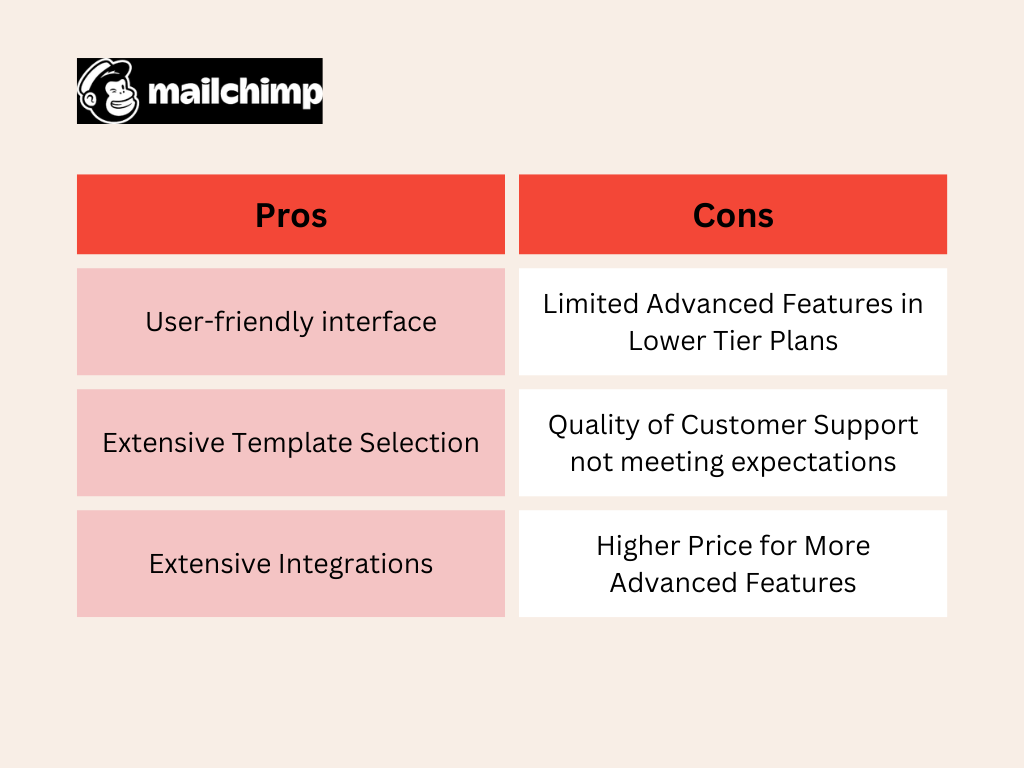 Brevo, formerly known as Sendinblue, is a software-as-a-service (SaaS) solution for relationship marketing.
The company provides a cloud-based marketing communication software suite that includes email marketing, transactional email, marketing automation, customer relationship management, landing pages, Facebook ads, retargeting ads, SMS marketing, and more.
Brevo aims to make marketing tools accessible to businesses of all sizes, allowing them to build lasting customer relationships using various communication channels.
Key Features:
Email Campaign Creation
Brevo offers customizable Email Templates and a Drag & Drop Editor which allows you to compose creative and versatile email campaigns.
Email Automation
Automate repetitive tasks to reach the right person at the right time, and build custom automated workflows for emails and customer experiences with Brevo's automation features.
Smart Segmentation
Brevo allows audience segmentation, permitting you to target smaller subsets of your contact seamlessly, enhancing personalization and engagement.
Send-Time Optimization
Brevo's AI-powered system maximizes engagement by sending emails at company-determined optimal times.
Real-Time Reports
Brevo provides real-time reporting that helps users understand campaign performance and derive actionable insights.
A/B Testing
Brevo provides A/B testing capability to continually refine and optimize your email campaigns.
Wide Range of Integrations
Brevo integrates with numerous apps and web services, accommodating your existing marketing and transactional emails.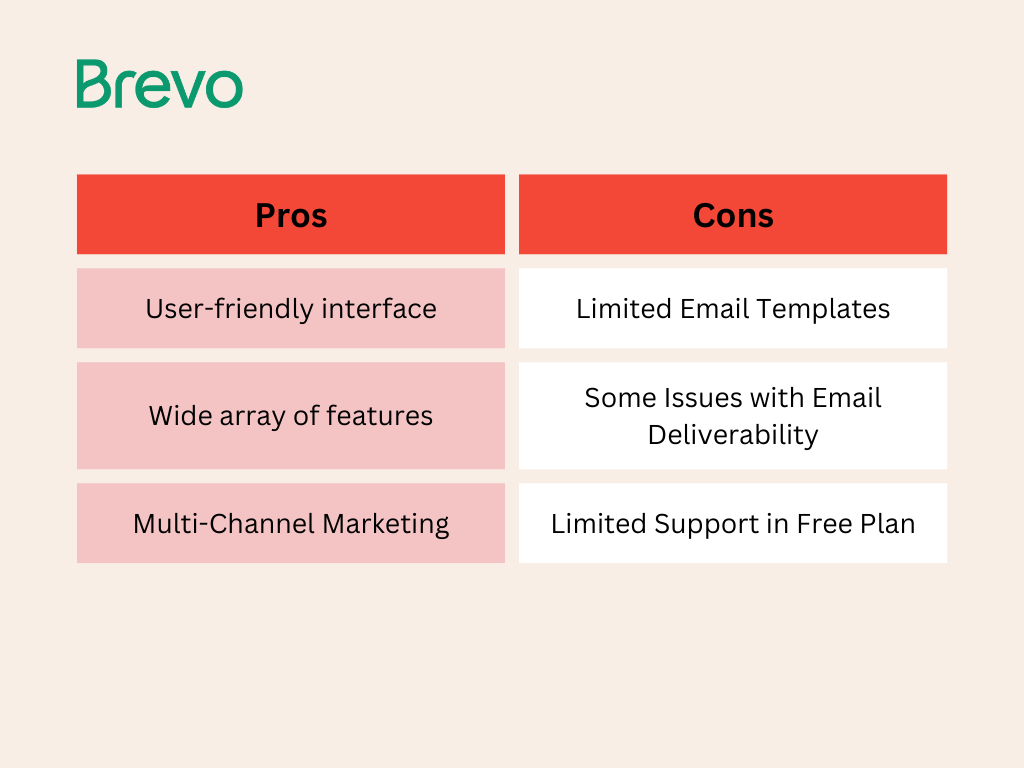 Constant Contact is an email marketing platform designed for small businesses and organizations, providing powerful yet simple tools to help build and maintain lasting customer relationships.
This platform enables users to send targeted, customized, and segmented emails to increase content relevancy to the user.
The tool provides advanced automation features and detailed analytics.
With a wide range of features such as email marketing, automation, and reporting, Constant Contact makes it easy to create and execute successful email marketing campaigns.
Key Features:
Email Marketing
Constant Contact provides a user-friendly interface, customizable templates, and a drag-and-drop editor, allowing you to create professional email campaigns that make a lasting impression.
Marketing Automation
With marketing automation features, Constant Contact enables users to set up automatic welcome emails, resend emails to non-openers, and create custom audience segments to better engage with customer groups.
E-commerce Marketing
From integrating with popular online stores like Shopify to creating shoppable landing pages, Constant Contact provides tools to help e-commerce businesses boost sales and drive customer engagement.
Surveys and Polls
Gather insights from your audience through surveys and polls to better understand their needs, preferences, and feedback, ultimately leading to improved customer satisfaction.
Event Marketing
Promote and manage events with registration forms, automated emails, invitations, reminders, and RSVP tracking, all within the Constant Contact platform.
Reporting and Analytics
Gain insights on your email campaign performance with in-depth reporting and real-time analytics, making it easy to optimize your email strategy.
Integrations
Constant Contact integrates with many popular platforms, including WordPress, Shopify, and Salesforce, allowing you to streamline your marketing efforts.
GetResponse is a user-friendly and feature-rich email marketing platform that caters to both small and large businesses.
It is recognized as a formidable email marketing software. It facilitates the creation of marketing lists for prospects, partners, and clients, enabling businesses to cultivate relationships and build a lucrative and responsive customer base.
GetResponse takes pride in having a high deliverability rate of 99.5%, ensuring that business messages reach the targeted inboxes effectively.
Key Features:
Email Marketing
GetResponse offers robust email marketing solutions where it allows businesses to create engaging emails using their drag and drop editor or customizable templates.
Marketing Automation
GetResponse offers a powerful marketing automation system that enables businesses to create complex customer journeys based on user behavior.
Landing Pages
GetResponse includes landing page creation in its plans where users can use the intuitive drag-and-drop editor to create responsive landing pages.
Conversion Funnels
Considered as a significant feature, GetResponse conversion funnels offer a visual representation of how leads are converted into customers, making it easier than ever to monitor and optimize funnels.
Webinars
GetResponse offers webinar hosting capabilities, setting it apart from comparable email marketing solutions. It's a feature especially useful for businesses that offer lessons, training, or product presentations.
Reporting and Analytics
Detailed metrics and report capabilities offer insights into email performance, allowing businesses to adjust their strategies and enhance their campaigns effectively.
ConvertKit is an email marketing tool specifically designed for creatives such as bloggers, vloggers, and creators.
It is a specialized email marketing platform explicitly designed to help creators grow and monetize their audience with ease.
It offers a range of powerful tools including a user-friendly email editor, automation workflows, custom landing pages, and audience segmentation.
Used by over 620,374 creators, ConvertKit sends over 2.5 billion emails each month.
Moreover, it provides a migration service for those with a Creator or Creator Pro plan, allowing users to switch seamlessly from other email marketing platforms.
Key Features:
Email Marketing
ConvertKit allows users to create visually stunning emails and target subscribers with tailored content, improving engagement and conversion rates.
Email Automation
ConvertKit stands out with its visual automation tool, which enables users to build personalized customer journeys and automate the email sequence, resulting in saving time and increasing efficiency.
Creator Landing Pages and Forms
ConvertKit includes customizable forms and landing pages to help users gather more subscribers and grow their audience.
Segmentation and Tagging
ConvertKit offers superior segmentation abilities using tags and segments, allowing users to send tailored emails to specific groups of subscribers based on their interests and behaviors.
Integrations
ConvertKit integrates with popular platforms and business tools to streamline your workflow.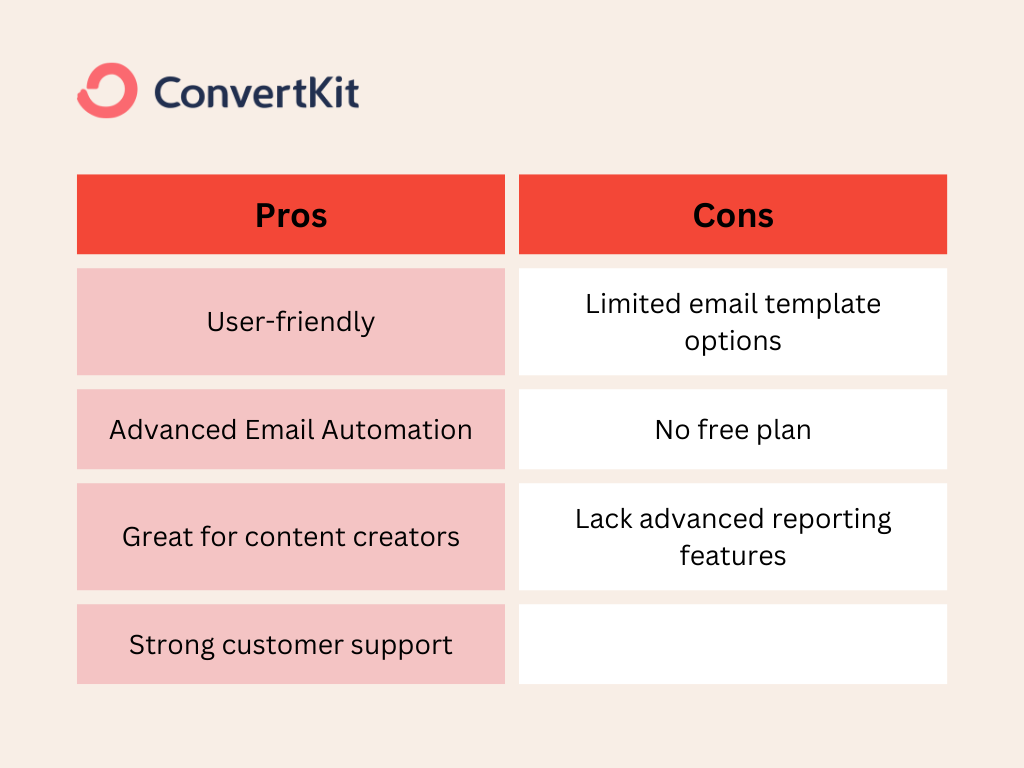 Drip is a marketing automation platform that specializes in email marketing strategies, enabling businesses to automate their email sending process to dispatch a set of emails based on specific timelines or user actions.
Particularly focused on e-commerce businesses, Drip incorporates comprehensive CRM (Customer Relationship Management) capabilities that provide the basis for marketing personalization and audience segmentation.
With Drip, businesses construct drip marketing or drip campaigns, which involves the automatic sending of marketing materials over time.
These materials are often tailor-made to match the respective customer's behavior, ensuring that each interaction feels personal.
The main objective of Drip is to provide a constant flow of marketing material to customers over a period of time, ultimately aiming to achieve sales.
Key Features:
E-commerce CRM
Drip provides a fully-fledged e-commerce CRM (ECRM) that enables businesses to store customer's data and interaction records, essential for marketing personalization and segmentation.
Email Campaigns
Create, design, and send personalized emails with Drip's visual email builder and pre-designed templates.
Marketing Automation
With Drip, marketers can use an intuitive workflow builder to design automation rules based on various triggers, enhancing email marketing efficiency.
Segmentation
Drip's advanced segmentation tools enable businesses to deliver the right message to the right customer at the right time.
Analytics and Reporting
Track your email marketing performance with Drip's detailed analytics and reports features, providing meaningful insights to make sound business decisions.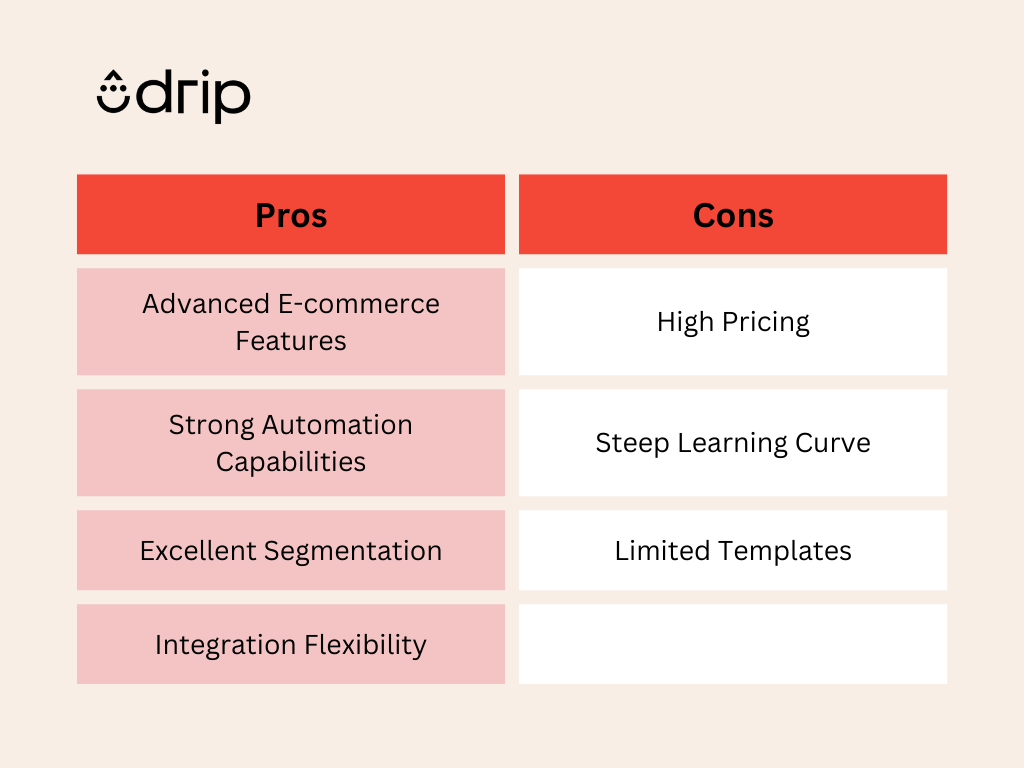 MailerLite is a robust email marketing platform that is renowned for its affordability and an array of unique features.
The platform is designed to benefit businesses of all sizes and caters to various aspects of email marketing, including the creation of engaging, dynamic emails using their intuitive drag and drop email editor.
One acclaimed feature of MailerLite is its integration with Facebook, which fosters advanced audience targeting.
It also offers straightforward and user-friendly tools, aiding businesses in managing their subscribers effectively.
Additionally, MailerLite provides a robust website builder, facilitating businesses in creating stunning websites independently.
Key Features:
Drag and Drop Email Editor
MailerLite's intuitive drag-and-drop email editor enables users to create attractive and professional emails without coding or design skills.
Email Automation
MailerLite includes robust automation capabilities, allowing users to automate email sequences based on subscriber behavior.
Landing Pages and Pop-up Forms
With MailerLite, users can create mobile-responsive landing pages and pop-up forms to capture leads and grow their email list.
Segmentation
MailerLite provides advanced segmentation capabilities, allowing users to target specific groups of subscribers with tailored content.
A/B Split Testing
MailerLite offers split testing capabilities, which allow users to test different versions of their campaign to see which performs better.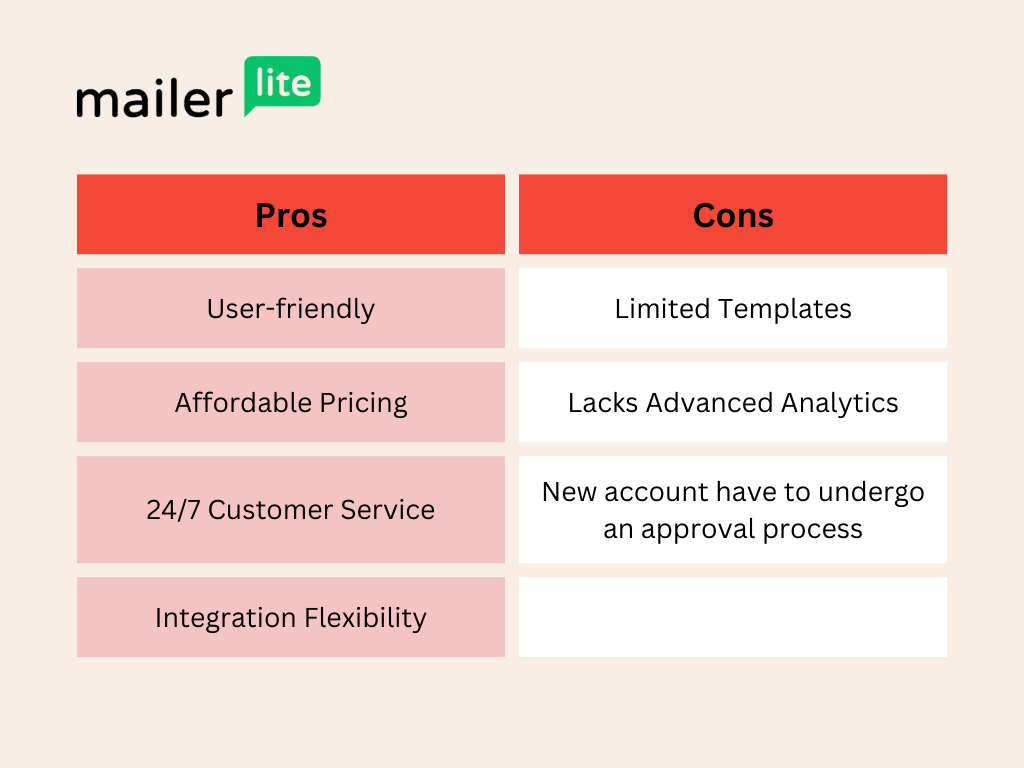 ActiveCampaign is a feature-rich email marketing as well as a CRM tool that can help businesses effectively manage and nurture customer relationships.
It offers tools that support the building of better customer experiences, and is specifically designed to give growing businesses the tools they need to compete with even much larger companies.
ActiveCampaign is recognized for its user-friendly interface, extensive automation capabilities, and in-depth performance insights, making it a suitable choice for many small businesses.
It brings a centralized platform, delivering personalization and automation to drive high-quality leads, increase customer engagement, and unify data, thereby sharpening the marketing efforts of a business.
Key Features:
Email Marketing
ActiveCampaign enables you to plan and send custom emails with its easy-to-use email designer and variety of pre-built templates.
Marketing Automation
ActiveCampaign provides a comprehensive suite of automation tools that can streamline various aspects of your customer journey.
CRM & Sales Automation
With ActiveCampaign's CRM, track where leads are in the pipeline and market to them accordingly. The tool also includes sales-specific features such as Lead Scoring.
Messaging
ActiveCampaign offers messaging options, including SMS, site messages, and even social media to engage with your audience across multiple channels.
Machine Learning
ActiveCampaign incorporates machine learning to analyze your marketing data and make insights available easily.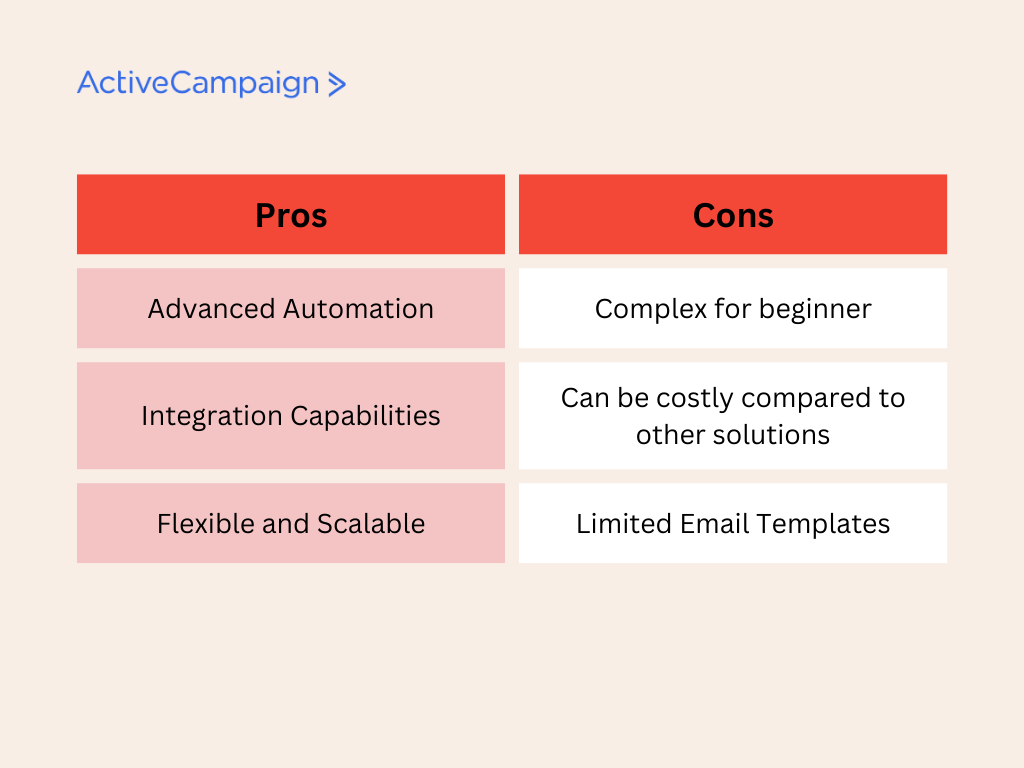 Moosend is a powerful email marketing automation software, equipped with world-class features, sophisticated automation flows, and lead generation tools.
It offers a variety of solutions including a website builder, email marketing automation, and a user-friendly interface.
This software allows for the management of multiple email campaigns and mailing lists, as well as, designing and sending of newsletters via their in-platform editor.
Their offerings also include a drag-and-drop editor for building emails, landing pages, and forms, along with over 75 pre-made email templates to kickstart your campaigns.
Reports and analytics tools also provide you a detailed report about your campaigns
Key Features
Email Campaign Creation
Moosend provides a user-friendly campaign editor to create custom, well-tailored email campaigns quickly and easily.
Marketing Automation
Moosend's marketing automation functionality lets users automate mundane tasks like sending welcome emails, abandoned cart reminders, and follow-ups.
Segmentation
An intuitive segmentation tool allows users to segment their contact list based on criteria such as engagement, location, and purchase history.
Landing Pages and Subscription Forms
Moosend enables users to have smooth lead generation by offering the tools to create eye-catching landing pages and subscription forms.
Reporting and Analytics
Moosend provides insightful analytics and reporting features that help users track the performance of their campaigns and measure their success.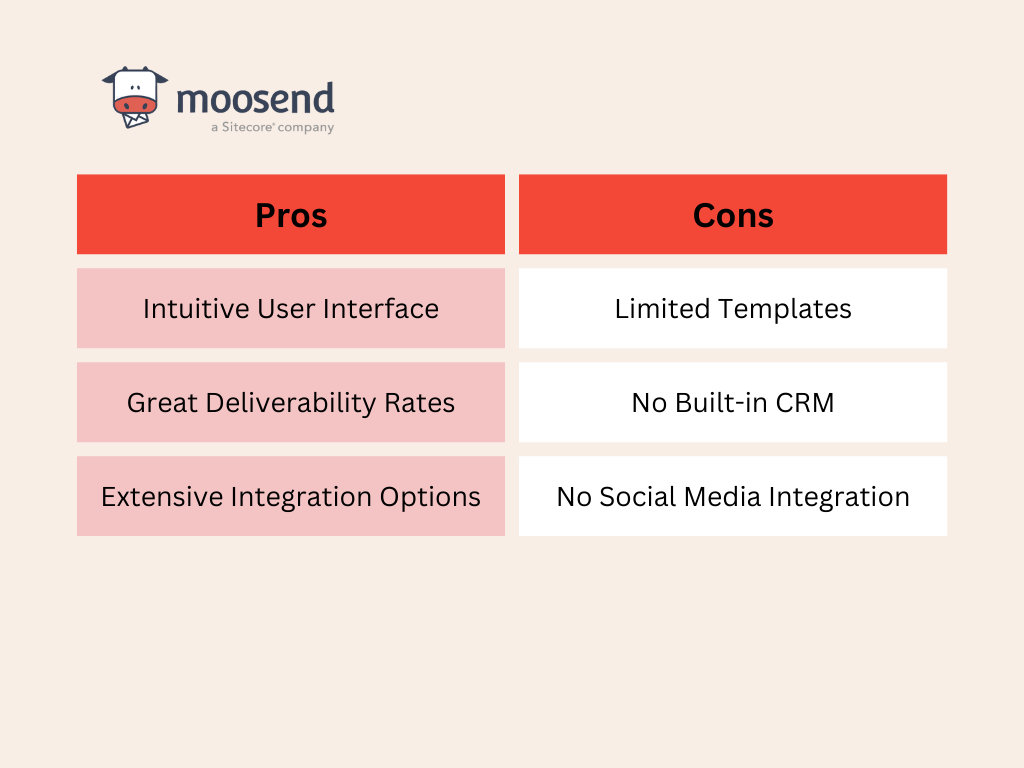 Klaviyo is a powerful email marketing platform designed specifically for e-commerce businesses, allowing them to deliver highly targeted, personalized marketing campaigns.
It integrates with several leading e-commerce platforms and facilitates the creation of data-driven email and social media campaigns.
Key Features:
Segmentation
Klaviyo's advanced segmentation abilities allow marketers to target emails based on customer behavior, geographic location, purchasing trends, and more.
Email Automation
Klaviyo provides powerful automation tools along with pre-built automation flows (like 'Abandoned Cart Recovery') which make communicating with customers more efficient.
Personalization
Users can build personalized emails based on customer data with Klaviyo. The dynamic data feeds in Klaviyo help create highly targeted campaigns.
Analytics
Klaviyo offers robust reporting features, providing detailed insights into campaign effectiveness, audience engagement, sales, and more.
Integrations
Seamlessly integrates with popular e-commerce platforms like Shopify, Magento, WooCommerce, and more.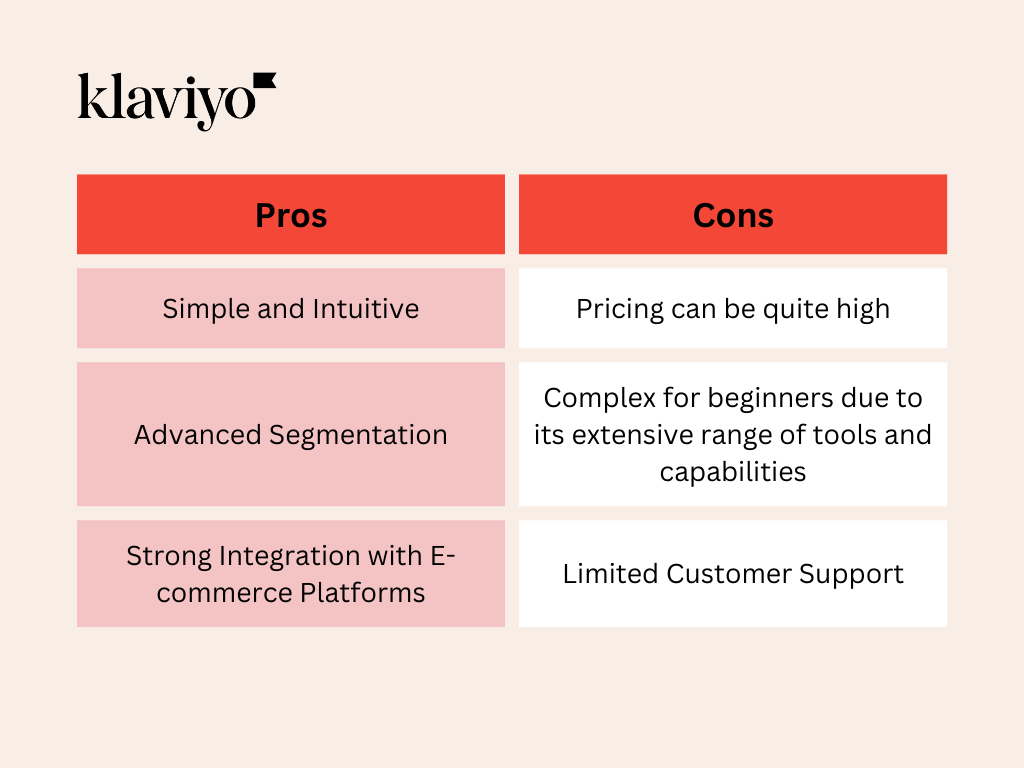 HubSpot is a marketing, sales, and service software that helps businesses grow through inbound marketing.
It's not just an email marketing tool, but a complete Customer Relationship Management (CRM) system.
It combines a number of marketing features and capabilities into a single platform to help businesses manage their marketing campaigns.
Key Features:
Email Marketing Automation
HubSpot gives the ability to create highly customizable and well-personalized automation sequences. These aim to nurture leads throughout their journey with the business.
CRM Integration
Since HubSpot integrates CRM with their email marketing tool, businesses can personalize their campaigns more precisely with data about contacts and their interactions.
A/B Testing
HubSpot's email marketing tool offers A/B testing of campaign elements like subject line, email body content, and calls to action.
Analytics and Reporting
With HubSpot, businesses can analyze the performance of their email campaigns with data on open rates, click-through rates, bounce rates, and more.
Segmentation
HubSpot supports data-driven segmentation to refine audiences based on their behavior, interactions, demographics, and more.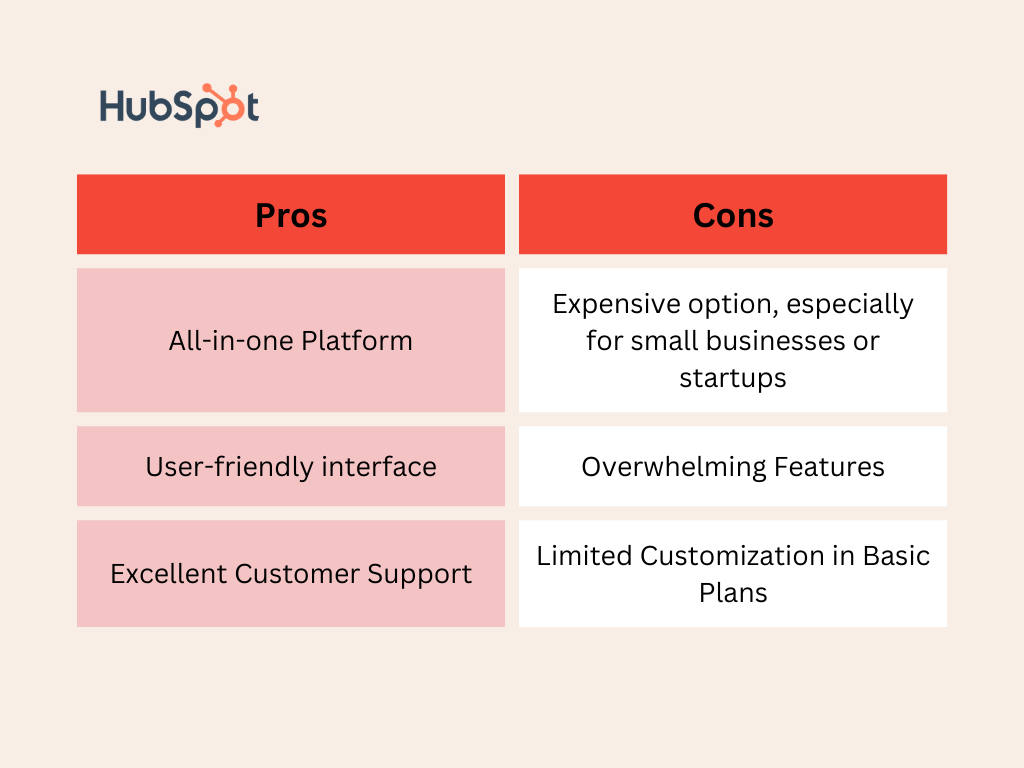 Campaign Monitor is an email marketing application designed to help businesses create and send beautiful, professional, and highly engaging emails to their subscribers.
This platform is designed to support the creation of personalized email campaigns and promotes a stronger connection with audiences.
With an intuitive drag-and-drop builder, real-time performance metrics, and automation processes, users can build and monitor exquisite email campaigns designed for optimal resonance with their target demographics
Key Features:
Drag-and-Drop Email Builder
This software comes with a powerful email builder tool, enabling users to create stunning and responsive email designs with ease.
A/B Testing Capabilities
Campaign Monitor enables the design of different versions of an email to perform A/B testing and determine which performs best based on user interaction.
Segmentation and Personalization
The platform provides flexible options for segmenting your customer database. You can then send personalized email campaigns to each segment, allowing targeted marketing efforts.
Automated Email Journeys
Campaign Monitor offers automation tools for creating customer journeys. You can schedule and automate dispatch of your campaigns based on customer behavior or a predetermined schedule.
Analytics and Reporting
The software provides comprehensive analytics and reporting tools, monitoring email campaign performance and providing actionable insights.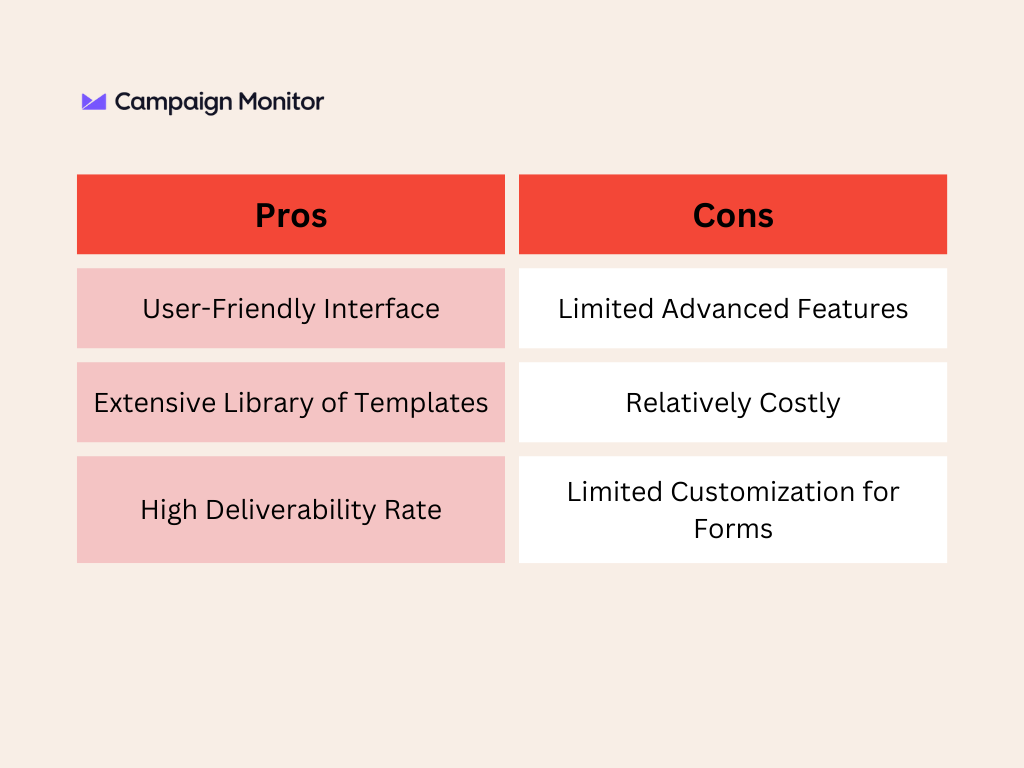 Conclusion
Choosing the right email marketing tool depends on your unique business needs, budget, and marketing goals. Each of the tools mentioned above offers unique features along with email automation, making them worthy contenders for your email marketing needs.
The size of your business, your budget, and your marketing objectives will heavily influence your choice.
It's time to take your email marketing to the next level by investing in a tool that drives conversions, strengthens customer relationships, and ultimately surpasses your email marketing goals. Happy emailing!