Introduction
In this age of digital businesses and heightened customer expectations, providing exceptional customer service is a vital differentiator.
It's here that help desk software leaps onto the scene, offering efficient, streamlined, and effective customer support.
But what is it? What's its significance? And with numerous solutions available in the market, which help desk software should you opt for?
This comprehensive blog post covers the top-rated help desk software, outlining its key features, advantages, and potential limitations.
What is Help Desk Software?
Help Desk Software is a tool that serves as a centralized hub for dealing with customer inquiries, issues, and concerns.
It facilitates the management, organization, and tracking of customer support tickets, ensuring that every customer's needs are addressed timely and efficient.
It also aids in automating tasks, prioritizing issues, and analyzing customer support effectiveness.
Why is Help Desk Software Important?
Unified platform: Help Desk Software amalgamates various support channels like email, phone, live chat, and social media, into one platform. As a result, customer support teams can respond to queries from various sources seamlessly.
Enhanced productivity: By automating routine tasks and offering smart ticket routing, Help Desk Software assists in eliminating repetitive tasks and aiding support agents in focusing on more complex customer issues.
Increased customer satisfaction: By ensuring timely resolution of concerns and offering customers to self-service their queries, Help Desk Software helps elevate customer satisfaction, thus building customer loyalty.
Insightful analytics: Help Desk Software also provides crucial data on ticket volume, resolution time, customer satisfaction, agent performance, and more, offering businesses insights to continuously improve their customer support.
Here, we present a detailed guide on the top 11 help desk software, covering their key features, benefits, and potential limitations.
Sanka is a digital transformation platform primarily designed to cut costs and boost productivity.
As a versatile platform, it offers an array of 20 business apps covering various domains, including sales, support, recruiting, and IT.
It offers essential features that can effectively be utilized to manage and optimize help desk operations.
Key Features of Sanka:
ContactLine: Among the various business apps offered by Sanka, ContactLine stands out as a potent tool for customer support. This feature could potentially automate customer interactions, manage calls, and provide effective bot solutions.
Customizable Automated Workflows: Sanka allows unlimited automation of workflows, which is crucial in a help desk scenario. By automating helpdesk processes such as ticket assignments, follow-up reminders, and routine customer queries, Sanka.io can enhance support efficiency.
Integration with 100+ apps: Sanka's compatibility with over 100 apps boosts its usability. This means it can be synchronized with a variety of other help desk tools or related software, making it a more comprehensive customer support platform.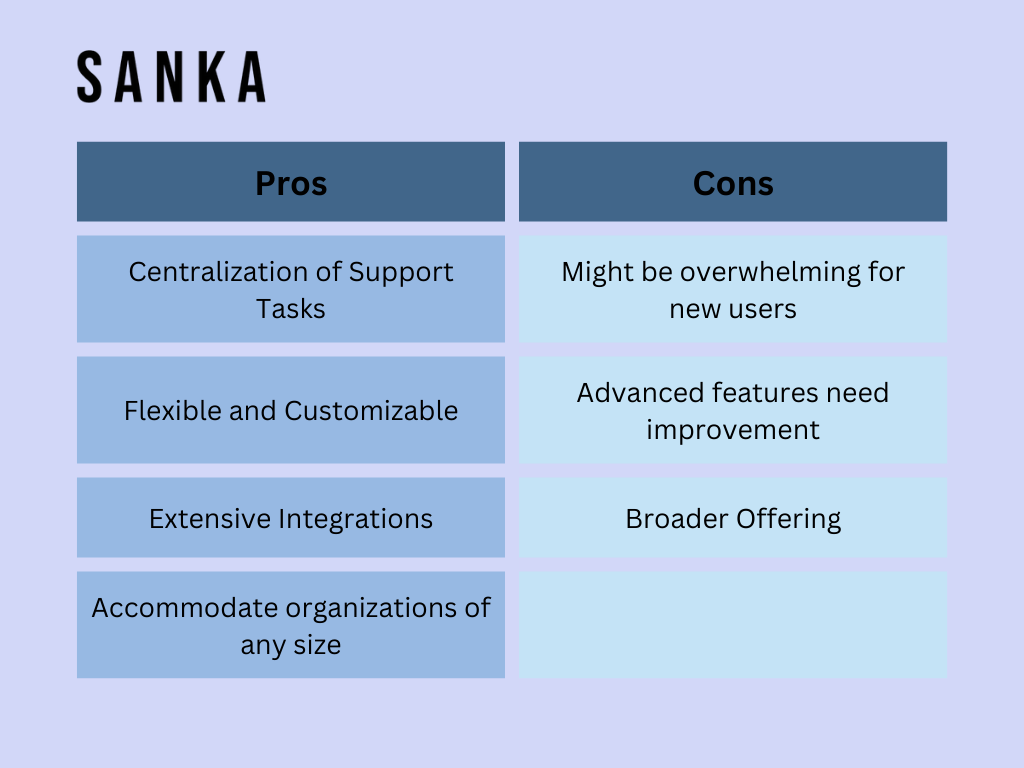 Zendesk is a front-runner with its powerful, cloud-based customer service platform. It boasts of an intuitive user interface, omnichannel support, AI-powered automation, customizability, and a comprehensive suite of features.
It is designed to be flexible and easy to use, enabling businesses to manage customer interactions effectively through various communication channels including email, phone, chat, and social media.
At its core, Zendesk ensures smooth communication and excels at providing tools needed for successful interaction with customers.
Key Features of Zendesk
Omnichannel Support: Zendesk allows businesses to manage all customer interactions from multiple channels—email, phone, chat, social media, and any other channel you can imagine—all within a single interface. The seamless integration ensures users do not miss out on any interaction, regardless of the point of contact.
Automation and AI-Powered Responses: Zendesk's built-in automation capabilities make it possible to set up triggers, automation, and service level agreements (SLAs) to optimize workflows. Additionally, Answer Bot provides instant, AI-generated responses to customer inquiries based on content from your knowledge base.
Ticket Management: Zendesk offers robust ticket management, replete with features like group rules, pre-defined ticket actions, and follow-up reminders. The system tracks, arranges, and maintains customer service tickets efficiently, ensuring nothing falls through the cracks.
Customizable Dashboard and Reports: Zendesk's dashboard can be tailored to suit individual preferences, helping support agents monitor tickets and respond promptly. Furthermore, it provides detailed reporting and analytics, giving businesses insights into their support operations, customer satisfaction metrics, agent performance, and more.
Knowledge Base and Self-service Portal: Zendesk facilitates creating an online help center or community forum to empower customers with self-service options, reducing the demand for live agents and increasing customer satisfaction.
Security and Compliance: Zendesk is dedicated to maintaining high-security standards, with built-in features to ensure data protection and compliance with GDPR and other data protection laws.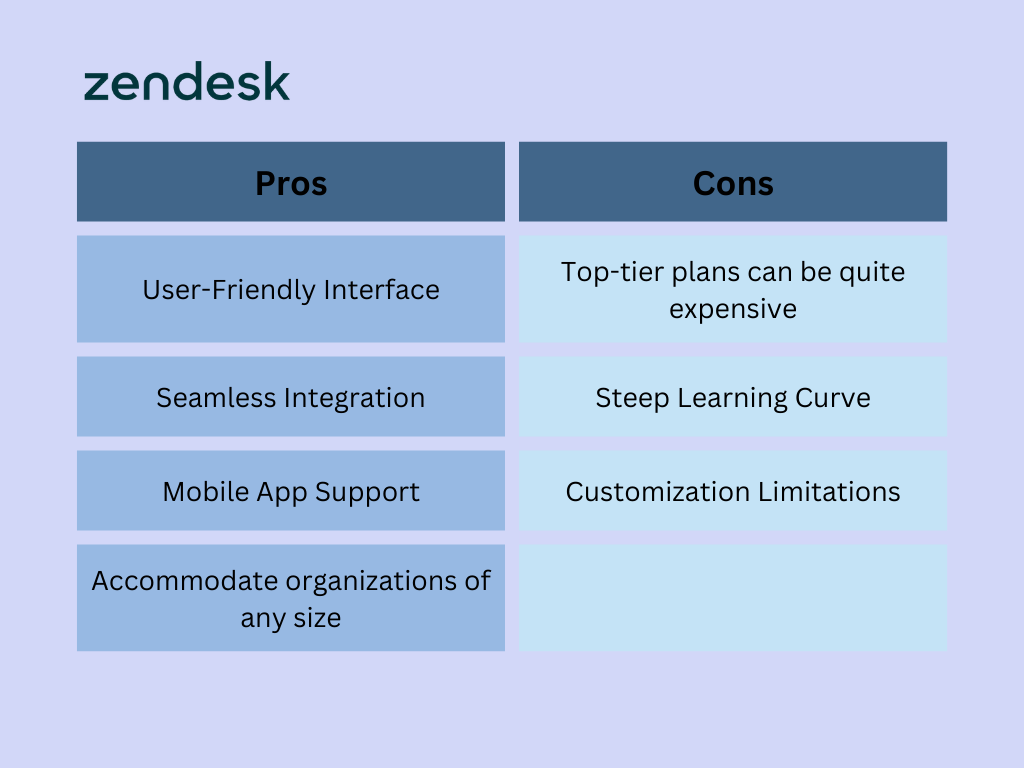 Freshdesk is a cloud-based customer support software, provides a suite of tools and features designed to streamline the handling of customer inquiries and enhance the customer service experience.
Freshdesk offers an intuitive and feature-rich platform known for its affordability. Key highlights include multi-channel support, automation, social media integration, and customizable widgets.
Reviews have lauded Freshdesk for its ability to enhance customer engagement and its scalability, making it a popular choice for businesses of all sizes.
Key Features of Freshdesk
Multi-Channel Support: Freshdesk gathers customer interactions from various channels such as email, phone, chat, and social media into one unified platform, ensuring no customer query goes unanswered.
Ticket Management: Freshdesk provides robust ticketing management features like ticket creation, assignment, prioritization, tagging, and tracking, reducing the chances of missing or duplicating tickets.
Automation and AI-Powered Self Service: With Freshdesk's automation capabilities, routine tasks can be streamlined. The AI-powered Freddie Bot can also offer instant responses to simple, repetitive customer queries, freeing up time for support agents to address more complex issues.
Self-Service Portal: Freshdesk allows you to build a knowledge base and a community forum where customers can find answers to their questions, lowering the number of simple inquiries reaching your agents.
Customization and Integration: Freshdesk enables businesses to customize the look and feel of their help desk and offers seamless integration with a wide range of third-party apps such as CRMs, Payment Gateways, and more.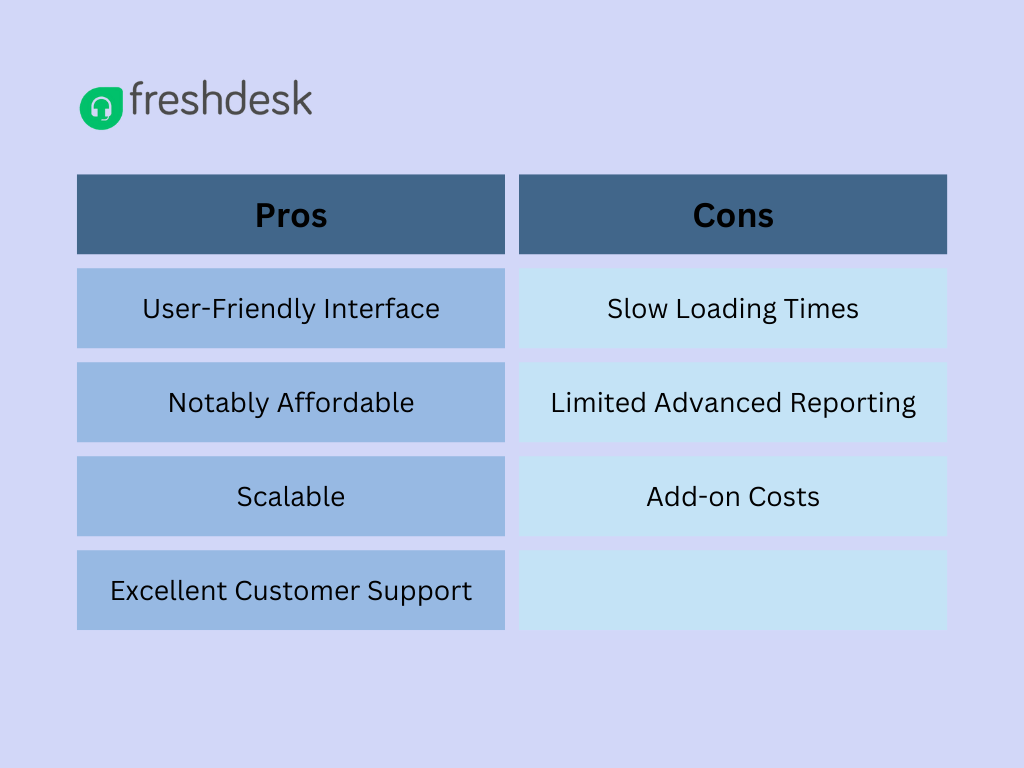 Zoho Desk is a cloud-based help desk software that offers customer support solutions to businesses of various sizes.
It is designed to simplify customer service processes through its user-friendly interface and extensive features.
Zoho Desk shines due to its affordability and wealth of features, making it an excellent option for SMBs. Its key strengths are embedded AI, advanced contact management features, and a built-in community forum module.
Key Features of Zoho Desk
Multi-Channel Support: Zoho Desk provides a unified platform for customer interactions from channels such as email, phone, social media, live chat, and self-service portals.
Ticket Management: With Zoho Desk, businesses can easily automate ticket assignments, track ticket status and updates, view customer history, and prioritize higher-stakes requests.
Workflow Automation: Zoho Desk provides tools to streamline and automate your day-to-day operations. This includes ticket assignment automation, task scheduling, SLA management, and much more.
Knowledge Base: Zoho Desk allows businesses to create an organized knowledge base to support a self-service strategy. It centralizes all your articles, FAQs, product guides, etc., in one place.
Analytics & Reporting: Zoho Desk offers robust tools to create detailed reports and metrics for tracking team performance, customer satisfaction, and other key aspects.
Integration Compatibility: Zoho Desk easily integrates with numerous popular apps and services, including other Zoho products and third-party applications, enhancing its utility.
Help Scout is a dedicated customer support platform engineered to offer support solutions to businesses of varying sizes.
The platform is furnished with assorted tools, optimized to deliver top-tier customer service.
Help Scout crafted for small businesses and startups, offers powerful search and tagging capabilities, workflow automation, in-depth reporting, third-party integrations, and built-in live chat features.
Key Features of Help Scout
Email Management: Help Scout focuses on streamlining email management and turning each query into a separate ticket, making it easier to track and respond to customer inquiries.
Collaborative Inbox: Help Scout's shared inbox feature ensures team members can work together on customer queries. It includes features like live chats, tags, and private notes to ensure effective collaboration.
Knowledge Base: Known as Docs, Help Scout's knowledge base tool allows businesses to create step-by-step guides, articles, and FAQs. Docs help customers to troubleshoot issues themselves and offer a platform for self-service.
Reports and Analytics: Help Scout enables the generation of various reports and analytics, providing comprehensive insights into customer conversations, company performance, and individual productivity.
Automation and Workflows: With automation, repetitive tasks can be streamlined. Custom workflows can be created for a wide range of tasks, such as automatically assigning specific emails to relevant team members.
Customizable Customer Experience: Help Scout lets you customize various aspects of the customer journey offering a robust set of customization options from managing email threads to tweaking customer-facing interfaces.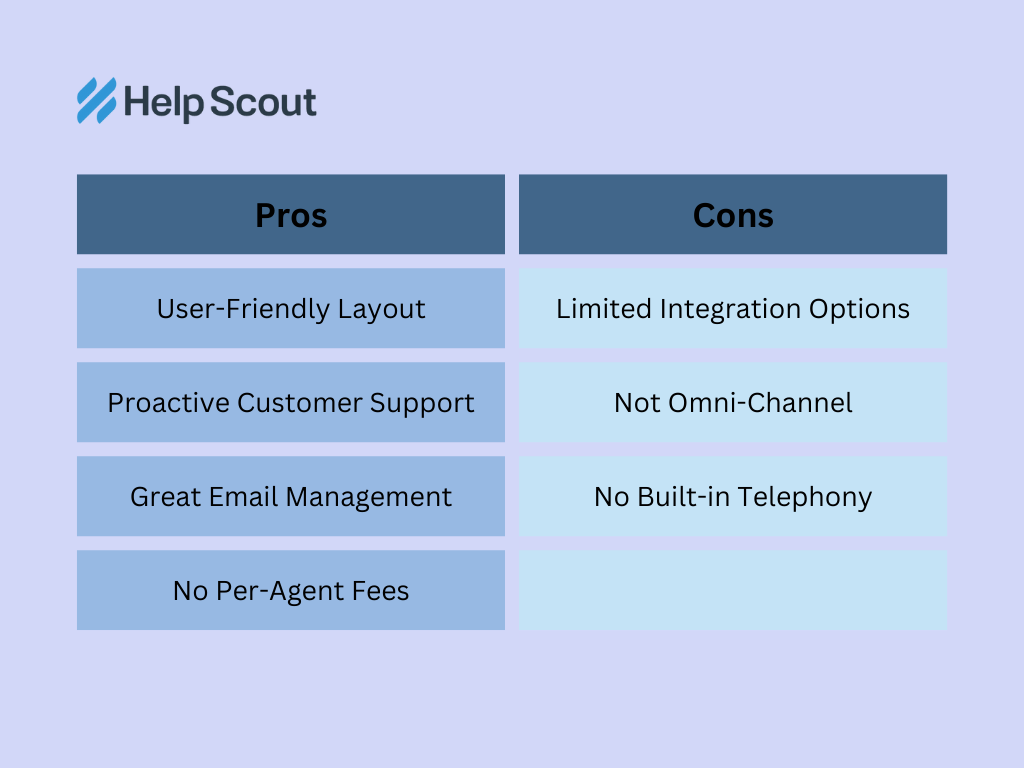 LiveAgent is a comprehensive customer support software designed to facilitate more efficient ticket resolution across various communication channels.
It aims to provide excellent customer service to businesses of all sizes, whether small or mid-sized.
LiveAgent stands out with robust multichannel support and an extensive feature suite, including live chat functionality and built-in call center capabilities.
LiveAgent distinguishes itself with over 150 integrations and 175 features, offering personalized support to customers.
It's praised for its functionality, stability, and integration with various platforms, significantly aiding businesses to enhance customer relationships and reputation.
Key Features of LiveAgent
Multi-Channel Support: LiveAgent enables businesses to connect with customers through various channels such as email, phone, chat, social media, and self-service portal, all from a unified interface.
Ticket Management: LiveAgent scores high on comprehensive ticket management, offering features like ticket distribution, prioritization, and categorization, making it easier to solve customer inquiries efficiently.
Real-Time Live Chat: One of LiveAgent's standout features is its real-time live chat tool, which includes chat invitations, chat button gallery, and a chat overview option, fostering instant connection with customers.
Automation: LiveAgent provides robust tools for automation including rule-based ticket distribution, auto-replies, and time-triggered actions, which collectively contribute to reducing manual labor.
Knowledge Base: Utilize LiveAgent's integrated knowledge base feature to create FAQ sections, forums, or instructional "how-to" articles, promoting self-service among customers.
Unique Call Center Feature: LiveAgent comes with a built-in call center feature that supports both incoming and outgoing calls with the additional functionality of call recording.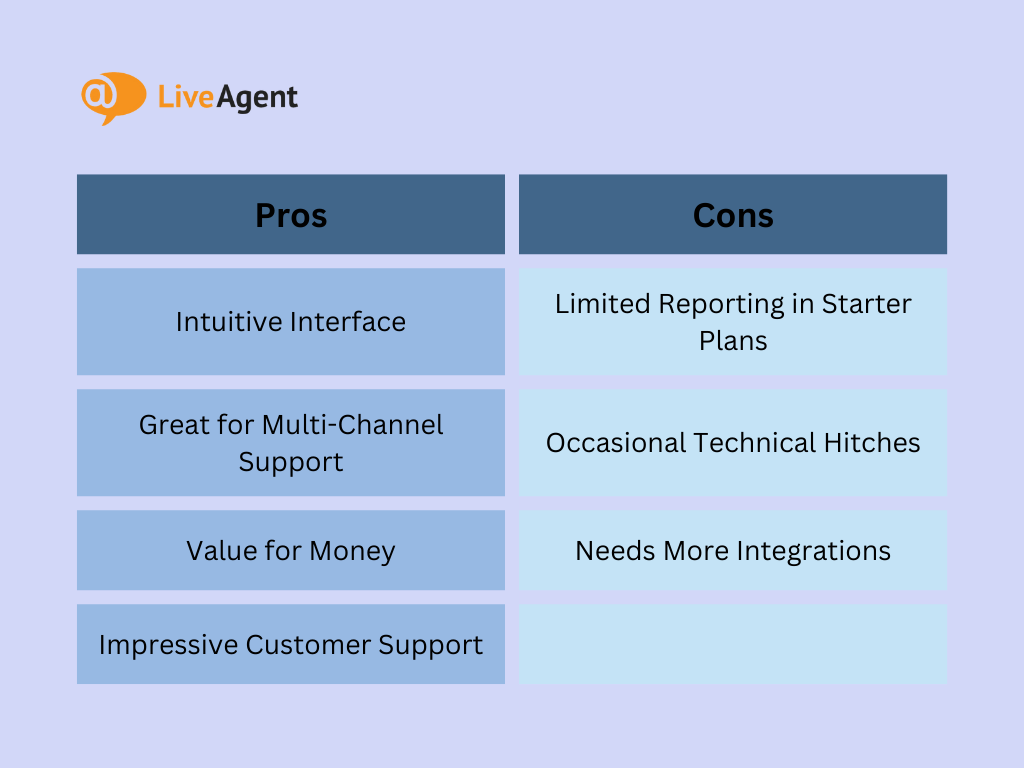 Jira Service Desk, now part of Jira Service Management, is a customer service software designed to permit teams to deliver superior service experiences.
Jira Service Desk is celebrated for its advanced ITSM (IT Service Management) capabilities, agile approach, SLA management, and deep integration with other Atlassian products.
In the realm of customer support, Jira Service Desk has carved a niche with its powerful features and integration capabilities.
Key Features of Jira Service Desk
Issue Tracking: Jira Service Desk provides a dynamic platform for tracking, prioritizing, and resolving customer issues effectively.
SLA Management: Businesses can set up SLA (Service Level Agreement) policies that trigger warnings and automatic escalations, guaranteeing issue resolution within agreed timeframes.
Confluence Integration: The software integrates seamlessly with Confluence, Atlassian's powerful collaborative content creation tool, to provide a robust knowledge base for self-service.
Customizable Workflows: Users have the option to customize workflows fitting their team's needs, promoting efficiency in the service delivery processes.
Real-Time Reporting: Robust analytics and reporting provide insights into team performance, ticket volumes, and incident metrics, to foster data-informed decision-making.
A multitude of Integrations: Extensive integration options with numerous third-party applications allow for a seamless confluence of different business functions.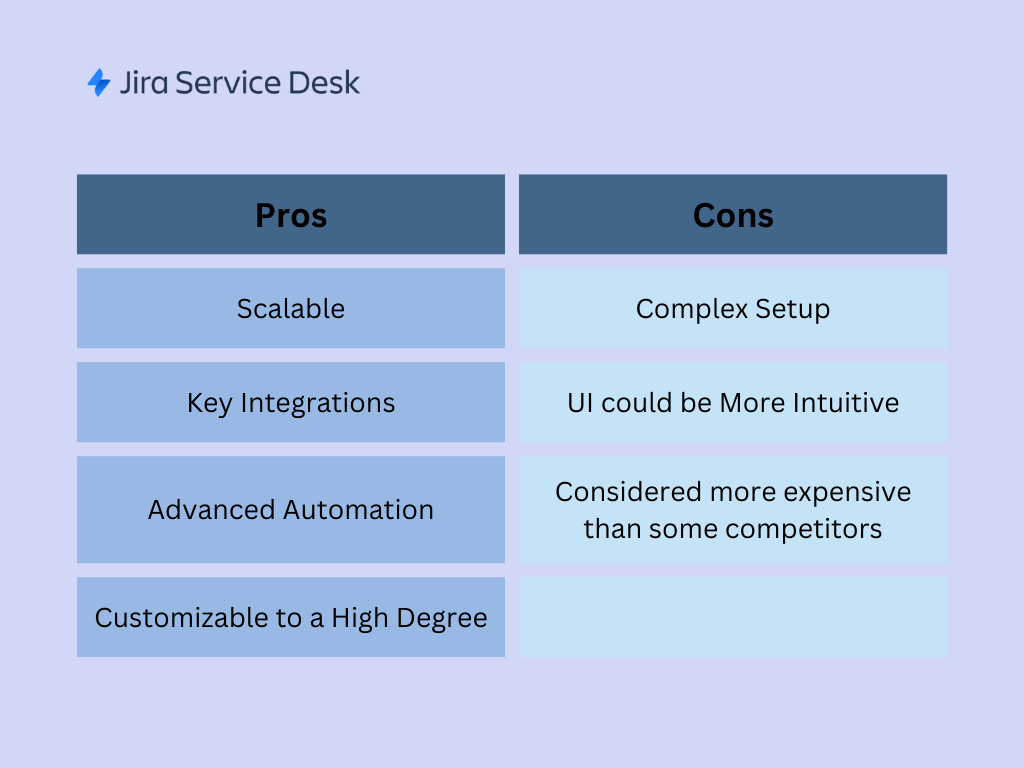 Intercom is established as an all-inclusive customer service platform best suited for businesses aiming to augment user engagement and swiftly resolve customer issues.
Intercom excels in proactive support, enriched with a customer messaging platform, live chat features, automated workflows, and integration with major CRM software.
Intercom's integration capability across various team functions empowers businesses to offer powerful customer experiences that foster growth.
Key Features of Intercom
Conversational Support: Equipped with a built-in messenger, Intercom allows for real-time and asynchronous communication with customers.
Automation and Bots: Intercom uses chatbots to automate engagement, capture leads, and provide user-specific answers instantly.
Knowledge Base: Called 'Articles' within Intercom, the knowledge base allows businesses to create support content, helping users self-serve their needs.
Customizability: Intercom provides substantial options for customization. Teams can create a branded messenger, tailor conversational bots, and personalize help articles to suit their brand and needs.
Targeted Messaging: Intercom allows for targeted messaging based on user behavior, location, or referral link, allowing businesses to communicate meaningfully and effectively.
Robust Integrations: Intercom offers extensive integration options, bolstering its functionality by linking with third-party applications according to specific business requirements.
SysAid stands out as an all-in-one IT service management solution packed with a range of features suited to businesses of all sizes.
It provides comprehensive tools to optimize and automate various IT tasks, ensuring effective problem resolutions and improved customer satisfaction.
By automating various support tasks and providing a range of management features, SysAid ensures a smooth and effective IT support experience.
Key Features of SysAid
IT Asset Management: SysAid's robust asset management feature keeps a detailed record of all IT assets across the network, offering a centralized view of asset details, current status, and history.
Incident Management: SysAid provides an integrated incident management solution, aiding in categorizing, prioritizing, and resolving issues effectively.
Automation and AI: SysAid helps automate various routine tasks for service desk and also includes an AI-powered chatbot for timely customer responses.
Self-Service Portal: The self-service portal allows users to log their own incidents, request services, and check the status of their activities without necessarily engaging agents.
Analytics and Reporting: SysAid offers a variety of analytics tools and built-in report templates, providing insights for informed decision-making.
Patch Management: This feature helps to keep all IT systems updated, reducing the risk of vulnerabilities.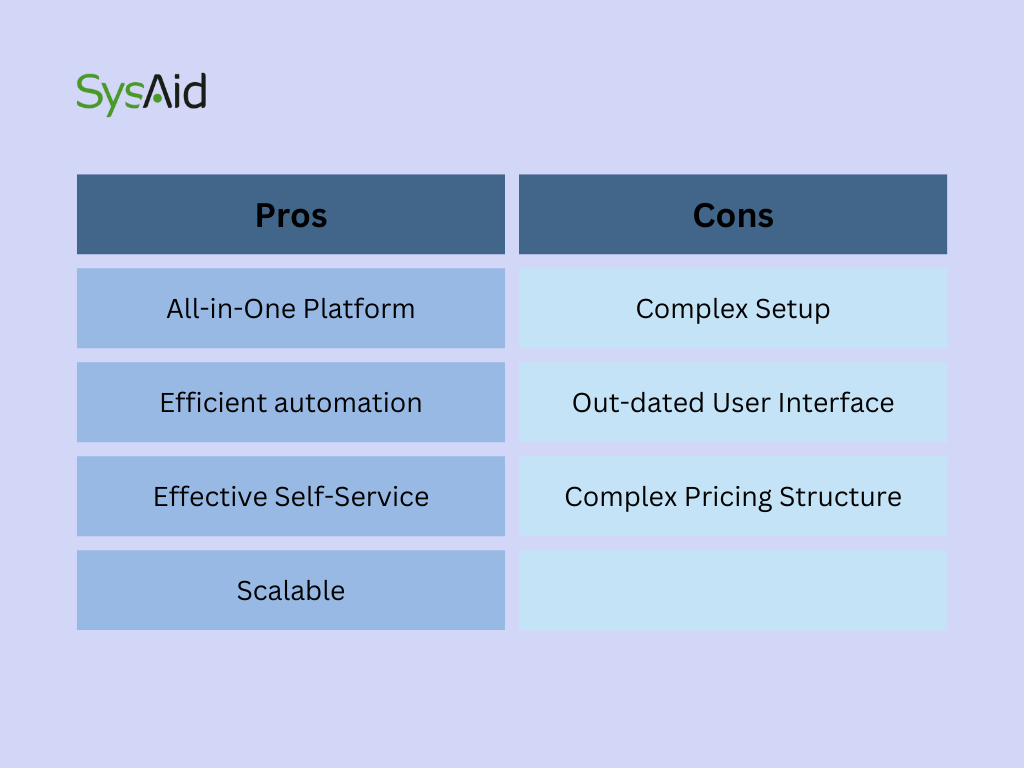 As an email-centric customer service solution, Hiver facilitates seamless collaboration by transforming Gmail into a help desk tool.
It fits seamlessly into your Google Workspace & Gmail environment, making it an easy-to-learn tool that does not require extensive training.
Hiver is favored by companies looking to offer brilliant customer service while managing large volumes of emails efficiently.
Owing to its integration with a well-known and widely-used platform like Gmail, Hiver makes providing multi-channel customer support a straightforward process.
Key Features of Hiver
Shared Inboxes: Hiver allows teams to collaborate and manage emails from shared inboxes, such as support@ or sales@, directly from their Gmail accounts.
Email Assignment: Emails can be assigned to different team members as tasks, ensuring transparency, and avoiding duplication of effort.
Email Tags: Custom tags allow for easy classification and tracking of emails.
Collision Detection: This feature helps avoid multiple responses to the same email by showing when another team member is replying to an email.
Analytics and Reports: Hiver provides comprehensive analytics and reporting functionalities for tracking team performance, customer queries, and other metrics.
Email Templates and Automation: Hiver offers canned responses and automatic email assignments to speed up response times and ensure consistent communication.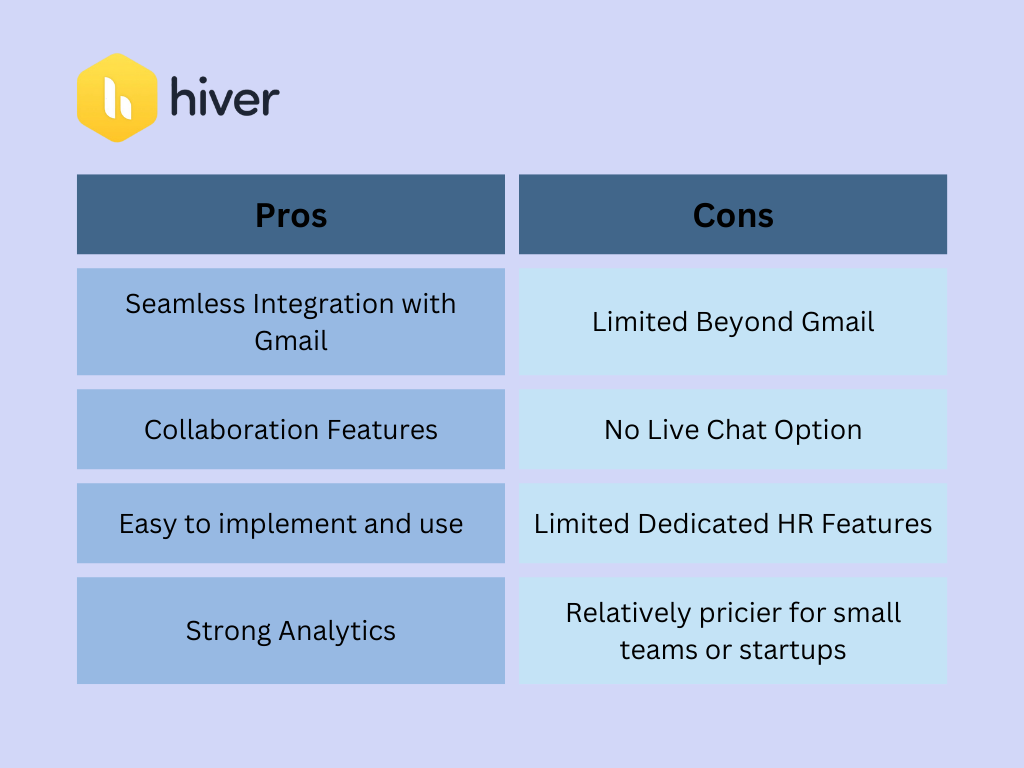 Kayako is a user-friendly platform with an integrated live chat function, support ticketing, a self-service portal, and advanced analytics tools.
It is designed to make managing customer conversations simple and effective.
It is well-suited for small to mid-sized businesses due to the flexibility and user-friendly customization it provides.
Kayako's focus on simplicity and customer service make it effective for companies aiming to improve their customer relations and issue resolution processes.
Key Features of Kayako
Multi-Channel Support: Kayako aggregates interactions across various channels including email, live chat, phone call, etc, into a single view.
Customizable Help Center: Kayako allows businesses to build a fully branded, SEO-friendly Help Center to help customers find answers quickly.
Customer's Journey: The software provides a timeline for every customer's journey, creating a context to every conversation.
Automation & SLAs: Kayako comes with an array of automation tools and also allows setting service level agreements (SLAs) to prioritize support.
Integration: Kayako can be integrated with a multitude of applications including CRM software, billing systems, bug trackers, etc.
Multilingual & Multi-brand Support: Kayako supports multiple languages and brands, enabling businesses to provide tailored customer service.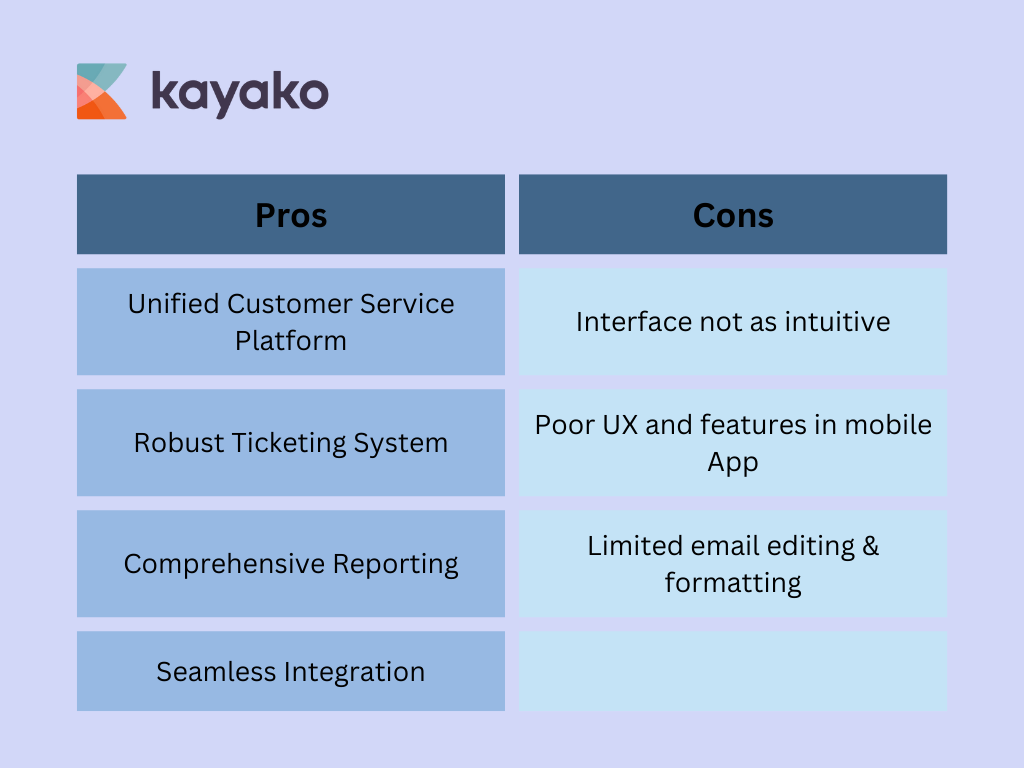 Conclusion
Help Desk Software can be the game-changer when it comes to delivering impeccable customer service. It offers a wealth of benefits, from unifying support channels to providing valuable insights about your service performance.
However, due to the broad spectrum of options available, businesses should make a well-informed decision keeping in mind their unique needs, budget, and growth plans.
Remember, the end goal is to boost customer satisfaction and create a loyal customer base—the right Help Desk Software can definitely help thread that path.