Introduction
As an HR leader in today's competitive job market, you need an effective way to recruit, develop, and retain top talent. Implementing a robust talent management solution is crucial for achieving your organizational goals and future growth.
With many options available, determining the right talent management software for your needs can be challenging.
This comprehensive review covers the leading talent management solutions, highlighting the key features and capabilities of each to help you make an informed choice.
What Is Talent Management Software and Why Is It Important?
Talent management software, also known as human capital management (HCM) software, is a technology designed to help organizations attract, hire, develop, and retain top talent. It provides a suite of tools for managing the entire employee lifecycle.
Using talent management software, HR departments and managers can automate and streamline critical HR functions like:
Recruiting and applicant tracking: Post jobs, source candidates, schedule interviews, and track applicants.
Onboarding: Welcome new hires, collect paperwork, and get them up to speed.
Learning and development: Provide and track employee training, set goals, and measure progress.
Performance management: Create performance reviews, set key performance indicators (KPIs), evaluate employees, and determine compensation.
Succession planning: Identify and develop internal candidates for key roles.
Effective talent management is essential for organizational success. With the right software in place, companies can gain valuable insight into their workforce, align employee goals with business objectives, identify and address skill gaps, increase employee retention, and ensure continuity of leadership.
Our Top Picks for the Best Talent Management Software Solutions
Our top picks for the best talent management software solutions offer robust features, integration capabilities, and the flexibility to meet the needs of both small businesses and large enterprises. They enable companies to attract, recruit, and retain top talent.
Sanka is a digital transformation platform that offers a broad spectrum of applications and automated workflows to boost productivity while saving costs.
With its robust capabilities,
it can facilitate functions that align with talent management.
Using Sanka as a Talent Management Software, recruiters can leverage the platform's versatile integrations and workflow automation capabilities for streamlined human resources processes.
Features potentially relevant to talent management in the Sanka ecosystem might include:
BambooHR is an affordable, cloud-based human resource information system (HRIS) and talent management solution suitable for small to mid-sized businesses.
It offers core HR functionality like applicant tracking, onboarding, payroll management, and performance management.
BambooHR makes it easy to track and manage employee records, time off, and company documents.
It is a software-as-a-service (SaaS) solution, so there are no servers or software to maintain.
Key Features:
Applicant Tracking System (ATS): BambooHR offers a clear view of all hiring processes in one place, making it easy to post jobs, evaluate candidates, and hire the right talent.
Onboarding & Offboarding: The software provides a smooth and paperless onboarding process, with tasks, training, and provision accesses. Offboarding is streamlined as well.
Employee Self-Service: BambooHR's ESS allows employees to check information, request time off, and manage their tasks, bolstering employee independence.
Performance Management: An automated performance appraisal process, peer reviews, and easy feedback collection facilitate a healthy performance evaluation and a strong feedback culture.
Time-Off Tracking: Employees can request time off, and HR can easily track leave balances and approve leave requests.
Payroll Management: They offer US-based payroll systems that are integrated with the HR platform.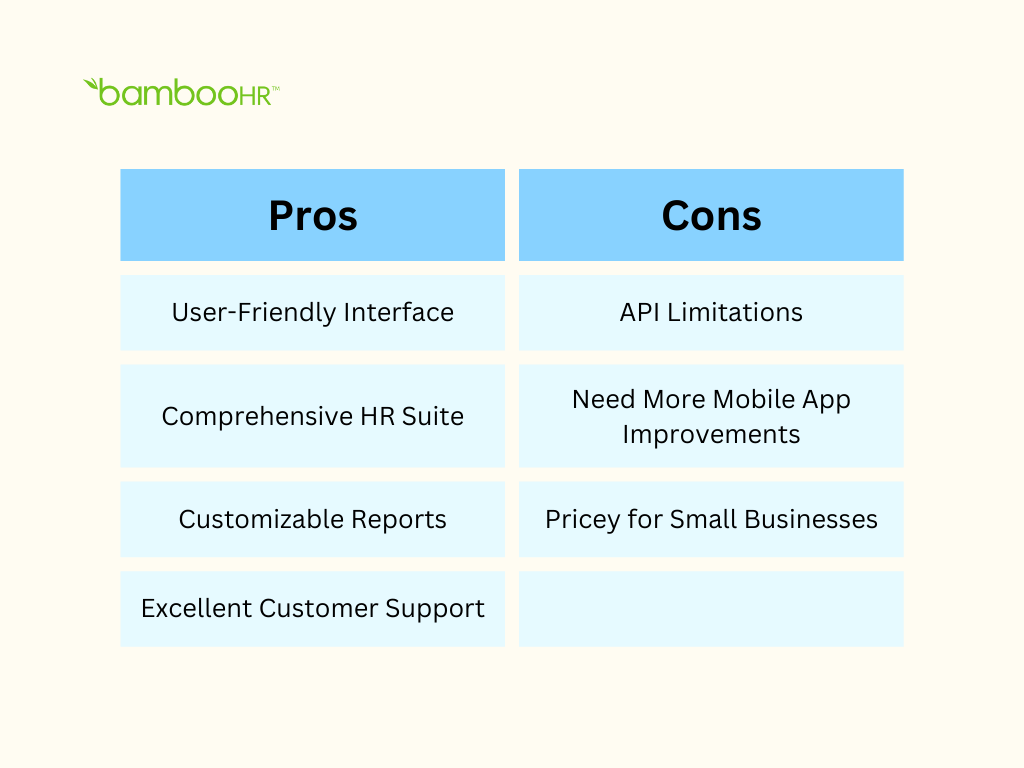 SAP SuccessFactors is a leading talent management suite suitable for mid-sized to large businesses.
It offers robust talent acquisition, learning and development, performance management, compensation management, and succession planning capabilities.
SAP SuccessFactors enables companies to align their talent strategy with key business objectives, identify and develop high-potential employees, and gain valuable insights into their workforce.
It has a highly intuitive user interface and seamlessly integrates with SAP's ERP and HR systems.
Key Features:
Recruitment and Onboarding: SuccessFactors provides a suite of tools to aid in the recruitment process, from requisition to offer, with an intuitive onboarding module for seamless transition.
Employee Performance and Goals: The platform allows employees and managers to set and track performance goals, facilitate ongoing feedback, and conduct performance reviews.
Learning and Development: SuccessFactors includes a robust Learning Management System (LMS) for managing employee training and development.
Succession and Development: This module helps organizations ease leadership transitions and prepare their workforce for future challenges.
Employee Central: A core HR module provides a central database for employee data and HR management.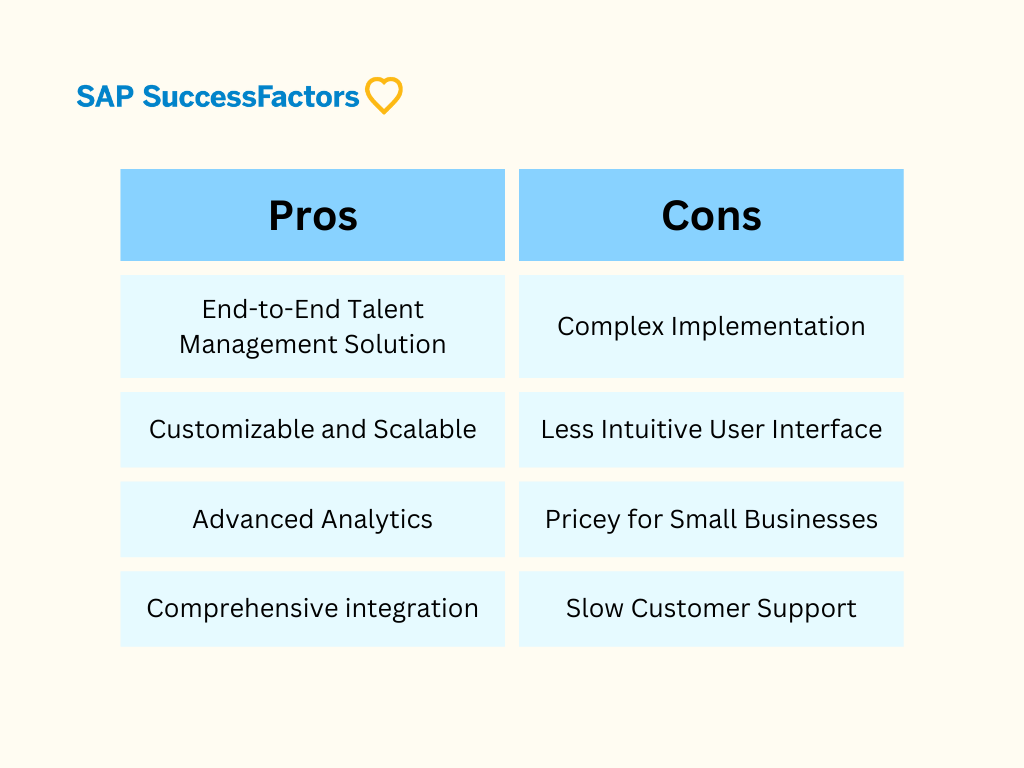 Cornerstone OnDemand is a leading talent management solution designed for large enterprises. It offers comprehensive features for recruiting, onboarding, learning and development, performance management, compensation planning, and employee engagement.
Cornerstone OnDemand enables companies to optimize their talent strategies across the employee lifecycle.
It has a modern interface, and customizable features, and integrates with many popular business applications.
Cornerstone OnDemand is used by some of the world's largest companies to recruit, train, manage, and retain their workforce.
Key Features:
Recruiting and Onboarding: Cornerstone OnDemand comes with a robust recruiting suite to streamline the hiring process, followed by an engaging onboarding process for new hires.
Learning Management System (LMS): A powerful LMS allows employees to access various training programs to develop skills and competencies.
Performance Management: The platform offers features to set performance goals, carry out regular assessments, and provide real-time feedback.
Succession Planning: It supports organizations in identifying potential future leaders and preparing them for leadership roles.
Workforce Planning and Analytics: Advanced analytics and reporting features provide valuable insights about your workforce.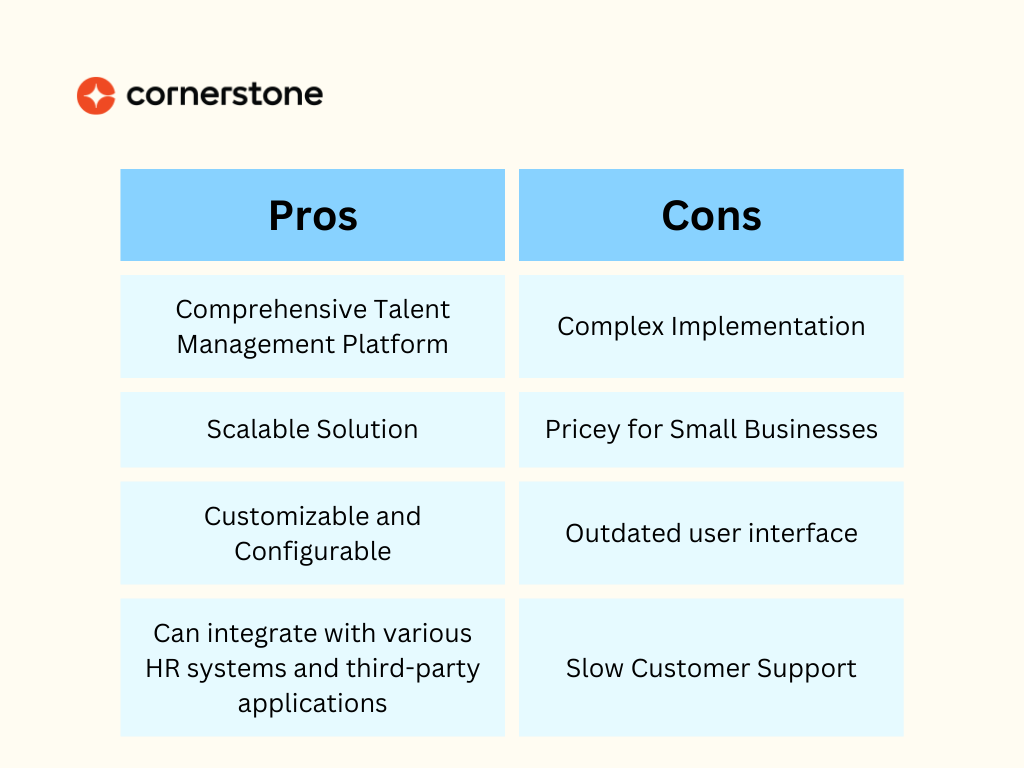 Paycor is a popular all-in-one HR and payroll software solution used by over 30,000 companies.
It offers core HR, benefits administration, attendance, recruiting, and performance management features.
Paycor streamlines processes like payroll, taxes, reporting, and compliance. It provides an employee self-service portal, manager dashboard, and analytics to help optimize your workforce.
Paycor is best for small to midsize businesses in any industry looking to simplify HR and payroll.
Paycor receives high reviews for ease of use, customer service, and value. However, some say reporting and analytics capabilities could improve.
Key Features:
Recruiting and Onboarding: Paycor's platform offers an intuitive recruiting system, followed by an efficient onboarding process that simplifies initial tasks for new hires.
Payroll Management: The software excels at managing and simplifying payroll processing with error detection features and tax management.
Time and Attendance: Paycor allows employees to clock in and out, request time off, and receive approval in a centralized system, making time-tracking seamless.
Performance Management: Tools for goal setting, performance evaluation, and feedback collection help organizations manage employee performance effectively.
Learning and Development: The platform provides a Learning Management System (LMS) that allows users to create, assign, and track employee training.
Analytics and Reporting: It offers customizable reports, providing users with insights for data-driven decision-making.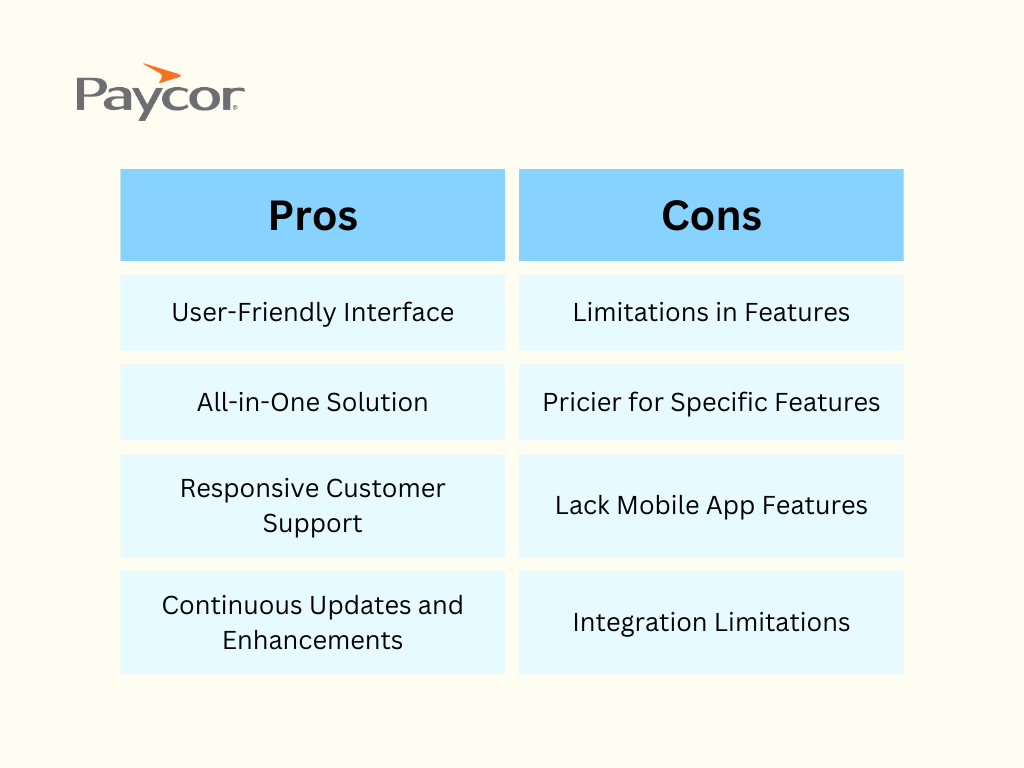 Rippling is an HR software platform with payroll, benefits, and compliance management features. It automates administrative tasks like payroll, taxes, insurance, and regulatory reporting.
Rippling also offers employee onboarding, workplace policies, an employee help desk, and analytics.
Rippling suits startups and small to midsize companies in any industry. Pricing begins at $8 per employee per month.
Users highlight Rippling's simple but comprehensive platform, top-notch customer support, and affordable pricing.
Potential downsides include a lack of performance management and limited customization options.
Key Features:
Onboarding and Offboarding: The platform efficiently handles the employee lifecycle from hiring to offboarding, automating various set-up tasks.
Payroll Management: Rippling can process payroll with automatic tax calculations and filings and offers native payroll integrations.
HR Management: The platform allows for PTO/sick leave tracking, employee directory maintenance, onboarding task automation, and more.
Benefits Management: Rippling offers a streamlined way to manage benefits, providing features for enrollment and compliance.
Employee Device Management: Unique to Rippling, this feature enables IT departments to manage and secure employee hardware and software.
Integrations: The platform integrates with a variety of apps like GSuite, Slack, and Salesforce, creating a connected workplace.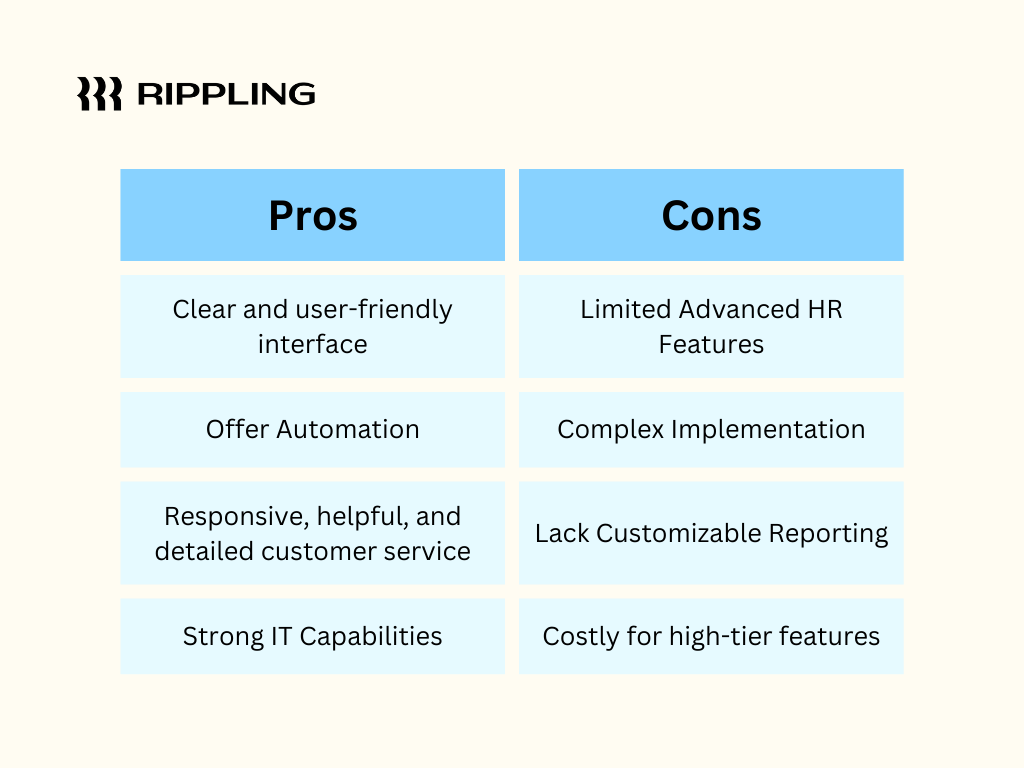 Workday is an enterprise-level HR and financial management software solution. It provides core HR, payroll, talent management, workforce planning, and analytics capabilities.
Workday is highly customizable and helps streamline complex business processes.
Workday best fits large organizations with 500+ employees. Pricing is customized for each client.
Users praise Workday's in-depth functionality, highly configurable platform, and robust reporting.
However, the software can be challenging to implement and may require additional costs for integration, training, and consulting fees.
Key Features:
Human Capital Management (HCM): HCM solution integrates HR functions with talent management capabilities like career and development planning, and succession planning.
Recruiting and Onboarding: Enables efficient job posting, recruitment process management, and smooth onboarding for new employees.
Workforce Management: Helps in managing various aspects of employees' work lives, including time tracking and leave management.
Talent Management: Provides tools for career and development planning, performance management, and succession planning.
Embedded AI for Maximum Performance: The platform combines AI with its powerful HR solution to enhance and bolster workforce performance.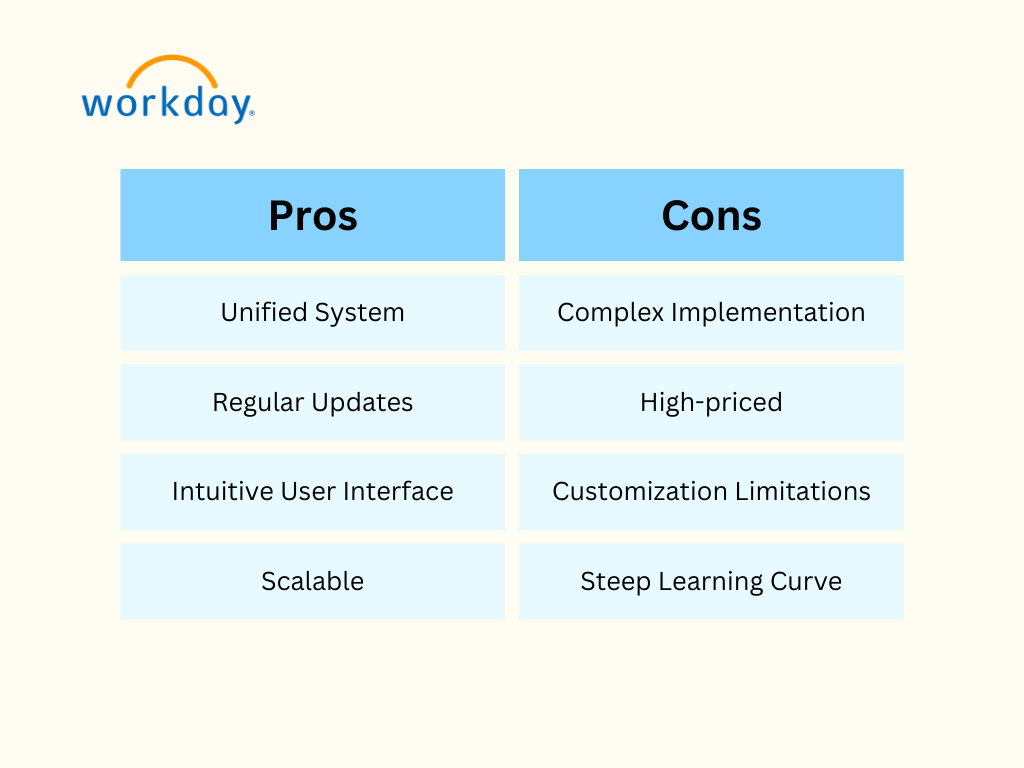 JazzHR is a dynamic Talent Management Software that offers an all-in-one solution to the challenges of modern recruitment.
From job posting to applicant tracking to interview scheduling, JazzHR streamlines the entire hiring process, making it easier for businesses to find and onboard the right talent.
At its core, JazzHR functions as an Applicant Tracking System (ATS), providing an organized and centralized platform to track applicants from the initial sourcing stage to the final hiring decision.
It's designed to streamline recruitment, making it faster and more efficient to locate, attract, and retain top talent.
One of JazzHR's key features is its ability to post and syndicate job listings. Companies can create compelling job descriptions and broadcast them across multiple job boards and social media platforms, increasing their reach and visibility.
Key Features:
Job Posting: JazzHR provides a centralized platform where recruiters can create and post jobs seamlessly to multiple free and premium job boards.
Applicant Tracking System: This powerful tool makes it easy to review, rate, and organize candidates in one place, providing a clear overview of your recruitment pipeline.
Resume Screening: JazzHR's system automatically screens incoming resumes, scoring each candidate based on selected criteria.
Interview Scheduling: The software integrates with popular calendars to simplify the scheduling process and reduce scheduling conflicts.
Offer Letters: JazzHR streamlines the offer process by allowing you to send and manage offer letters directly from the platform.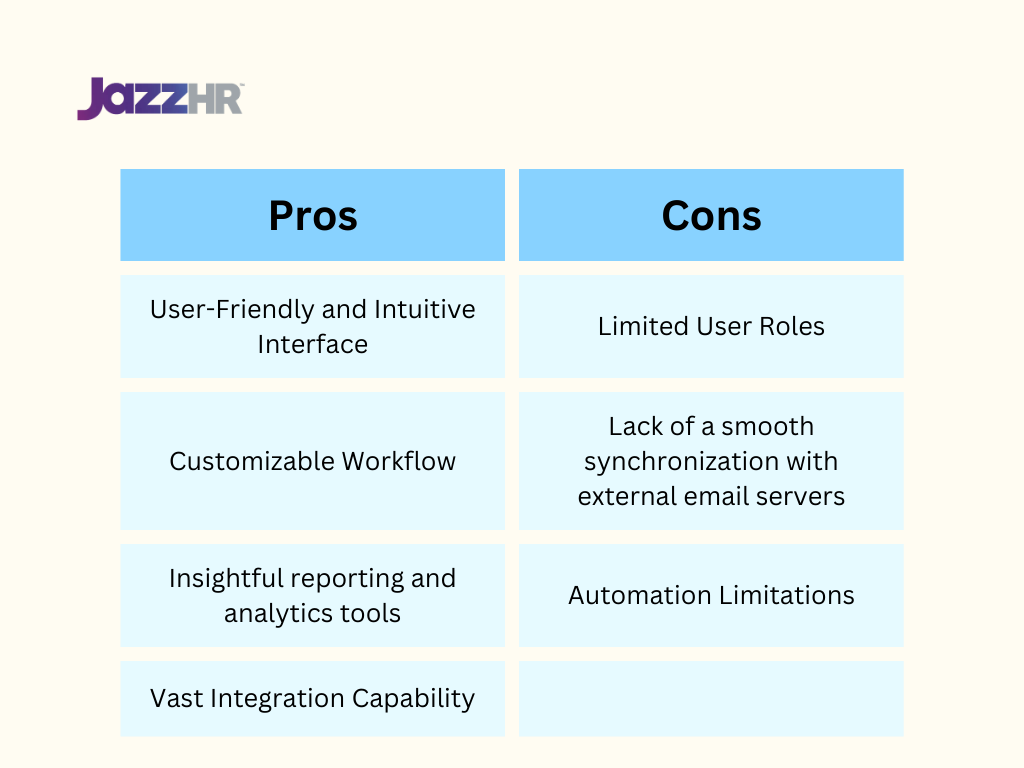 UKG, or Ultimate Kronos Group, is a leading provider of Human Capital Management (HCM) solutions, including talent management, for businesses of multiple sizes, but especially excels in serving enterprises with 1,000+ employees.
As a Talent Management Software, UKG offers a comprehensive suite of tools designed to streamline and optimize various aspects of the talent management process.
These aspects can range from recruitment and onboarding to performance management and succession planning.
One of UKG's standout features is its cloud-based deployment, which offers scalability, flexibility, and ease of access from anywhere.
Key Features:
Recruiting & Onboarding: UKG Pro provides robust tools to streamline the hiring process, from personalized job sites to onboarding experiences that help new hires feel engaged from their first day.
Performance Management: Through regular check-ins, goal-tracking, and toolkits for effective performance discussions, UKG Pro endeavors to align employee progress with company goals.
Succession Management: UKG Pro allows organizations to identify, develop, and track high-performing individuals for strategic planning and bench strength.
Learning Management: From assigning courses and tracking completion rates to creating customized learning paths, UKG Pro's learning management provides comprehensive learning experiences.
Compensation Management: UKG's software aids in creating fair and competitive compensation plans, helping to retain top talent.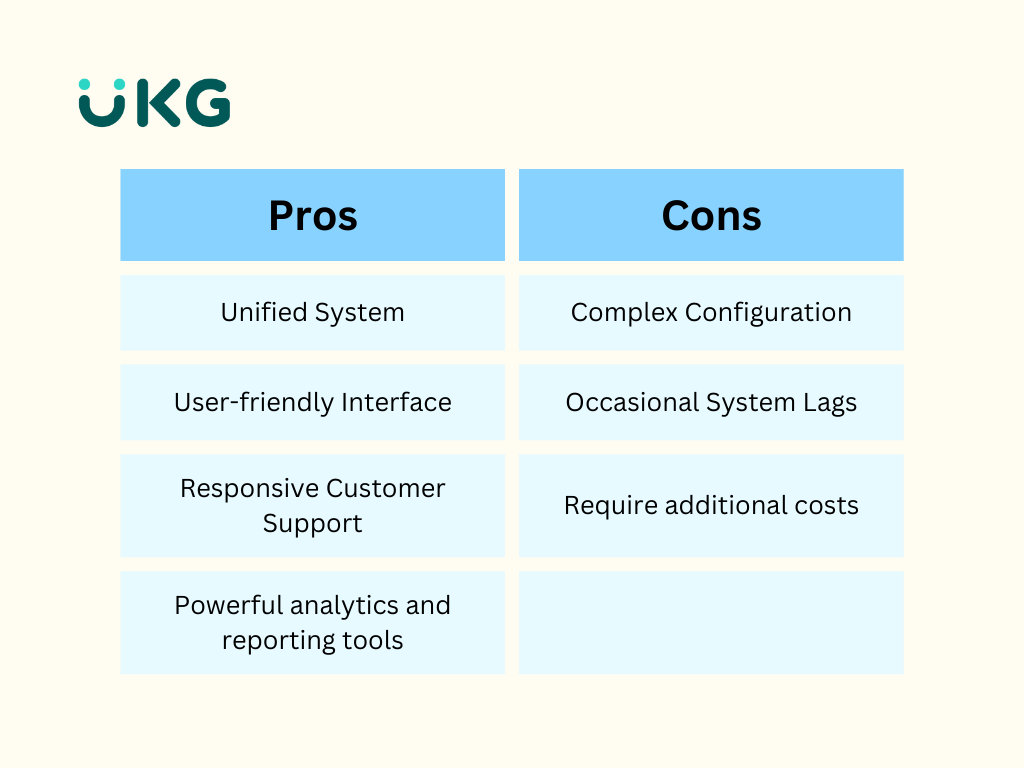 Freshteam, developed by Freshworks, is an innovative Talent Management Software designed to centralize and streamline HR activities.
It's an all-in-one solution that caters to businesses seeking to enhance their HR processes, save time, and reduce human errors.
One of Freshteam's key selling points is its user-friendly interface, which makes it easy for both HR teams and employees to navigate.
This ease of use, combined with its comprehensive functionality, makes Freshteam a practical choice for businesses aiming to improve their HR processes.
Also, it's worth noting that Freshteam is praised for its highly responsive customer support, which is a crucial factor to consider when choosing a software solution.
Key Features:
Applicant Tracking System (ATS): Freshteam's ATS allows businesses to manage their recruiting pipeline, from posting job openings to tracking and engaging candidates in one place.
Employee Onboarding: The platform simplifies the onboarding process for new hires by assigning them pre-defined tasks, making it easier to get settled into their new roles.
Employee Database and Directory: With its intuitive employee database management, Freshteam centralizes employee records in a unified, searchable platform, making it simple to access personnel information.
Time Off Management: Freshteam helps streamline leave management with customizable leave policies, balance tracking, and approval workflows.
Collaboration Tools: The platform provides a social intranet feature to encourage employee engagement and communication across internal teams.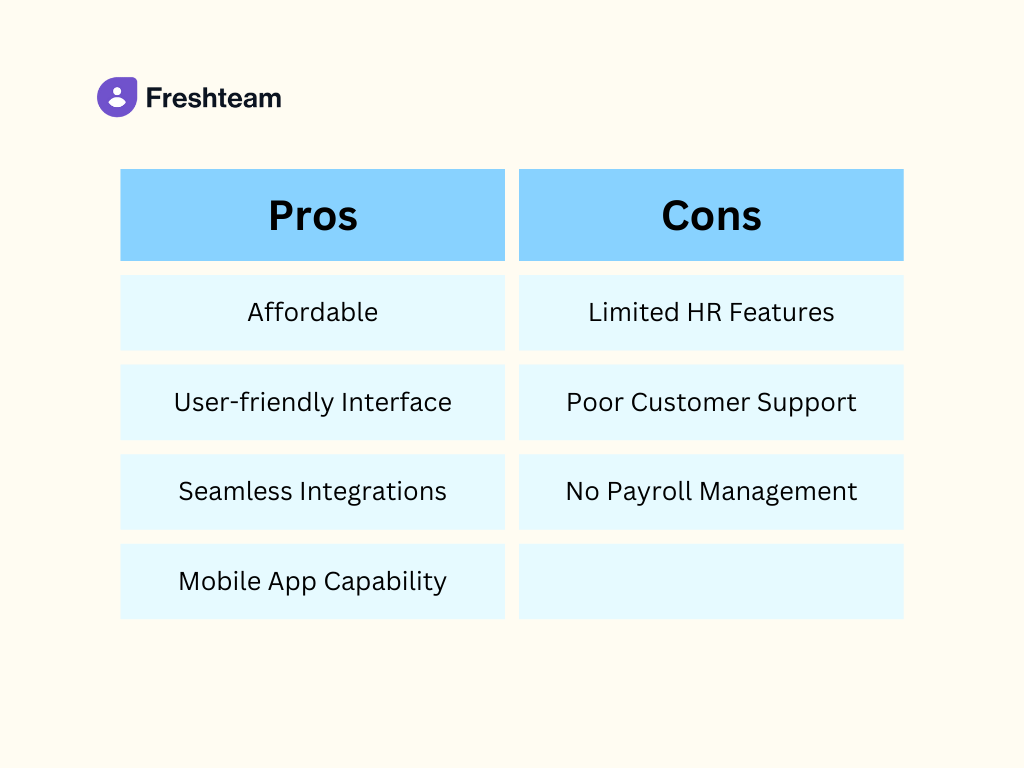 ADP Workforce Now® is an innovative human capital management (HCM) platform designed to help businesses manage their workforce effectively.
Tailored for mid-sized organizations, this cloud-based solution streamlines various processes such as talent acquisition, performance management, learning, and compensation management.
One of the key benefits of ADP Workforce Now is its integration with other ADP services, providing a seamless experience across payroll, benefits, talent, and workforce management.
The platform is also cloud-based, offering accessibility from anywhere and scalability as businesses grow.
Key Features:
Recruitment and Talent Acquisition: ADP Workforce Now assists in attracting, hiring, and onboarding the best talent. It streamlines the hiring process with job posting tools, resume and application tracking, and onboarding workflows.
Performance Management: The platform provides tools for goal setting, performance tracking, and review management. This facilitates the continuous growth and development of employees.
Learning Management: ADP Workforce Now includes learning management capabilities, allowing businesses to provide training programs and developmental resources to their employees.
Compensation Management: It helps in planning and managing employee compensation, ensuring fair and competitive remuneration.
Succession Planning: The software assists in identifying and nurturing potential future leaders within the organization, supporting business continuity.
Time and Attendance: Beyond talent management, ADP Workforce Now also provides tools for tracking employee time and attendance, automating timesheets, and managing employee schedules.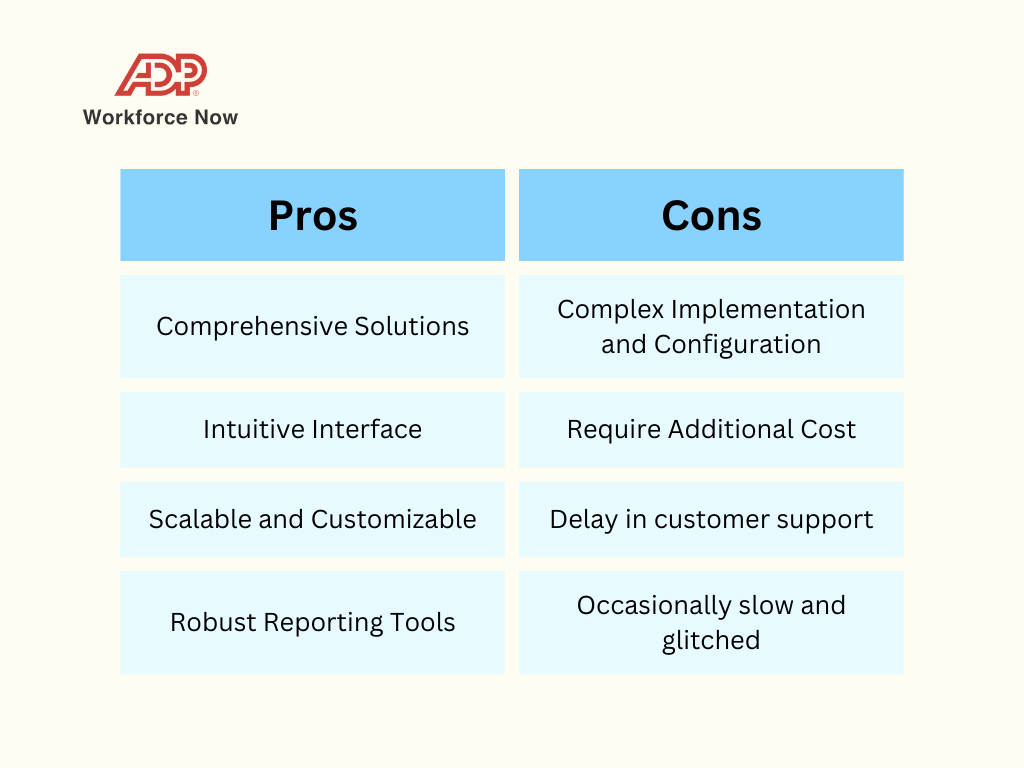 Conclusion
With the right talent management software, you can streamline and optimize the growth of your workforce.
The solutions reviewed provide innovative features to attract, develop, and retain top talent.
Choosing a solution tailored to your unique needs will enable your organization to build a high-performance culture and gain a competitive advantage.
The future of work is digital, and talent management software is critical for success.
Take time to evaluate the options and find a solution to propel your company into a new era of strategic people management. Your employees and business will thrive as a result.