Table of Contents:
Introduction
In an era dominated by a relentless surge of information and digital services, time is the most valuable asset anyone can possess.
The need to minimize human error, optimize effort, streamline processes, and enhance productivity birthed the concept of task automation tools.
Task automation tools are the modern age's response to these persisting issues.
They replace manual effort involved in recurring tasks, allowing focus on vital tasks that truly require human attention.
They play a pivotal role in linking disparate business applications and establishing smooth communication within them.
Whether to automate emails, social media updates, project management, or complex business processes, these task automation tools are transforming the digital landscape, enabling businesses to embrace enhanced productivity and efficiency.
In this blog post, we explore best task automation tools available in the market, helping you choose the most suitable tool for your requirements, with a spotlight on Sanka - a tool that has gained substantial recognition in the automation arena.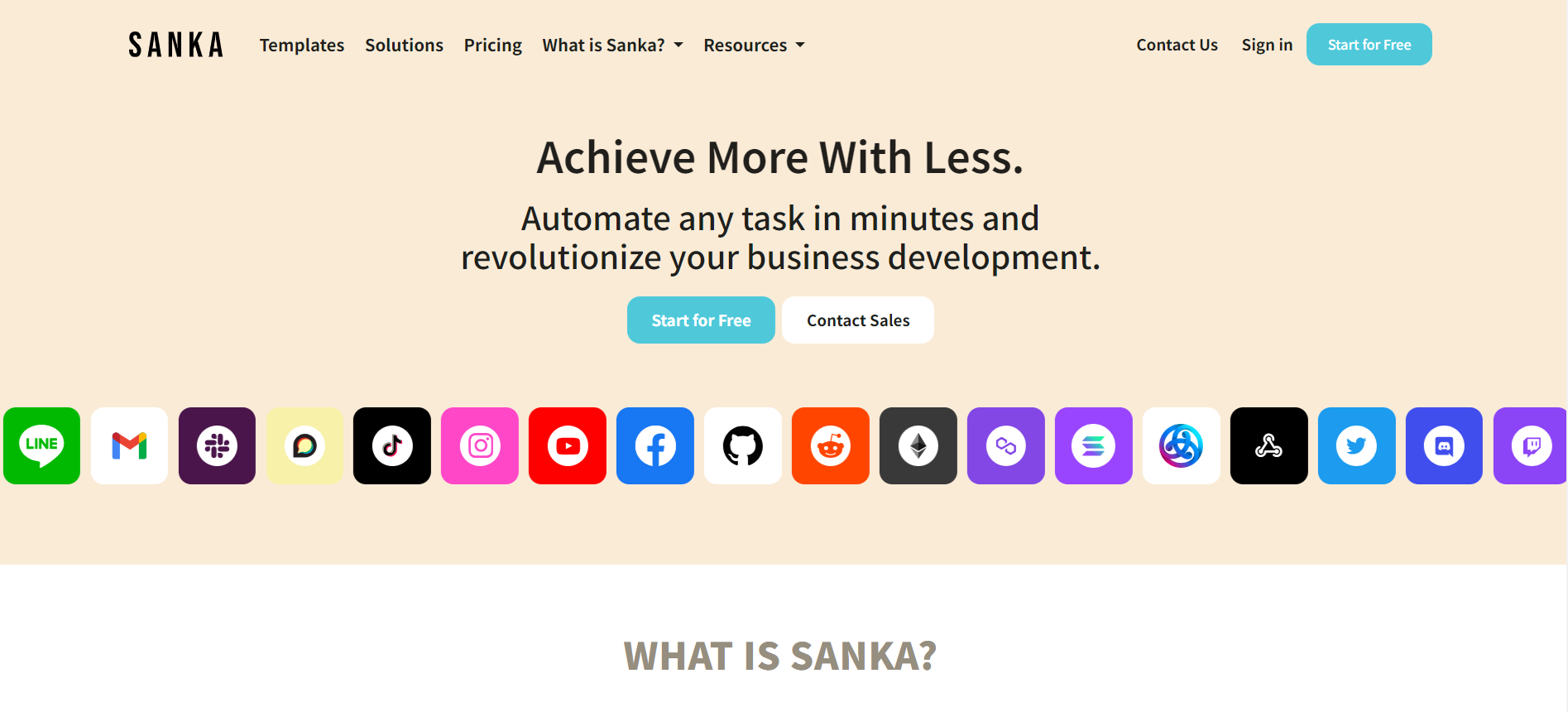 Sanka is a versatile, cloud-based automation platform designed to simplify and optimize your daily tasks.
With its intuitive interface and robust features, it enables users to create custom workflows without the need for coding expertise.
Sanka seamlessly integrates with various applications and services, making it a powerful tool for automating a wide range of tasks across your business operations.
Key Features of Sanka:
1. User-Friendly Workflow Builder:
Sanka boasts an easy-to-use, drag-and-drop interface that allows users to create workflows effortlessly.
No coding skills are required, making it accessible to individuals and teams of all technical backgrounds.
2. Automation for Repetitive Tasks:
Automate repetitive and time-consuming tasks such as data entry, file transfers, and email scheduling.
Sanka can handle a multitude of tasks simultaneously, reducing the risk of human error and freeing up your valuable time.
3. Integration with Popular Apps:
Connect with a wide array of popular applications and services including Slack, LinkedIn, Twitter, and more.
This seamless integration ensures that your workflows can be tailored to your specific needs.
4. Advanced Analytics:
Gain valuable insights into your automated processes with detailed analytics.
Track the performance of your workflows, identify bottlenecks, and make data-driven decisions to optimize your operations further.
5. Task Scheduling:
Sanka enables you to schedule tasks and actions at specific times or in response to specific events.
This feature is invaluable for ensuring that your operations run smoothly and on schedule.
How Sanka.io Workflows Can Benefit You:
Increased Productivity: Automate time-consuming tasks and allocate your resources to more strategic activities, boosting overall productivity.
Error Reduction: Minimize the risk of human errors by automating repetitive tasks, resulting in greater accuracy and reliability.
Seamless Integration: Connect with your favorite apps and services to create a cohesive and efficient workflow ecosystem.
Cost-Efficiency: Reduce labor costs associated with manual task execution, ultimately saving your business money.
Customization: Tailor your workflows to match your unique needs and business processes, ensuring maximum efficiency and relevance.
Improved Decision-Making: Leverage advanced analytics to make data-driven decisions and optimize your workflows for better results.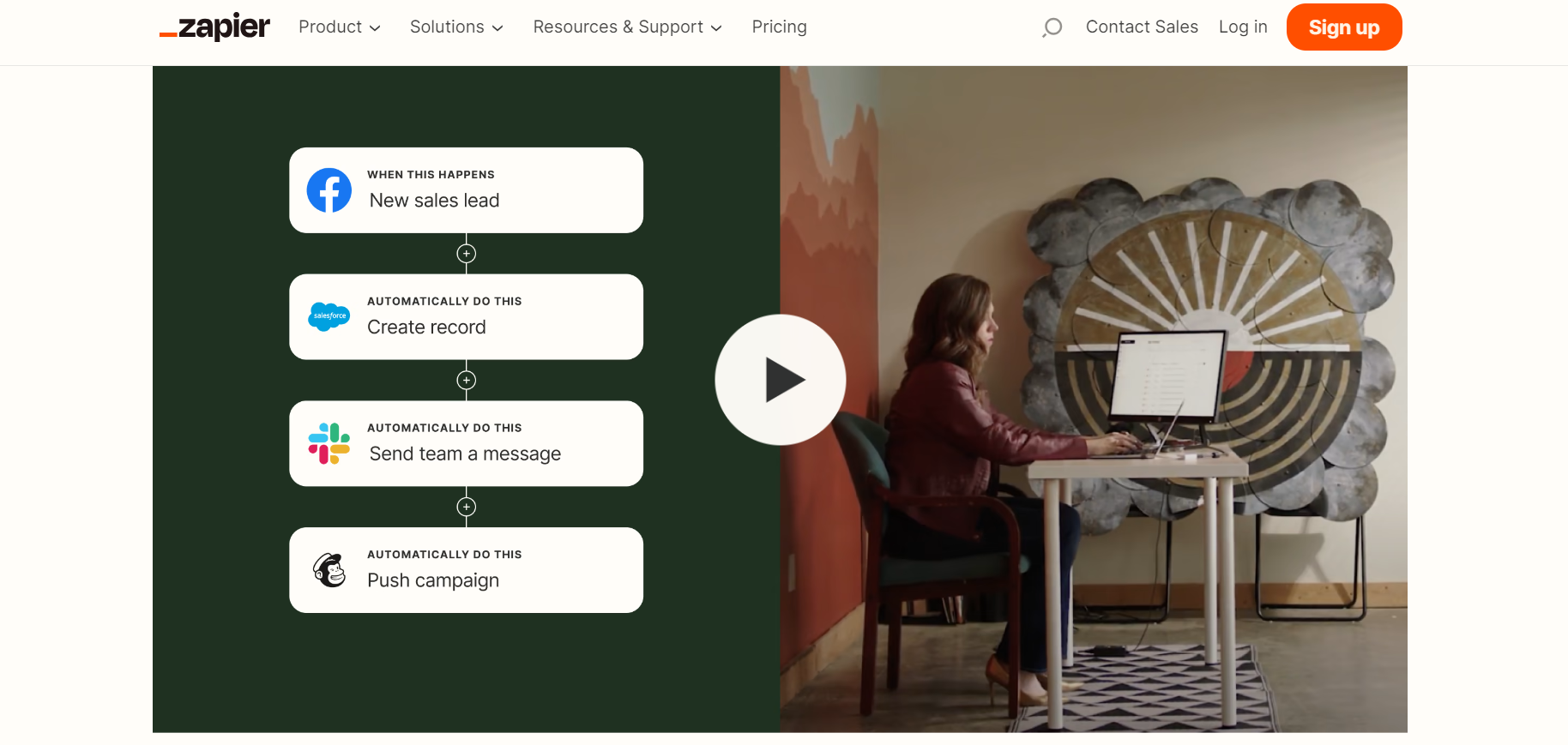 Zapier is a renowned task automation tool that connects over 3,000 web applications, allowing you to create automated workflows, or "Zaps," with ease.
Its functionalities include code-free workflow creation, multi-step Zaps, and filters that ensure only specific information passes between your apps.
Here are some key features:
Integration Galore: Zapier supports a vast ecosystem of apps, making it easy to connect your favorite tools and services.
Filtering: Adds specific filters to control transferred data.
Intuitive Interface: Its user-friendly interface lets you set up Zaps with a simple "if this, then that" logic, requiring no coding skills.
Automation Triggers: Trigger actions based on specific events, such as receiving an email or a new form submission.
Multi-Step Zaps: Create complex automation sequences involving multiple steps and apps.
Error Handling: Zapier's error handling features ensure smooth automation even when unexpected issues occur.
Real-Time Updates: Enjoy real-time updates and instant notifications when your Zaps are triggered.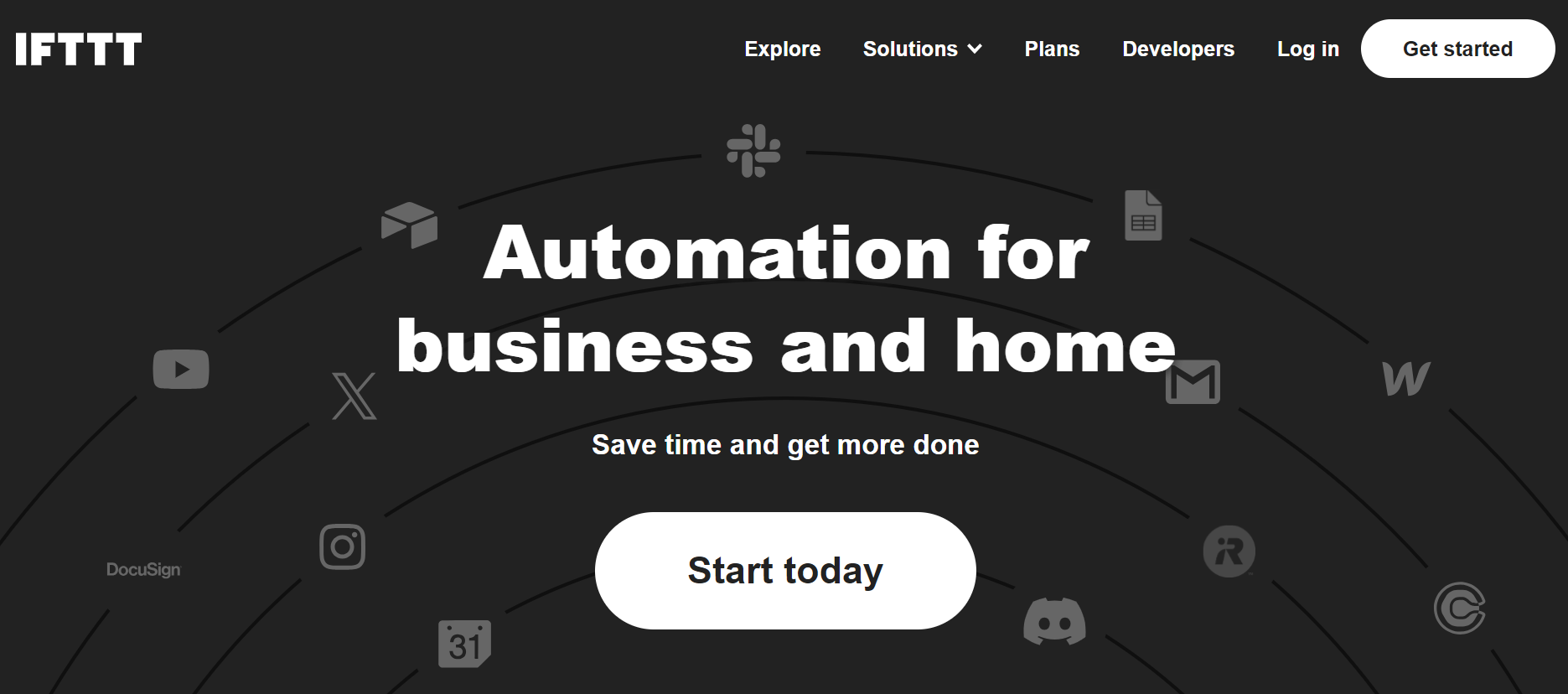 IFTTT (If This Then That) is a free web-based automation tool that allows you to integrate different platforms to create chains of commands, known as "applets".
IFTTT's strength lies in its straightforward logic to create simple yet powerful automation solutions.
Key features include:
Cross-Platform Compatibility: IFTTT works seamlessly across web services, mobile apps, and more.
Connectivity: Integrates different platforms, creating a chain of commands.
Custom Applets: Create your own applets with the "if this, then that" logic, tailored to your specific needs.
Device Integration: IFTTT extends automation to smart devices, enabling you to control your IoT devices effortlessly.
Applet Ecosystem: Access a vast library of pre-made applets designed to automate everyday tasks.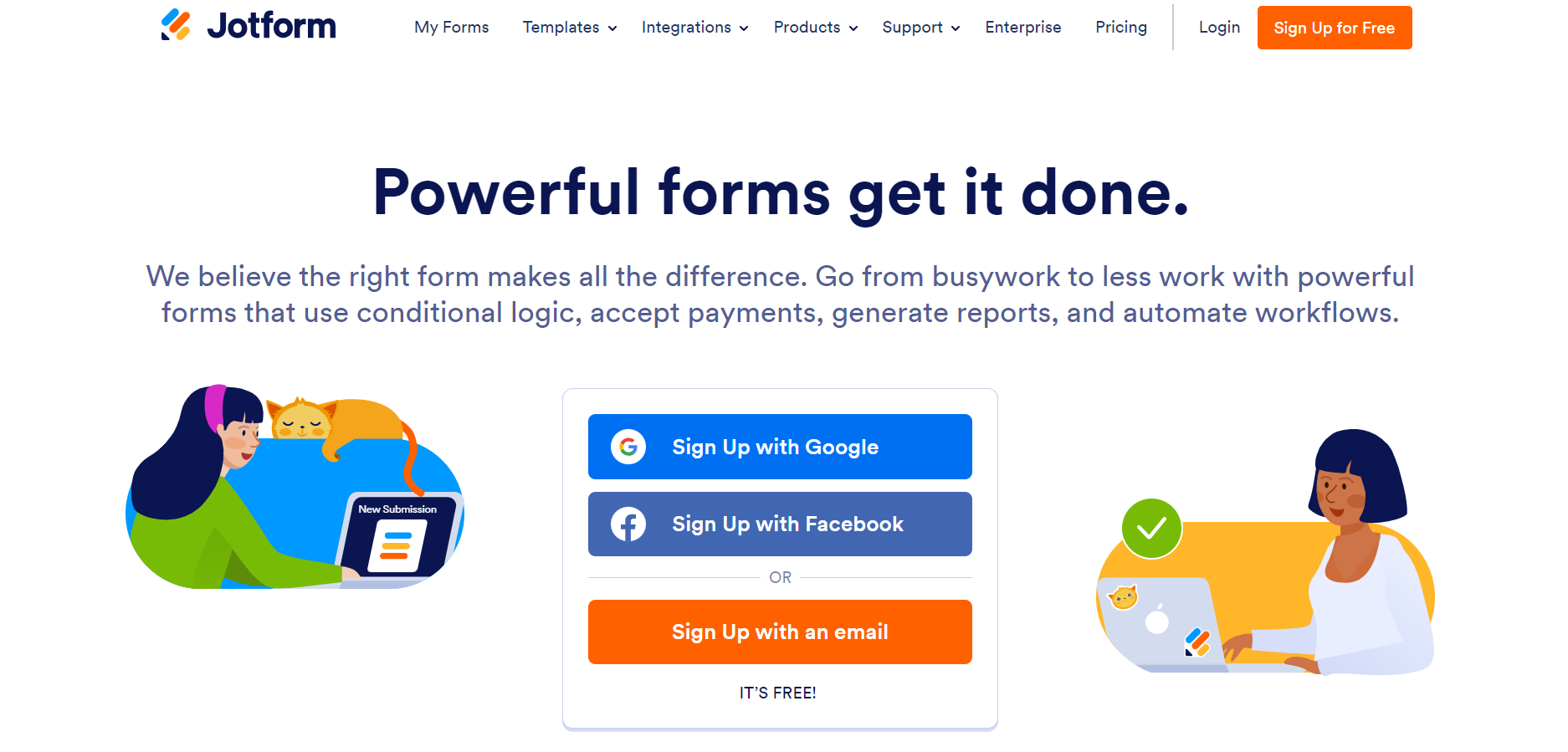 Jotform is an all-in-one online form builder and data collection platform that empowers individuals and businesses to create custom forms, collect data, and automate tasks.
It offers a wide array of features and integrations that make it a versatile task automation tool.
Key Features of Jotform:
Drag-and-Drop Form Builder: Jotform's user-friendly interface allows you to create forms from scratch or start with customizable templates making it intuitive and hassle-free.
Advanced Form Fields: Customize your forms with a diverse range of fields, including text, multiple-choice, file uploads, and electronic signatures.
Conditional Logic: Set up conditional rules that enable dynamic form behavior, showing or hiding questions based on previous responses which is ideal for creating adaptive and user-friendly forms.
Task Automation with Integrations: Jotform integrates seamlessly with hundreds of popular apps and services, including Google Workspace, Dropbox, Trello, and Slack.
Online Form Sharing: Easily share your forms via links, embedded codes, or QR codes, making it convenient for respondents to access and submit information.
Data Collection and Management: Collect, store, and manage data securely within the Jotform platform. You can export data in various formats, including Excel, PDF, and Google Sheets.
Payment Processing: Integrate payment gateways like PayPal, Stripe, and Square into your forms to accept payments online, making it ideal for online orders, event registrations, and more.
Automated Notifications: Set up automated email notifications to instantly alert you or your team when a form is submitted.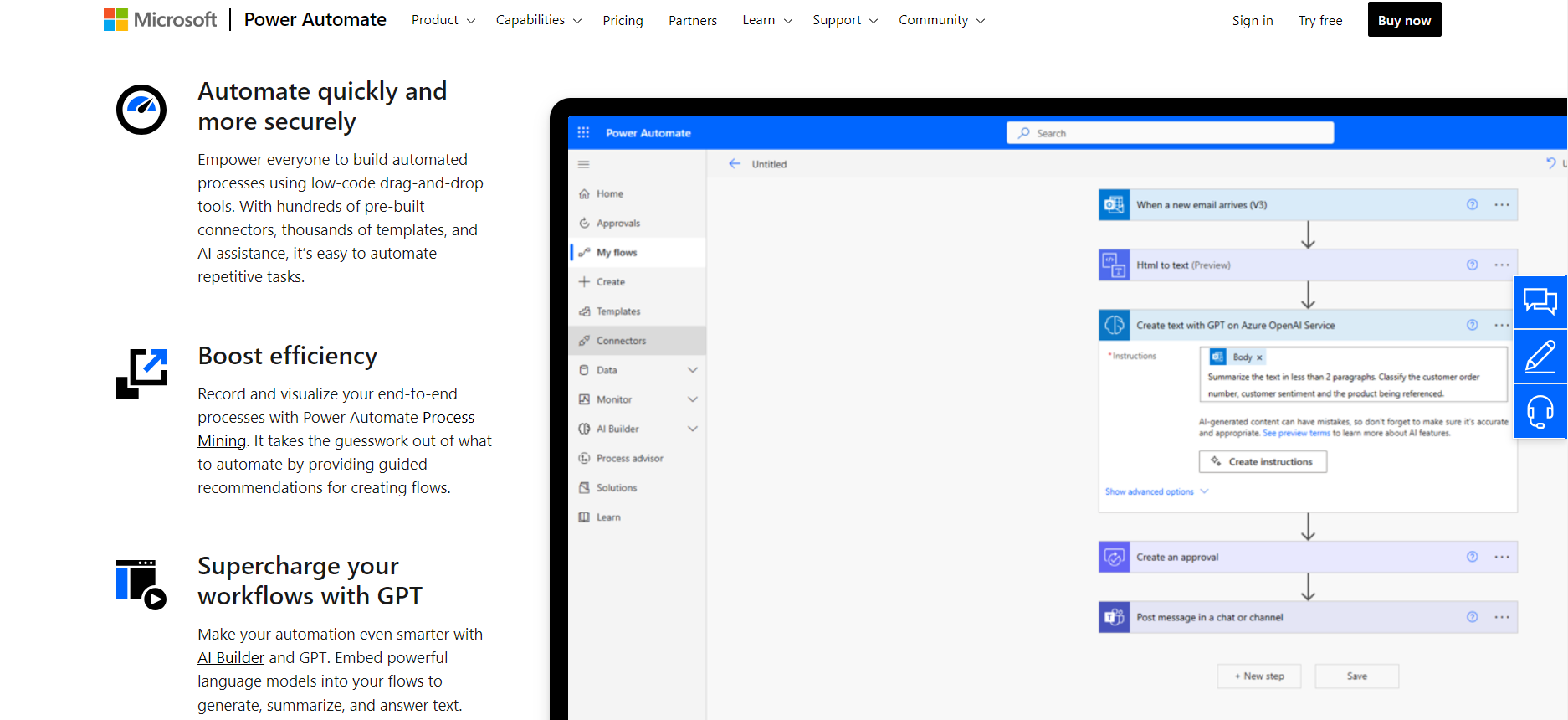 Formerly known as Microsoft Flow, Power Automate is a business-oriented automation tool.
It integrates seamlessly with other Microsoft products, thereby boosting task effectiveness and efficiency across organizations.
Key features include:
Integration with Microsoft Apps: Seamlessly automate tasks across Microsoft applications such as Office 365, SharePoint, and Teams.
Automates Business Processes: Streamlines task effectiveness and efficiency across organizations.
Custom Workflows: Design custom workflows with a visual builder, making automation accessible to all users.
Connectivity: Integrate with third-party applications, extending automation capabilities beyond the Microsoft ecosystem.
Notification and Approval Flows: Automate approval processes and receive notifications for key events.

Make, formerly known as Integromat is a robust automation platform that enables you to connect apps and services through a visual builder.
This tool's visually pleasing linear flowchart style suits users who prefer to "see" their task routes.
Key features include:
Visual Ease: Provides a visually appealing linear flowchart style for designing workflows.
Advanced Automation: Sets up complex automated workflows between multiple apps.
Multi-Step Scenarios: Create complex automation scenarios involving multiple apps and actions.
Error Handling: Implement error handling and debugging features to ensure smooth automation processes.
Real-Time Data Processing: Enjoy real-time data updates and actions triggered by specific events.
Integration Library: Connect with a wide range of apps and services, including social media platforms, productivity tools, and more.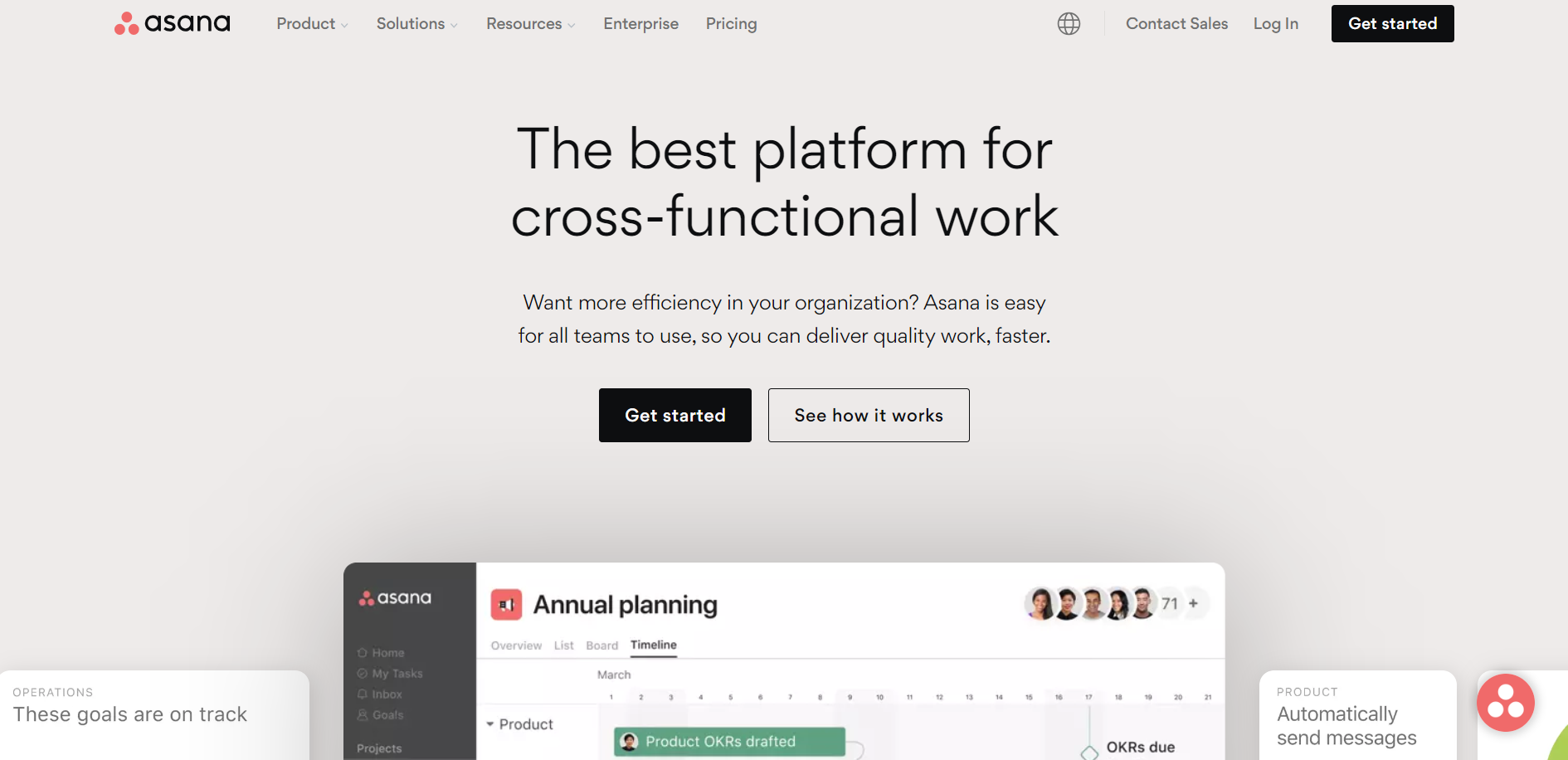 Asana is a leading work management platform that offers a wide range of features for task and project management, collaboration, and automation.
It's designed to help teams and individuals organize their work, improve productivity, and achieve their goals efficiently.
Key Features of Asana:
Task and Project Management: Asana provides a flexible and intuitive interface for creating and managing tasks and projects.
Automation with Rules: Asana's automation capabilities are powered by "Rules." Rules allow you to automate repetitive tasks and actions within your projects.
Customizable Workflows: Asana lets you create custom workflows that match your team's unique processes.
Collaboration and Communication: Teams can collaborate seamlessly within Asana by leaving comments, attaching files, and using @mentions.
Timeline and Calendar Views: Visualize project timelines and due dates with Asana's Timeline and Calendar views. This helps you plan work effectively and spot potential bottlenecks.
Integration Ecosystem: Asana integrates with a wide range of third-party apps and services, allowing you to connect your favorite tools and automate data transfer between them.
Advanced Reporting: Access detailed reports and analytics to gain insights into project progress, team performance, and task completion rates.
A powerful tool for social media management, Hootsuite allows you to schedule posts across various platforms, monitor responses, and generate reports, freeing up time for other tasks.
Here are its key features:
Multi-Platform Scheduling: Schedule posts across multiple social media platforms in advance, saving time and ensuring consistent content.
Social Media Monitoring: Track mentions, comments, and engagement across various social networks from a single dashboard.
Analytics and Reports: Gain valuable insights into your social media performance with detailed analytics and customizable reports.
Team Collaboration: Collaborate with team members and manage social media tasks efficiently.
Content Curation: Discover and share relevant content from within the Hootsuite platform.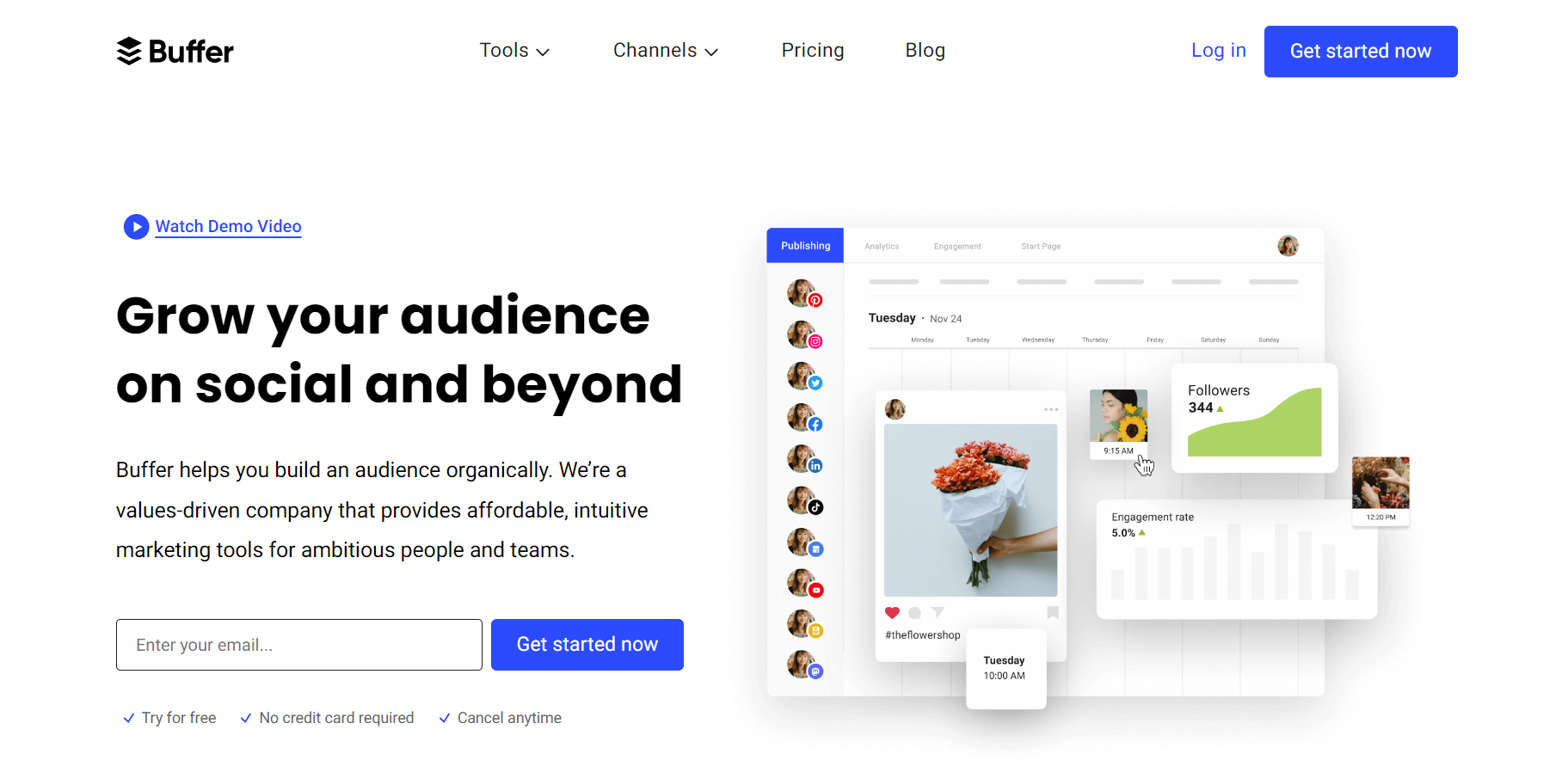 Buffer is a tool to help tidy up your social media efforts. It ensures consistent content posting on different platforms with its scheduling features, analytics, and team collaboration.
Key features include:
Content Scheduling: Plan and schedule social media posts for various platforms, including Twitter, Facebook, Instagram, and LinkedIn.
Content Calendar: Visualize your content schedule with Buffer's interactive content calendar.
Analytics and Insights: Monitor post performance and gather insights to refine your social media strategy.
Collaboration: Collaborate with team members and streamline the content creation and publishing process.
Browser Extension: Buffer's browser extension allows you to share content you discover online easily.

Airtable is a versatile and user-friendly task automation tool that combines the simplicity of a spreadsheet with the power of a database.
It helps organizations consolidate their tasks, projects, and databases in one place.
Key features include:
Custom Database Creation: Build customized databases to organize and automate various aspects of your work.
Task Automation: Create automation workflows within your Airtable databases, such as sending notifications and updating records based on triggers.
Collaboration: Collaborate with team members in real-time within your databases.
Integration: Connect Airtable to various apps to automate data entry and retrieval.
Visual Data Representation: Visualize data with grids, calendars, and Kanban boards for better insights.
Unique Structure: A fusion of database and spreadsheet for efficient organization and task consolidation.
Project Management Aid: Can serve as the hub for all tasks, projects, and databases within an organization.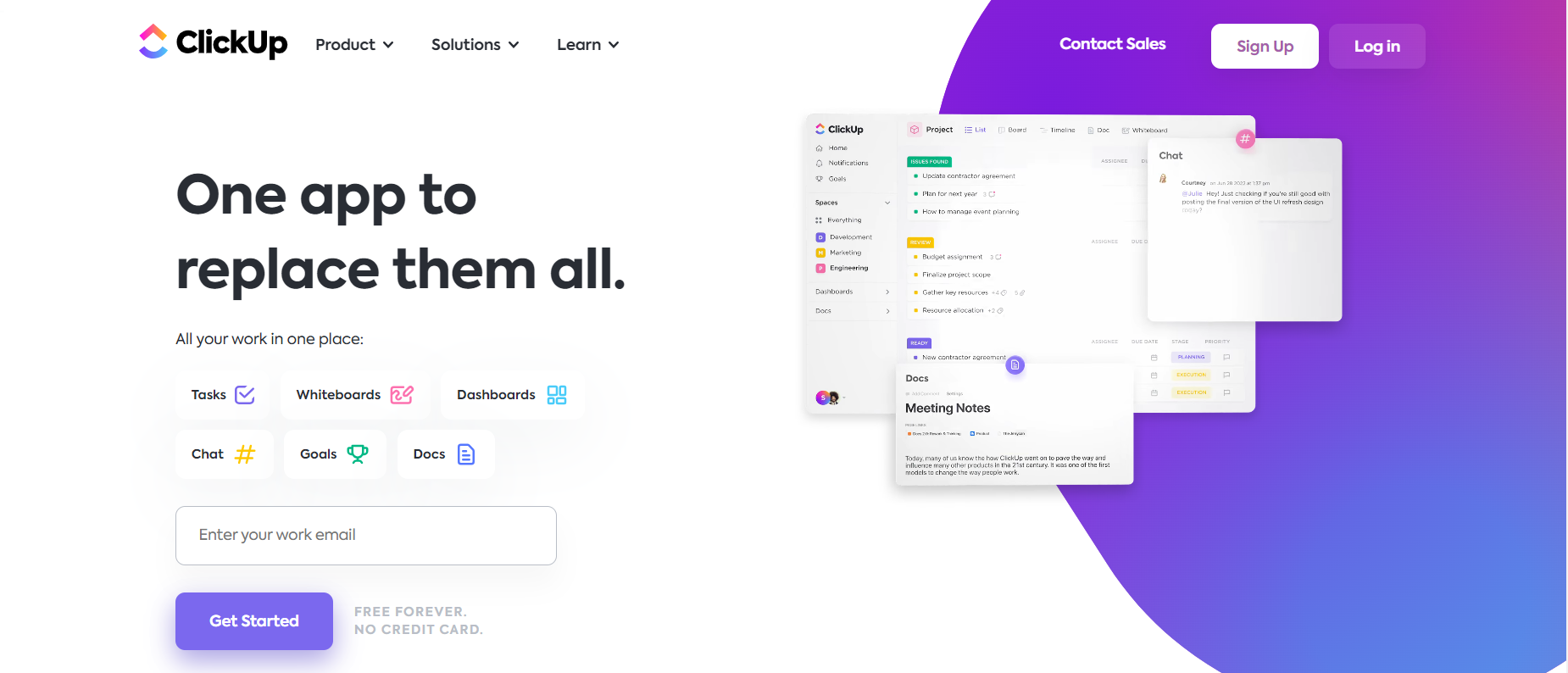 ClickUp is a powerful project management tool that helps teams plan and organize work. With an intuitive interface and robust features, ClickUp aims to be the only productivity app you need.
Task Management and Collaboration: ClickUp offers task management with multiple views (list, board, calendar, Gantt chart) so you can organize work the way you want.
Customization and Automation: One of ClickUp's biggest strengths is its customization which allows you to create task statuses, priorities, and categories tailored to your needs. It also allows you to set up automation, like automatically moving tasks to a new status when the due date passes.
Reporting and Dashboards: ClickUp provides reporting and dashboard features to give high-level overviews of projects and workloads to show key metrics, milestones, and task overviews.
Integrations: ClickUp offers an API and dozens of native integrations with tools like Slack, Google Calendar, Zapier, and GitHub.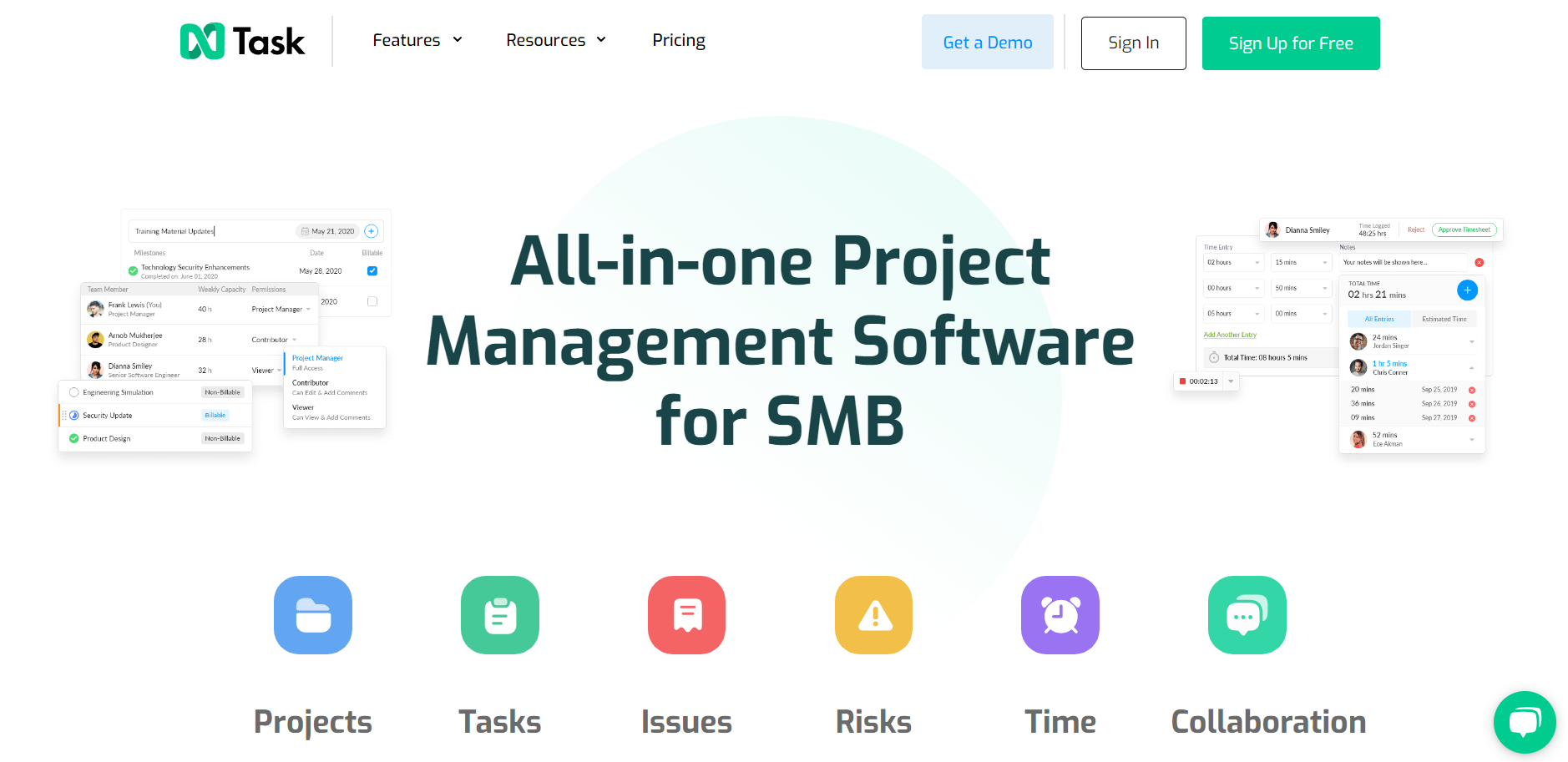 nTask is a simple yet powerful task management tool designed for teams. With nTask, you can easily organize tasks, schedule work, delegate responsibilities, and monitor progress.
Features include:
Task lists: Create task lists to organize work and prioritize important tasks. Assign tasks to team members, set due dates, and add task descriptions.
Project management: Use the project management features to break down large projects into smaller tasks, estimate timelines, allocate resources, and monitor progress.
Team collaboration: Assign tasks to specific team members, comment on tasks, and upload file attachments for feedback and approvals.
Time tracking: The built-in time tracker allows you to record the time spent on tasks for reporting and billing purposes which helps to ensure projects are completed on time and within budget.
Reporting and analytics: Generate reports to get insights into your team's productivity and identify areas for improvement.
Integrations: nTask integrates with various third-party applications like Slack, Dropbox, Google Drive, OneDrive, and more.
Trello is a popular project management tool that helps teams organize tasks, priorities, and deadlines in an efficient manner.
Trello's automation features allow you to set up repetitive tasks and streamline workflows to save time.
Key features include:
Create Card Templates: You can create templates for frequently used cards and automate the card creation process.
Butler Bot Integration: Trello integrates with the Butler bot, which can automate various tasks.
Zapier Integration: Trello integrates with Zapier, a third-party automation tool.
Power-Ups: Trello offers various power-ups that provide extra functionality. Some of these power-ups offer automation features like automatically moving cards, setting due dates, and updating fields.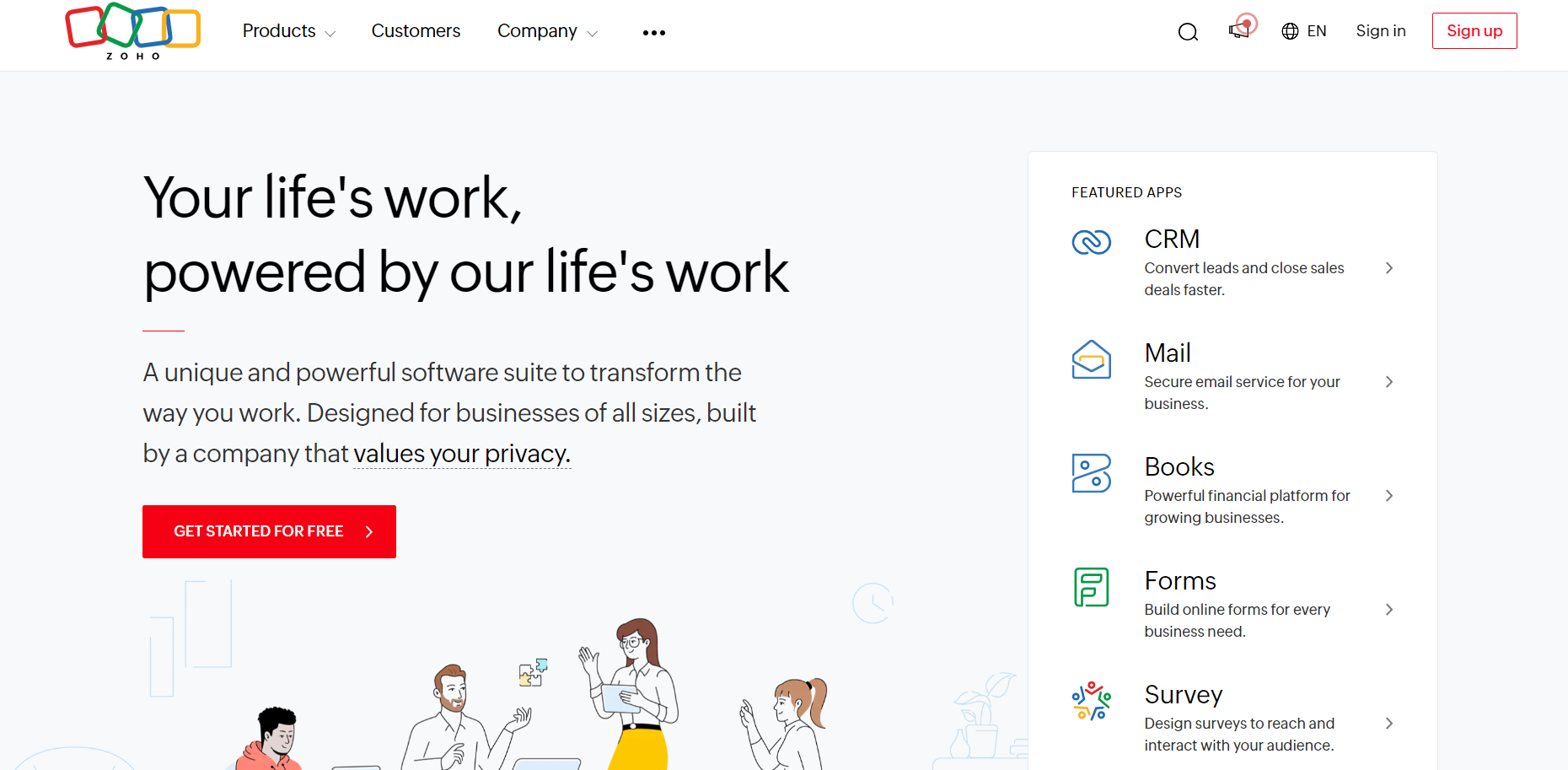 Zoho Flow is an automation and integration platform that allows you to connect your favorite apps and automate repetitive tasks.
Key features:
Seamless App Integrations: Zoho Flow integrates with over 750 popular business apps like Gmail, Slack, Dropbox, and Quickbooks. This allows you to easily connect the tools you already use and automate workflows between them.
Easy to Use Interface: Zoho Flow has an intuitive drag-and-drop interface, so you don't need any coding experience to build automations.
Reliable and Affordable: Zoho Flow is a dependable automation platform used by over 50,000 businesses. Plans start at $10/month, and you can try it for free with up to 5 flows and 100 runs per day.