What is iPaaS?
Integration Platform as a Service, or iPaaS, is a set of cloud services enabling enterprises to develop, execute, and govern integration flows connecting a range of applications or data sources, either in the cloud or on-premise.
It combines features for real-time integration, API management, and B2B network management to effectively consolidate disparate applications and systems, streamlining operations and information flow.
The Importance of iPaaS
In the landscape of modern business, data is king. However, effectively managing and utilizing this data is crucial. That's where iPaaS comes in.
Providing seamless, real-time integration across various applications, iPaaS fosters data integrity, ensures accurate communication between systems, and improves overall organizational efficiency.
It plays a pivotal role in digital transformation strategies by enabling businesses to rapidly deploy integrations while minimizing the need for significant IT intervention.
When choosing an iPaaS tool, consider factors such as scalability, security, ease of use, support and maintenance, and integration capabilities. Read more about iPaaS.
Here, we outline some of the best iPaaS solutions available:
Sanka is a digital transformation platform designed to streamline operations, increase productivity, and reduce costs.
Sanka offers a suite of 20 business applications covering a wide spectrum, from sales to IT, thus allowing for a centralized approach to managing tasks across different domains.
This attribute mirrors the fundamental ethos of iPaaS, which emphasizes the centralization and efficient coordination of various applications on a unified platform.
Moreover, Sanka provides unlimited workflows, contributing to improved agility, innovation, and employee productivity.
As an iPaaS solution, this feature would help seamlessly automate and regulate operations across integrated applications.
The platform also facilitates compatibility with over 100 apps and services, reinforcing its potential as an iPaaS solution.
This enables synchronization of data and processes among disparate applications, thus driving cross-functional collaboration and operational efficiency.
Key Features of Sanka
20 Business Apps: Sanka offers a wide range of business apps, allowing integration and centralized management of diverse work elements, aligning with the core spirit of iPaaS, i.e., integrating multiple applications on a single platform.
Unlimited Workflows: Sanka's unrestricted workflow automation enhances agility and operational productivity, helping businesses manage their operations seamlessly - a vital aspect of iPaaS.
100+ Integrations: Sanka supports integrations with over 100 other applications and services, which resembles the core functionality of iPaaS to share data and processes among multiple apps.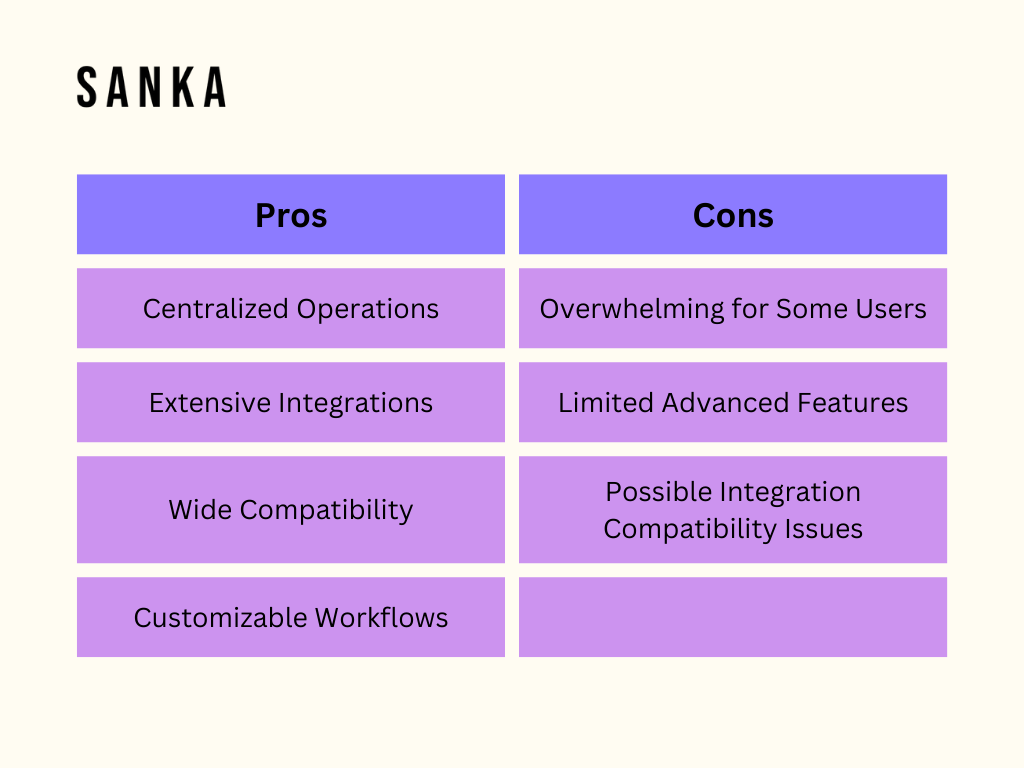 A versatile and comprehensive iPaaS solution, Anypoint Platform offers API lifecycle management, a design studio, analytics, and security features.
This tool accelerates digital transformation by connecting applications, data sources, and devices both on-premises and in the cloud.
Designed to link diverse software across multiple platforms, the platform provides a unified, productive, and scalable approach to application development and integration.
It is ideal for large enterprises with a wide range of integration needs.
Key Features of MuleSoft Anypoint Platform
Universal Connectivity: The platform offers pre-built connectors to link a wide variety of applications, data, and devices.
API Lifecycle Management: Anypoint Platform allows for the creation, management, and governance of APIs through the entire lifecycle.
Cloud Integration: The tool effortlessly synchronizes software and applications across on-premises and cloud environments, including private, public, or hybrid.
Real-Time Analytics: The platform delivers actionable insights by collecting and visualizing data on API usage and performance.
Data Transformation: The system streamlines data synchronization between inputs and outputs, even when data formats differ.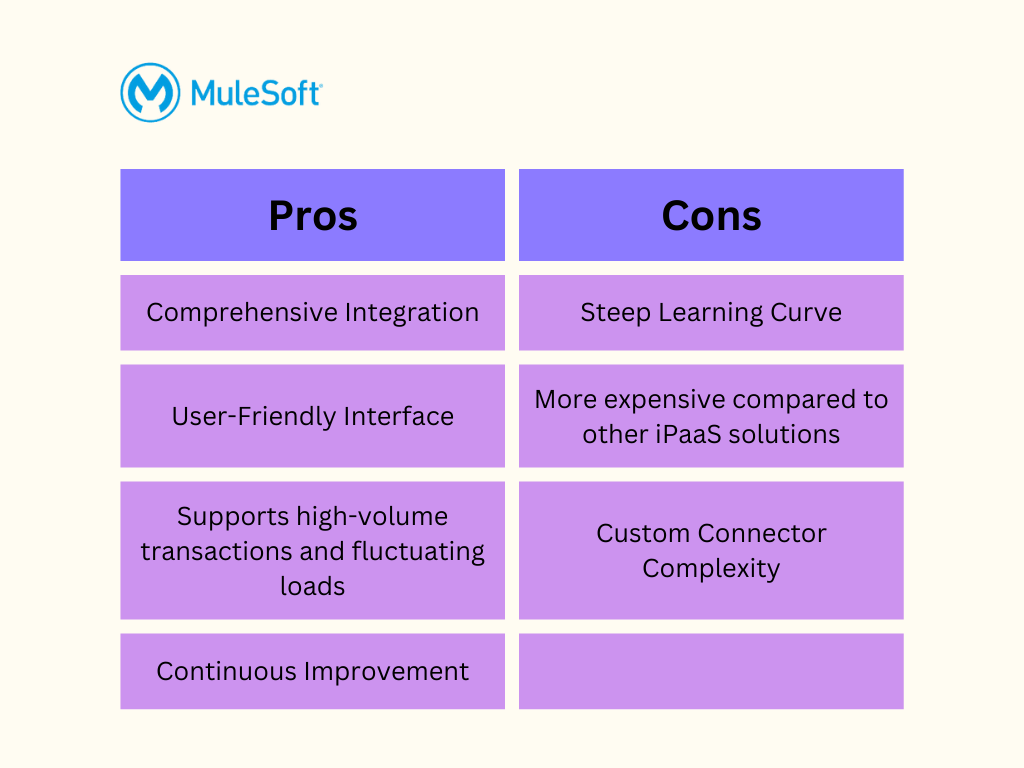 Dell Boomi, a frontrunner in the iPaaS (Integration Platform as a Service) landscape, embodies an intelligent, flexible, and scalable solution that bridges the gap between segregated data sources.
This tool is acclaimed for streamlining information flow across an array of applications and databases, regardless of their location.
Known for its robust capabilities, Boomi provides extensive pre-built connectors, a drag-and-drop interface for easy use, and a range of features for data cleaning and management that helps businesses sync their data and applications faster and more effectively, thereby enhancing organizational efficiency.
Key Features of Dell Boomi
Drag-and-Drop Interface: Boomi's visual interface allows users to design and build integrations with a simple drag-and-drop technique.
Cloud-Native Architecture: Boomi's integration platform is built for the cloud, supporting seamless interaction between diverse cloud and on-premise systems.
Pre-Built Connectors: Boomi offers numerous connectors to various software like CRM, ERP, and more, accelerating the connection between different systems.
Data Management and Quality: Tools for data cleansing, validation, and duplication check help ensure the integrity of data throughout the integration process.
API Management: Apart from its strong integration capabilities, Boomi supports full lifecycle API management.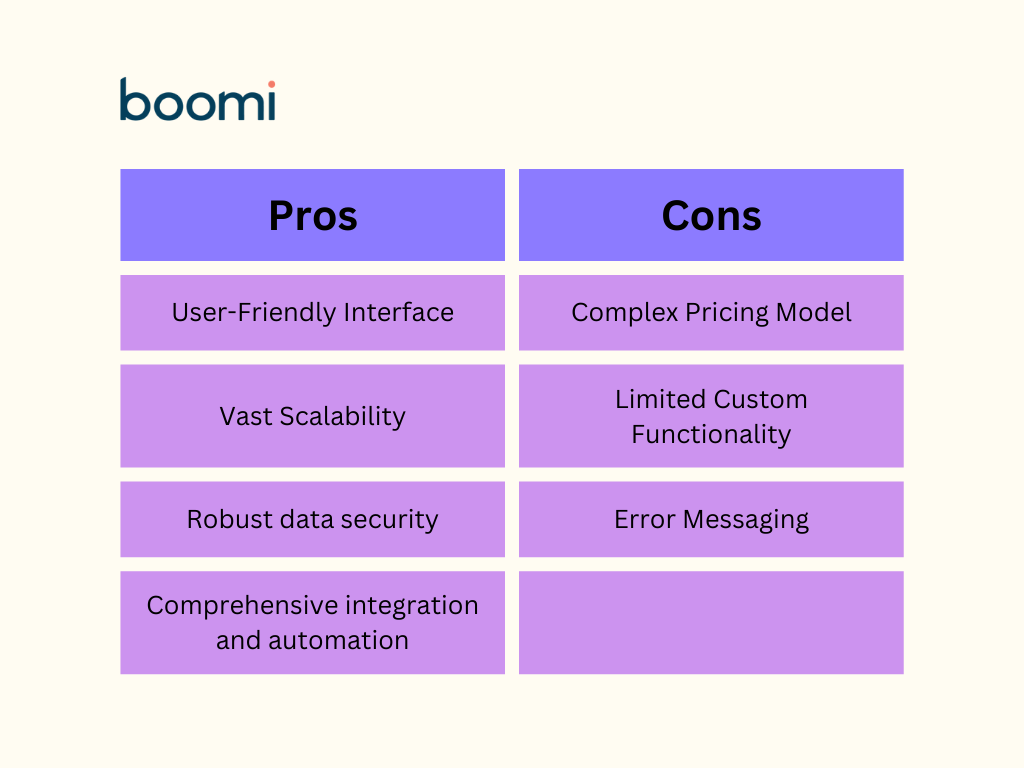 Jitterbit, an esteemed player in the iPaaS (Integration Platform as a Service) field, provides a robust and scalable solution for harmonizing data and applications—from on-premise to cloud and everything in between.
It is renowned for its intuitive, efficient, and rapid integration capabilities. It aids businesses in channeling data from disparate sources into unified, actionable insights.
With a focus on usability and speed, Jitterbit enables rapid connection between SaaS, on-premises, and cloud applications, creating efficient workflows and facilitating swift data movement.
Key Features of Jitterbit
High-Speed Integration: Jitterbit specializes in quickly connecting applications, enabling businesses to realize the benefits of integration in as little time as possible.
API Creation and Management: Jitterbit allows businesses to create, run, and manage APIs, maximizing the potential of their data assets.
Visual Design Interface: With a drag-and-drop interface, Jitterbit simplifies integration processes, making them more accessible to users with diverse technical abilities.
Pre-built Templates and Connectors: Jitterbit provides a wealth of templates and connectors to simplify and accelerate integrations.
Robust Error Handling: Jitterbit offers robust error handling and debugging options, making it easier to identify, trace, and resolve issues.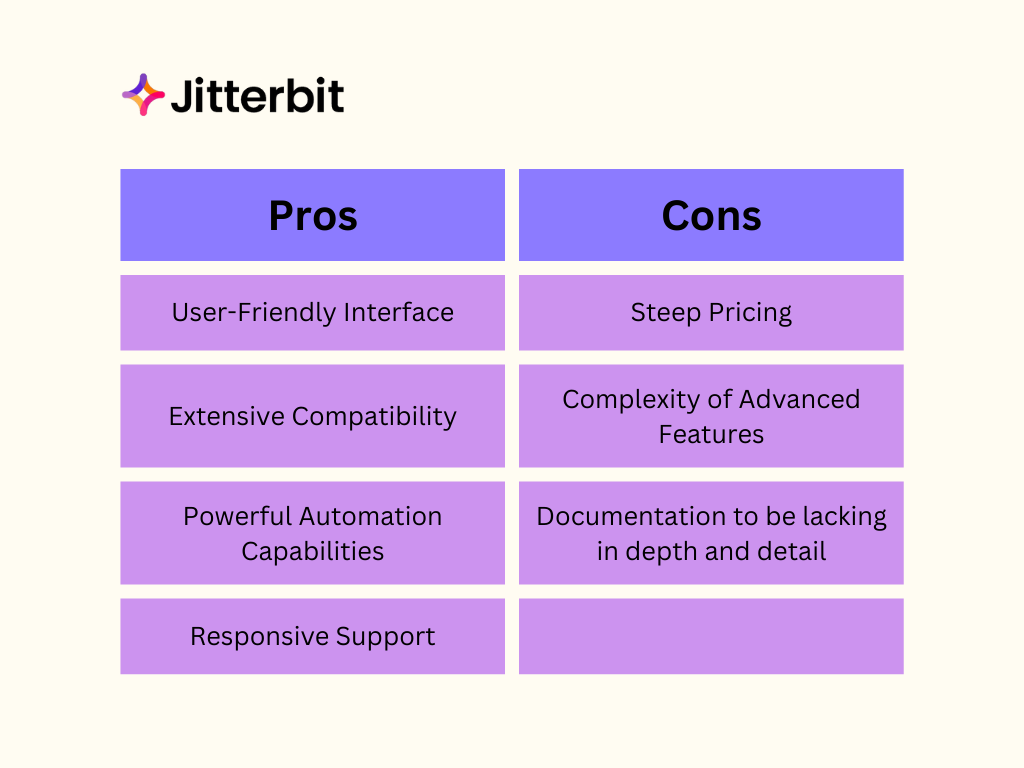 As a prominent player in the iPaaS (Integration Platform as a Service) sphere, Microsoft Azure Logic Apps offers a significant, efficient, and scalable solution for integrating applications, data, services, and systems across enterprises.
It also offers a cloud-based platform for orchestrating and automating workflows and business processes.
It coordinates disparate applications and services, creating and running powerful integrations with just a few clicks.
Key Features of Microsoft Azure Logic Apps
Visual Designer: Azure Logic Apps offers a visual designer environment to build and run integration workflows.
Built-In Connectors: It provides numerous built-in connectors to connect with services on-premises, in the cloud, or both.
Real-Time Insights: The platform provides analytics, tracing and diagnosing capabilities to gain real-time insights and enhance performance.
Enterprise Integration Pack (EIP): EIP aids in creating scalable integrations and workflows, facilitating business-to-business (B2B) communication via Electronic Data Interchange (EDI).
Serverless Architecture: This feature allows for automatic scaling, high availability, and seamless management.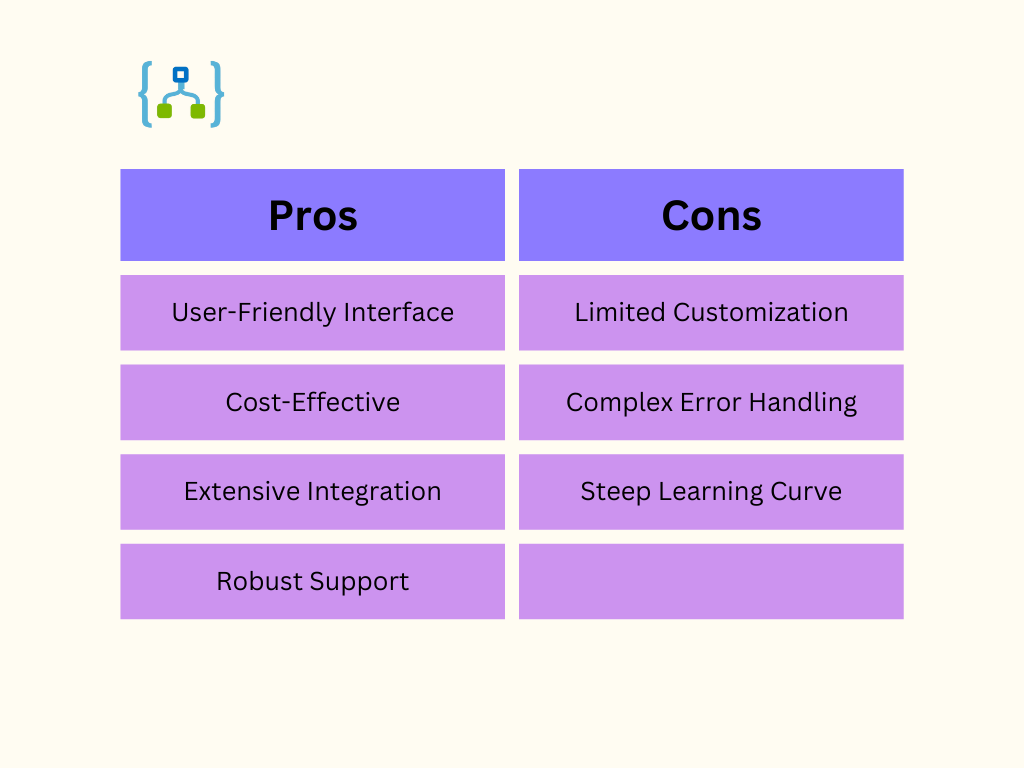 Celigo is a prominent player in the iPaaS (Integration Platform as a Service) field, known for delivering robust and versatile applications, data, and business process integration solutions across different service boundaries.
This tool is acclaimed for making the integration process easier and more efficient, irrespective of business size.
Celigo aims to enable organizations to automate business processes involving multiple cloud-based applications.
Known for its pre-built integration templates and useful dashboard, Celigo is user-friendly and offers a smooth learning curve, ideal for businesses new to iPaaS solutions.
Key Features of Celigo
User-Friendly Interface: Celigo provides an intuitive interface, simplifying the integration process.
Pre-built and Customizable Integrations: Celigo offers various pre-built integrations, managed templates, and the ability to create custom integrations to accommodate unique business needs.
Robust Data Mapping: The platform includes robust data transformation and mapping capabilities to facilitate data compatibility.
Dynamic Error Handling: Beyond identifying and monitoring errors, Celigo offers smart recommendations to resolve these errors.
Scalability and High Availability: Celigo ensures reliable availability and ability to scale up catering to business growth.
In the landscape of iPaaS (Integration Platform as a Service), IBM AppConnect stands tall as a comprehensive tool that provides simplified, scalable, and reliable integration of applications, APIs, services, and data across multiple environments.
Celebrated for its synergy of speed and power, this tool enables businesses to adapt to evolving digital requirements while optimizing efficiency.
Known for simplifying the creation of workflows and integrations across various platforms, IBM AppConnect facilitates seamless connection to SaaS, on-premises, and cloud applications.
Key Features of IBM AppConnect
Versatile Integration Capabilities: IBM AppConnect supports multiple integration styles, including real-time, event-driven, batch, and schedule-based migrations.
Drag-and-Drop Interface: The platform offers a user-friendly, visual development platform that simplifies complex integration tasks.
Built-in Connectors: It comes with a plethora of pre-built connectors for seamless integration with a wide range of applications.
Flexible Deployment Options: IBM AppConnect supports both on-premises and cloud deployment environments, with a focus on flexibility, speed, and security.
Comprehensive Error Handling: The platform has robust error-handling capabilities for effective problem-solving.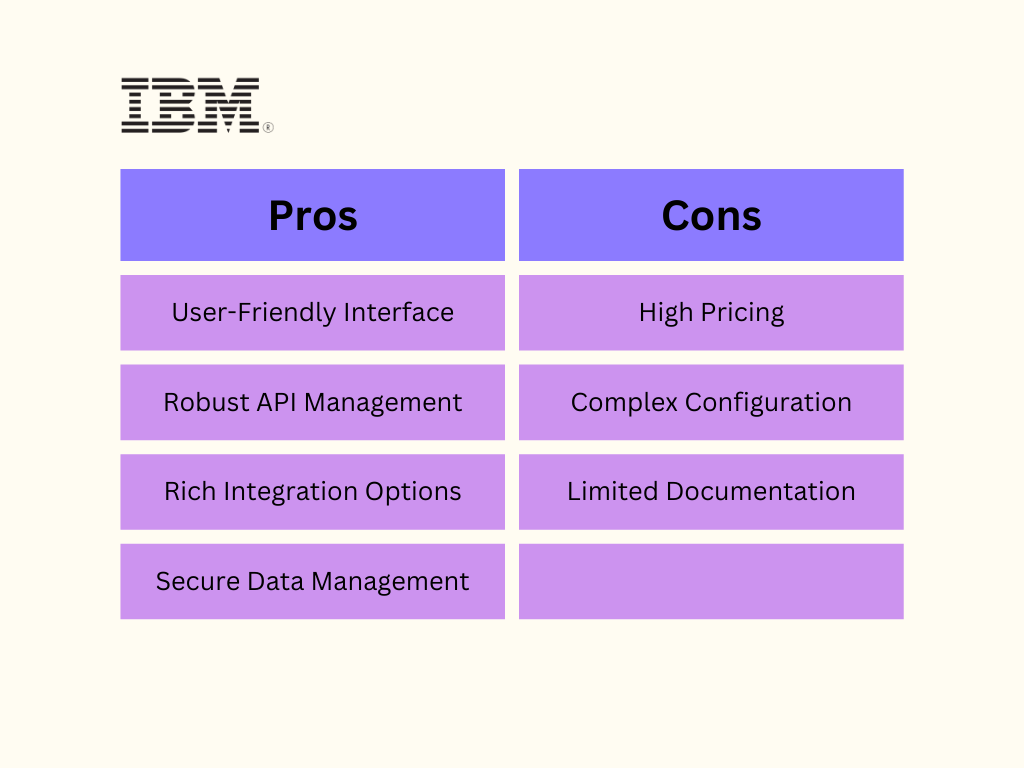 In the field of iPaaS (Integration Platform as a Service), Workato presents itself as a top-tier solution, offering robust and efficient integrations across various applications, data, services, and APIs.
It is an intelligent automation platform that harmonizes and enhances work across teams and applications.
Workato has positioned itself as a strong contender in the iPaaS industry with its commitment towards high-grade automation and integration capabilities, along with maintaining simplicity and user-friendliness.
Key Features of Workato
Recipe-based Workflows: Workato uses a 'recipe' approach for workflow design, with thousands of pre-built, community-approved recipes available to choose from.
Intelligent Automation: Workato's platform supports the implementation of AI and machine learning techniques to improve automation capabilities.
Role-Based Access Controls: Workato allows for robust governance with its role-based access controls, ensuring secure usage across the organization.
Built-in Connectors: The platform offers an extensive list of pre-built connectors facilitating integration across various systems, applications, and platforms.
Powerful Data Mapping and Transformation: Workato provides robust data mapping and transformation capabilities to ensure compatibility across disparate systems.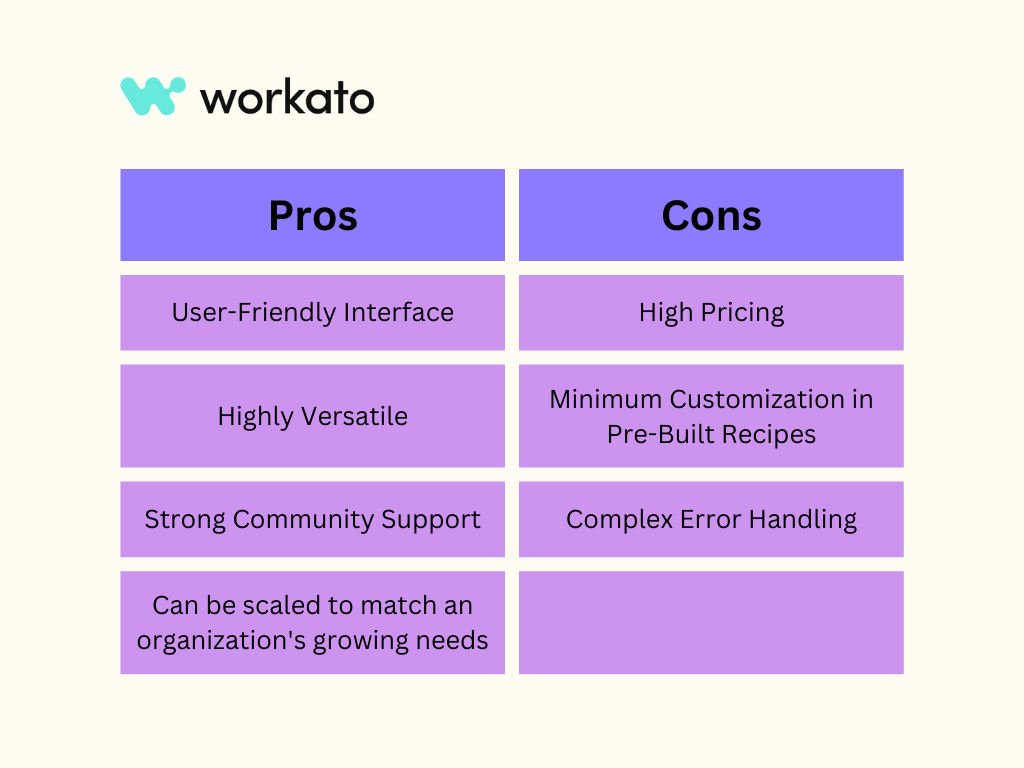 In the sector of iPaaS (Integration Platform as a Service), Informatica has carved a niche for itself, not just for the wide range of integration capabilities it provides, but for its commitment towards smart, secure, and scalable connectivity.
Informatica offers a comprehensive suite of cloud-based integration solutions designed to connect, synchronize, and relate all of an organization's data, applications, and processes, whether on-premises or in the cloud.
Its use of advanced AI technologies, robust data management, and rich connectivity options form the backbone of its popularity.
It's a tool that's typically used to streamline and govern data, ensuring that the right data is available to the right people at the right time.
Key Features of Informatica
Wide Array of Integration Services: Informatica offers a broad spectrum of integration services, including Cloud Data Integration, Application Integration, Cloud B2B Gateway, and Cloud API and Application Integration (CAI).
AI-Driven Solution: Utilizes CLAIRE, Informatica's AI engine, to provide smart recommendations and automatic completions, speeding up the implementation process.
Data Governance and Privacy: Offers strong data governance and privacy features to ensure data quality and compliance.
Rich Connectors: The availability of myriad connectors allows easy integration with various SaaS, cloud-based, on-premises applications, databases, and APIs.
Scalable and Secured Architecture: Delivers a secure, microservices-based, API-driven, and cloud-native architecture that's scalable and flexible.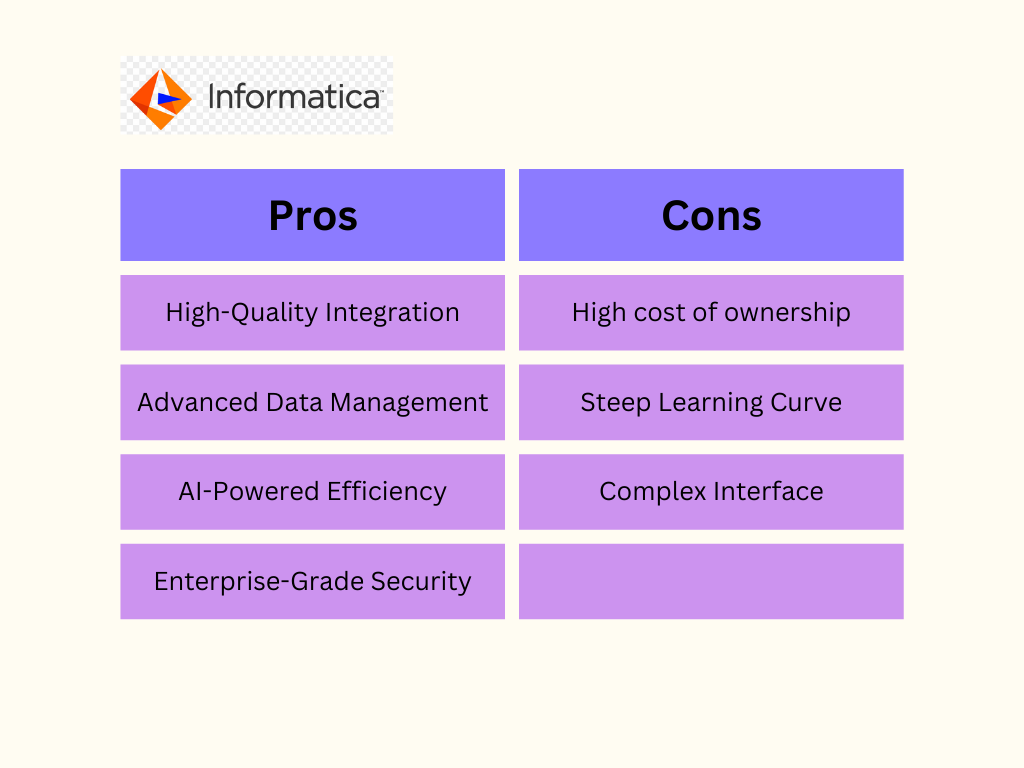 Flexspring is a competent, robust iPaaS solution focusing exclusively on simplifying HR data integration.
The platform provides a systematic way for companies to save time and money by streamlining their HR processes and eliminating manual data entry across HR applications.
With Flexspring, businesses get a high-functioning, HR-centric integration tool that streamlines data transfer and synchronization across various HR applications.
Although its primary focus is on HR data application, it greatly reduces the manual entry burden and effectively counters departmental silos.
Key Features of Flexspring
HR Data Integration: Flexspring masters the art of HR data integration, facilitating automatic data updating and synchronization across multiple HR applications.
Extensive Pre-Built Connectors: Flexspring extends manifold pre-built connectors to ensure smooth integration with a wide variety of on-premise and cloud-based HR applications.
Data Integration Guide: To support users, Flexspring offers a thorough data integration guide tailored to your unique business requirements.
Dedicated Consultants: Flexspring assigns expert data integration consultants to handle custom data mapping and create turnkey connectors, reducing both the cost and effort related to integration.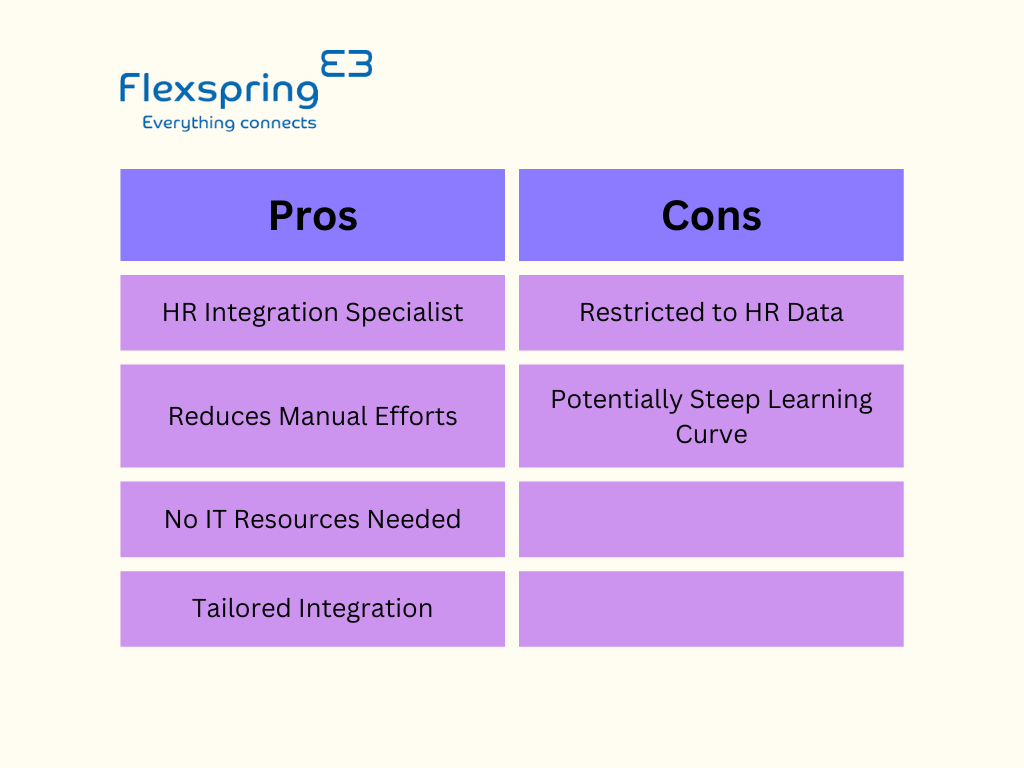 In the realm of iPaaS (Integration Platform as a Service), SnapLogic has rapidly risen as a pivoting force, empowering businesses with its state-of-the-art technology and extensive set of integration capabilities.
As an organization emphatically committed to agile data connectivity, SnapLogic has emerged as a powerful and dependable iPaaS solution.
With its easy-to-use and scalable performance, SnapLogic enables organizations to hasten their digital initiatives and improve productivity, all while maintaining security and control.
Key Features of SnapLogic
Snap Model: SnapLogic's unique snap model allows users to visually create and deploy seamless integrations using a no-code, drag-and-drop interface.
Pre-Built Snap Connectors: SnapLogic offers 450+ pre-built connectors called "Snaps," which enable effortless integration with a wide range of applications, data solutions, and APIs.
Intelligent Integration: SnapLogic's Iris AI technology delivers a range of AI-powered functionalities, ranging from intelligent data mapping to recommending Snaps based on user patterns.
Data and Application Integration: SnapLogic enables comprehensive data and app integration capabilities, supporting both cloud and on-premises environments, together with real-time, batch, and event-driven processing.
Flexible Deployment: Users can deploy SnapLogic as a multi-cloud, on-premises, or hybrid solution, ensuring flexibility and adaptability depending on their business needs.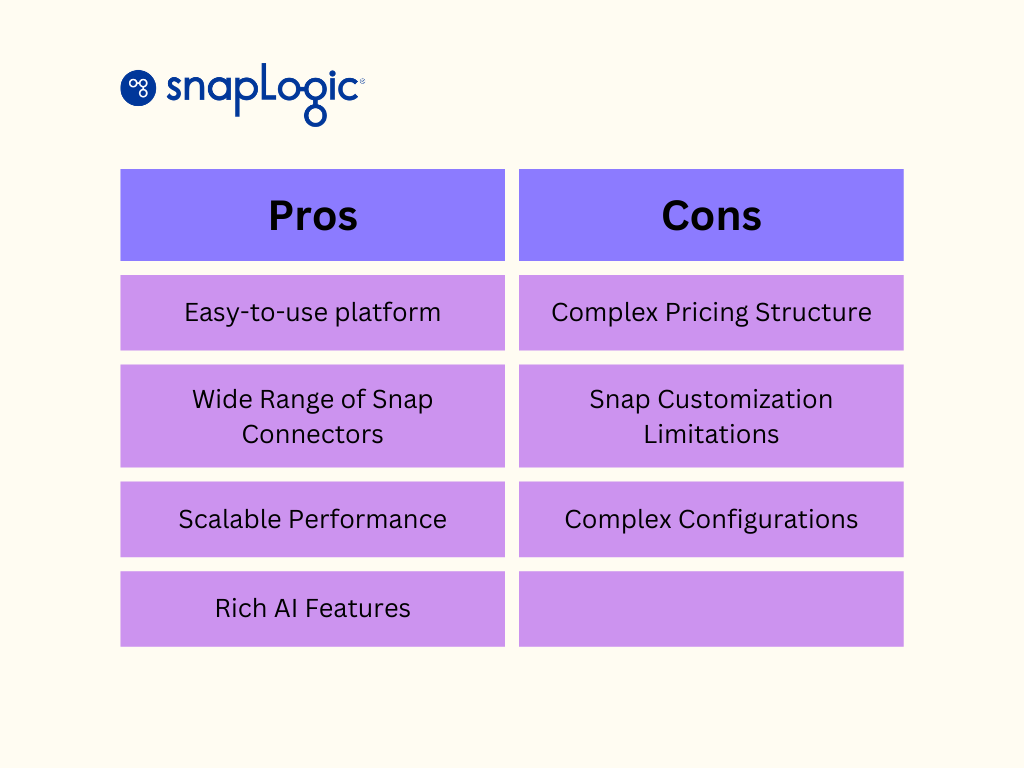 Conclusion
Every iPaaS tool has unique strengths that can address specific business needs. It is essential to evaluate each tool in the context of your organization's particular requirements, considering factors like ease of use, cost, scalability, and support for integration of your specific systems and applications.
While this article outlines some top iPaaS software, remember that the best solution always depends on your organization's unique needs and priorities.
By doing so, you can select an iPaaS tool that will help streamline operations and foster digital transformation effectively within your organization.
Remember, the goal of using an iPaaS tool is to make data integration a smooth process, negating the formation of data silos, and promoting collaborative and informed decision-making in your company.
Research thoroughly, leverage free trials, and choose the one that fits your business best.
Cloud integration might seem daunting, but with the right iPaaS solution, it can be your business's game changer.