Introduction
As the pace of work escalates and teams become more digitally intertwined, having a solid system to manage collaboration and workflow is crucial. That's where work management software steps in.
It plays a crucial role in improving team collaboration, streamlining workflow, and increasing overall productivity.
These tools help unify project management and team collaboration, ensuring smooth execution across various teams and departments.
We have compiled a list of the top 12 work management software currently available, giving you insights into their features, pros, and cons.
Defining Work Management Software
So, what is work management software?
Work Management Software is a tool designed to streamline workflow through digitized planning, organizing, and prioritizing of work.
It provides a centralized platform for teams to collaborate, manage tasks, track project progress, and stay on top of deadlines.
Work management software can wear many hats, depending on the specifics of an organization or project.
However, there are some fundamental features that most work management tools offer such as task management, collaboration, project planning, reporting, workflow automation, and integration.
We'll explore the 12 best work management software solutions, highlighting their key features, pros, and cons to help you make an informed choice for your organization.
Sanka is a versatile digital transformation platform designed to automate workflows and manage diverse business operations in one go.
Its range of apps and functions makes it a practical option for organizations seeking to increase productivity and reduce costs.
It offers a suite of business apps along with automated workflows to streamline various business processes.
Key Features
20 Business Apps: Sanka offers 20 distinctive applications catering to various sectors including sales, support, recruitment, and IT, allowing you to centralize various operations and optimize spending.
Unlimited Workflows: With Sanka, users can automate all of their workflows, leading to improved agility, greater innovation, and increased employee productivity.
TaskFlow: TaskFlow is a feature that handles project management, resource management, and hyperautomation.
Other Applications: Sanka includes additional applications like CampaignScale for social media, recruiting, affiliate marketing, and Web3 marketing; CustomerLink for CRM and sales management; MessageRunner for sales emails, contact management, and help desks; and ChannelWave for social media recruiting and Web3 marketing analytics.
Popular Workflows: Sanka supports and automates several popular workflows, ranging from content creation and publishing for WordPress to PDF-to-text conversion and direct file uploads to Google Drive.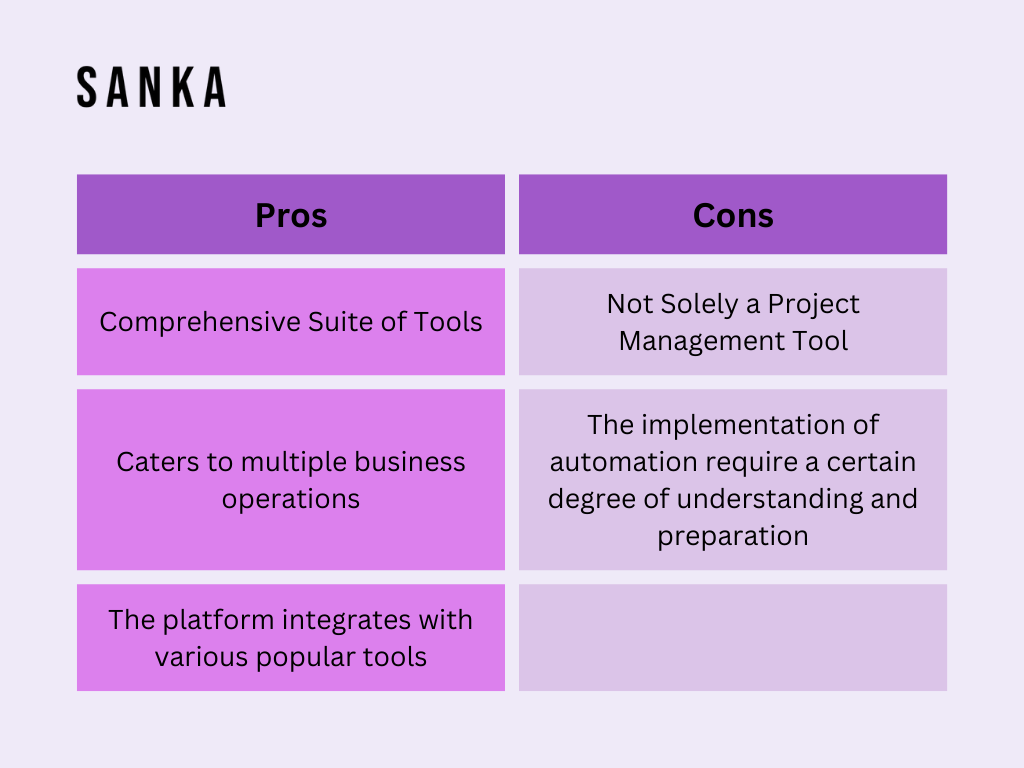 Asana is a popular work management platform that offers a sleek interface, emphasizing project organization and tracking.
It offers a range of features and tools to streamline tasks, projects, and collaboration. Asana helps businesses organize, track, and manage work—enabling teams, regardless of size, to collaborate effortlessly.
Asana streamlines the entire process of managing and completing projects by prioritizing transparency and communication.
Key Features
Task Management and Assignment: Asana simplifies task creation and streamlines assignments to teams or individuals. Tasks can be created within a project board and assigned directly to team members, complete with due dates, priority levels, and attachments.
Customizable Dashboards: Each project within Asana comes with a customizable dashboard, allowing you to gain insights into task progress, deadlines, and other essential project metrics at a glance.
Timelines and Deadlines: Asana upholds a timeline view, further contributing to a straightforward understanding of a project's timeline. Tasks can be visually planned and tracked across the timeline, demonstrating the project's dynamics and dependencies.
Integration: Compatibility with other apps is an area where Asana shines. It integrates with various other tools, including Slack, Google Drive, and Dropbox. This capability contributes to seamlessly embedding Asana into your existing digital work environment.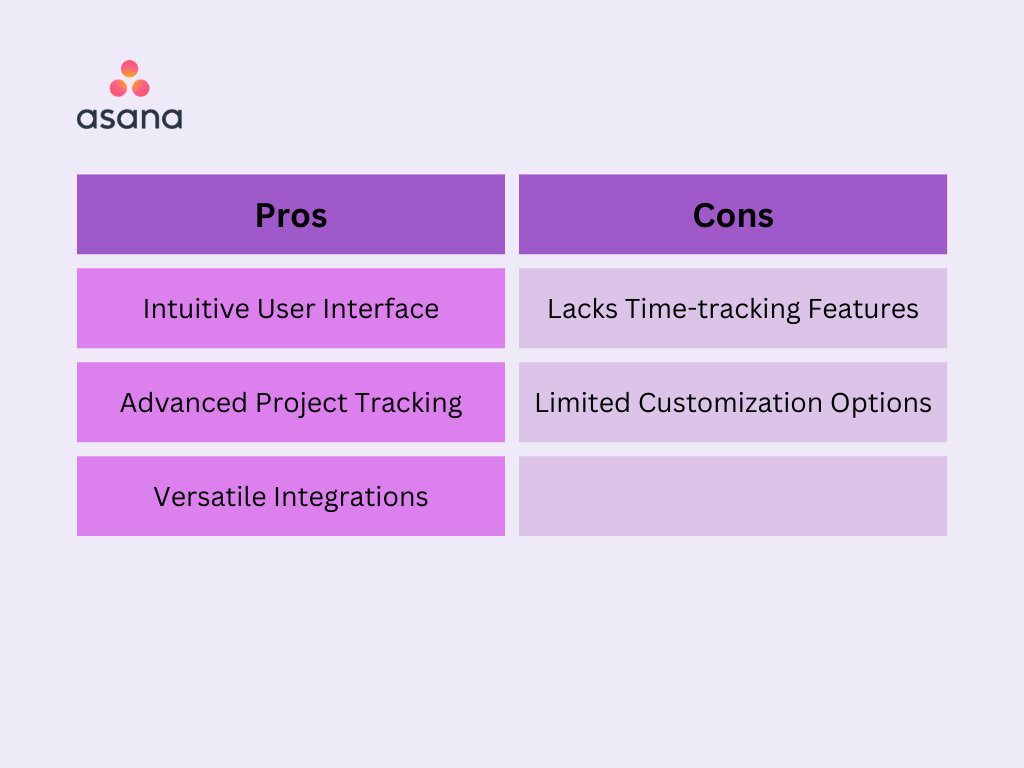 Todoist is a digital task management tool that assists users in organizing and scheduling their tasks in a convenient way. It allows users to add tasks, set deadlines, assign tasks to different team members, and more.
It includes a productivity visualization feature and supports task prioritization through color-coded flags.
Its collaboration features allow multiple users to add comments and upload files to tasks, enabling effective communication and team collaboration. Todoist also integrates with various software tools for a streamlined user experience.
In addition to task management features, Todoist offers a "Karma points" system aimed at boosting productivity by tracking users' productivity trends and encouraging task completion through a reward system.
Its simplicity and intuitive user interface are praised by users. The platform is available as a web app, as well as desktop and mobile apps for iOS and Android, facilitating task management anytime, anywhere.
Key Features
Task Management: Users can add tasks, set deadlines, and assign them to different team members on Todoist. Recurring due dates and the ability to split larger tasks into subtasks are useful for complex projects.
Productivity Visualizations: Todoist provides productivity visualizations and "Karma points," helping users track productivity trends over time, providing an incentive to complete tasks on time.
Prioritization Flags: This feature enables users to prioritize their tasks using color-coded flags, ensuring the most important tasks get attention first.
Task Collaboration: In the Premium and Business plans, users can add comments and upload files to tasks, aiding collaboration and enhanced communication.
Integration: Todoist plays well with various other software tools including Google Calendar, Dropbox, and more, facilitating a consolidated, streamlined user experience.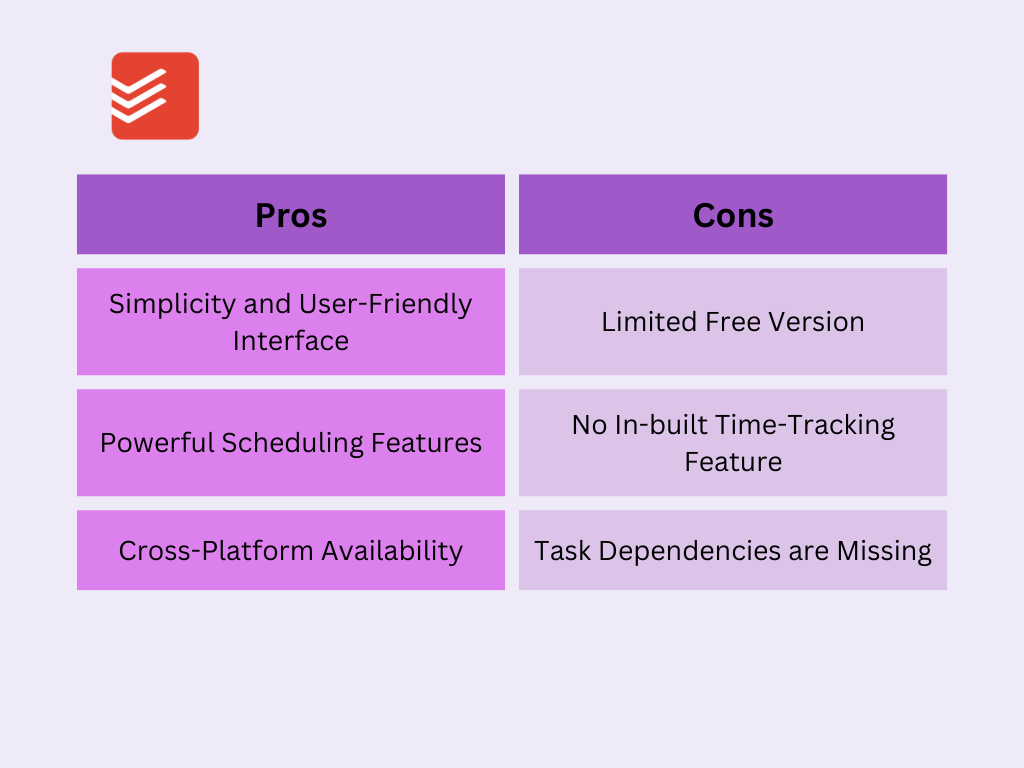 ProofHub is a centralized work management platform providing project management, team collaboration, and workflow automation functionalities.
It provides a platform where teams and clients can collaborate, assign tasks, track progress, and set deadlines.
From managing simple to complex tasks across the team to facilitating team communication in one place, ProofHub has it all.
Notably, ProofHub is particularly popular in large remote industries as it facilitates the achievement of project plans without the inconvenience of on-site reporting.
So, whether it's about task assignments, personal tasks, or prioritizing tasks with deadlines and labels, users can manage everything under one platform.
Key Features
Task Management: ProofHub allows the creation, assignment, and management of tasks. The task management feature includes subtasks, deadlines, task labels, and prioritization.
Collaboration and Communication: With ProofHub, team communication and collaboration is simplified via in-app chats, @mentions, comment threads, and discussion boards.
Centralized File Management: ProofHub provides simple, centralized file management with support for various file types, allowing for easy access and organization.
Integrated Gantt Charts and Kanban Boards: ProofHub provides both Gantt charts for visualizing and planning the project timeline, and Kanban boards for managing workflows.
Custom Reports: ProofHub enables you to track progress and performance via its robust reporting features which can be customized according to your project needs.
Airtable is a unique blend of spreadsheets and databases that offers flexibility and customization, making it ideal for dynamic project management.
Its fields are similar to spreadsheet cells but have types such as 'checkbox', 'phone number', and 'drop-down list'.
They can also reference file attachments like images. Developed to streamline work management, Airtable provides a unique and flexible platform for organizing data and records.
Teams can use Airtable for various tasks, ranging from tracking global marketing campaigns to managing product roadmaps, all in one platform
Key Features
Database and Spreadsheet Fusion: Airtable operates as a spreadsheet database hybrid, enabling users to organize work, data, and records in a unique way. This enables easy manipulation and views of data.
Variety of Views: In addition to the typical grid view, Airtable provides Kanban, calendar, gallery, and Gantt chart views, allowing teams to visualize information based on their unique needs.
Collaboration and Sharing: Airtable supports team collaboration, allowing comments, attachments, and status updates within each record. Additionally, databases can be shared with an unlimited number of collaborators both within and outside the team.
Apps and Integration: The platform provides custom apps to add extra functionalities to the workspace, and it easily integrates with numerous apps including Slack, Dropbox, Evernote, and more.
Templates: Airtable provides a wide range of pre-built templates catering to various industries and functionalities, allowing streamlined workflow management.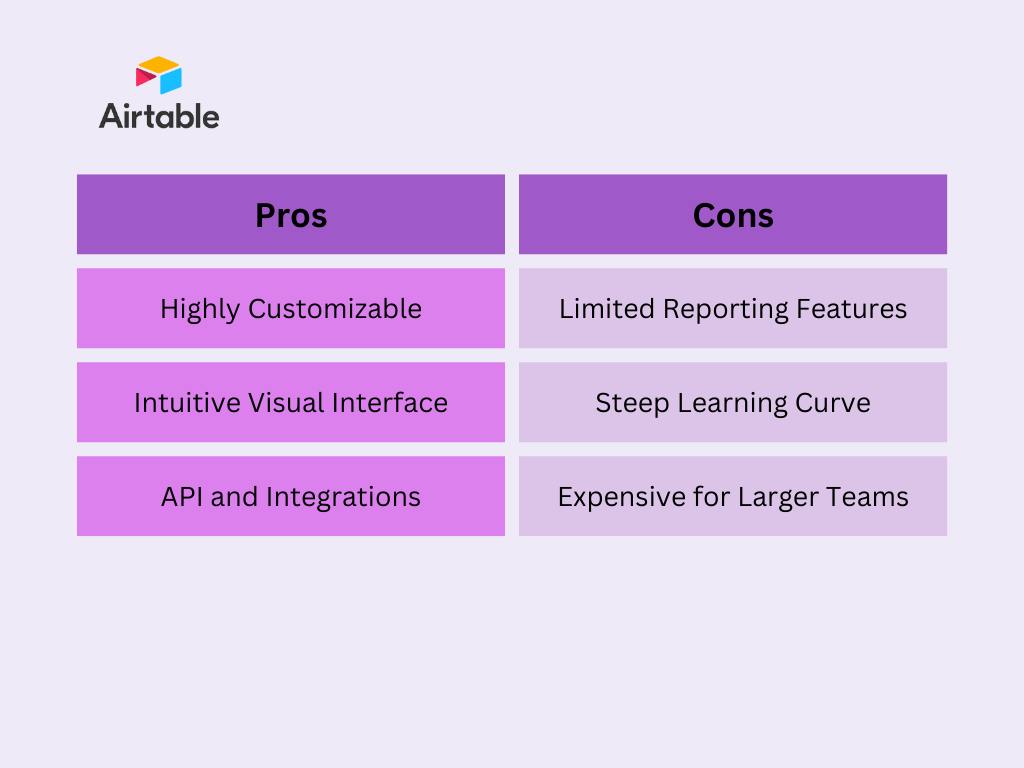 Trello's visual approach to work management utilizes boards, lists, and cards to create an inviting and straightforward project organization.
Trello boards serve as a visualization of your projects, where you can create separate cards for each task and group them into lists, making it clear to see at a glance what needs to be done, who is responsible, and where tasks are in the workflow.
Beyond task management, Trello also offers features designed to foster collaboration within teams.
You can add users to boards, assign them tasks, leave comments, and even attach files, providing a flexible, shared workspace.
It is adaptable to any project and it gives teams an opportunity to plan, manage, and celebrate their work together in a collaborative, productive, and organized manner
Key Features
Board, Lists, and Cards: The fundamental structure in Trello involves boards, which host lists (columns), and then contain cards (tasks). This setup provides a clear, visual, and intuitive layout of projects and tasks.
Collaboration and Updates: Trello provides collaborative features that allow multiple users to work on tasks together, see changes in real time, and keep each other updated through comments and attachments in cards.
Automation with Butler: Trello's built-in digital assistant, Butler, automates routine tasks such as automatic shifting of cards, changing labels, or due dates.
Integration: Trello integrates with numerous popular applications such as Google Drive, Slack, and Jira, allowing workflows to easily incorporate other tools in use.
Customization: Trello provides customizable boards and the ability to use Power-Ups (plugins that extend Trello's functionality).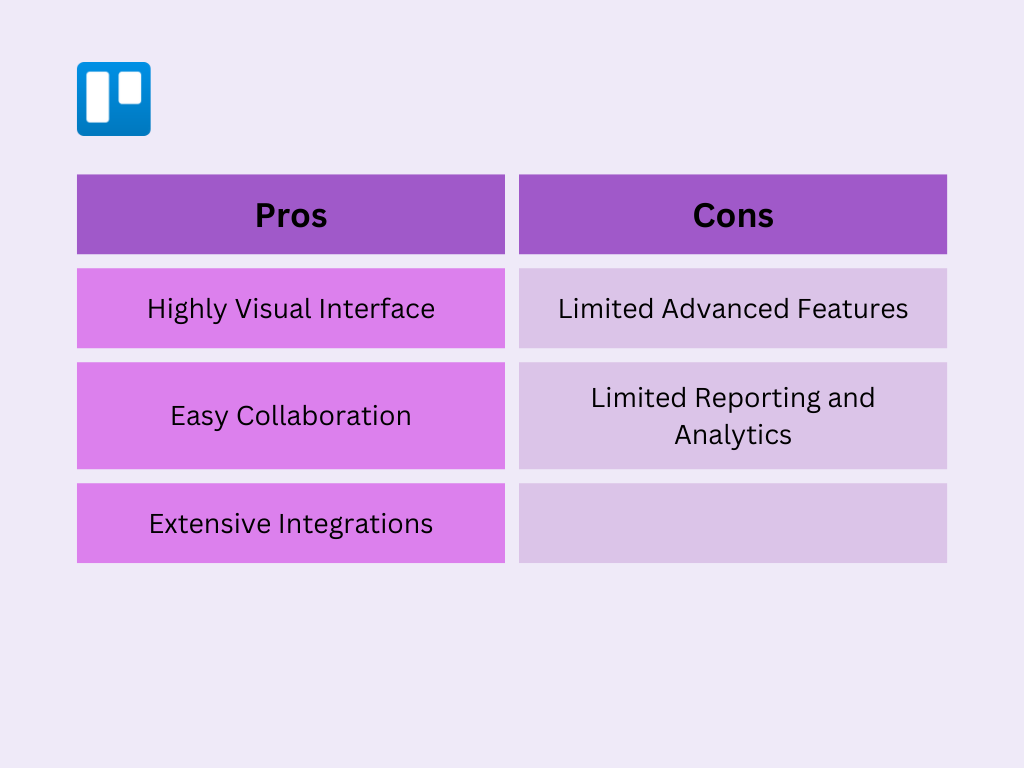 Monday.com is a highly customizable work operating system (Work OS) that enables teams to create their own work software.
It provides a platform for managing and tracking work, fostering better organization and productivity within teams.
Monday.com is known for its flexibility and adaptability, making it suitable for a wide range of use cases, from project management to marketing campaigns, customer relationship management, and more.
It is designed to accommodate the needs of different industries and work processes. Essentially, Monday.com is designed around a board concept, which can be visualized and customized to fit various workflows.
It is suitable for teams of all sizes, from two freelancers working together to thousands collaborating across a multinational corporation.
Key Features
Visual Project Tracking: Monday.com offers a visual approach to project management, with colorful, customizable boards that allow for real-time tracking of projects and tasks.
Customizable Workflows: Adaptability and customization are at the core of Monday.com's platform. Users can build a fully customized workspace, adjusting workflows to cater to their specific requirements.
Collaboration Features: Monday.com emphasizes teamwork, providing tools for efficient collaboration, including in-app communication, document sharing, and progress tracking.
Integration: With a wide variety of commonly used apps and tools it can integrate with, Monday.com further facilitates a centralized work environment.
Automation: Monday.com's platform boasts robust automation capabilities to streamline routine tasks, saving time and improving productivity.
Calendar Views: Monday.com includes calendar views, allowing users to visualize tasks and projects on a timeline. This feature is particularly helpful for scheduling and resource management.
Reporting and Analytics: The platform offers reporting and analytics tools that provide insights into project progress, team performance, and task completion, helping teams make data-driven decisions.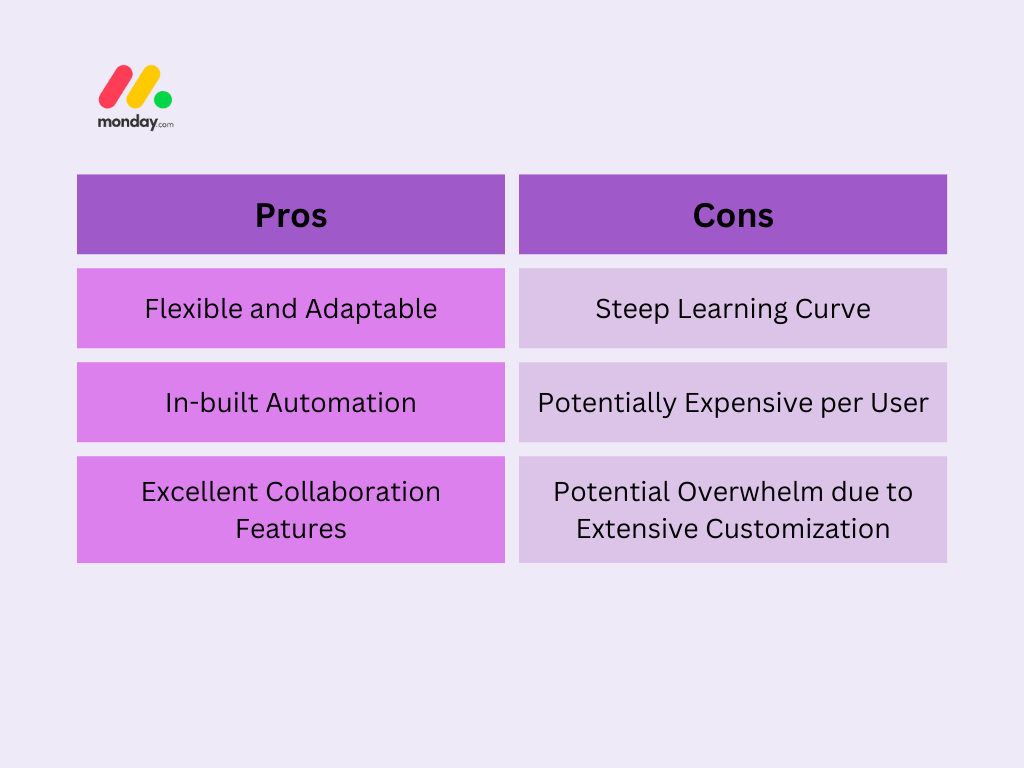 Smartsheet is a software-as-a-service (SaaS) application designed for collaboration and work management, developed and marketed by Smartsheet Inc.
It provides a familiar spreadsheet-like interface for managing tasks, assigning work, tracking project progress, managing calendars, sharing documents, and much more.
This intuitive interface enables users to collaborate and manage work efficiently with a tabular user interface.
As a versatile platform, Smartsheet is used across various industries and scales, from small businesses to large enterprises
Key Features
Spreadsheet-like Interface: Smartsheet leverages a familiar, spreadsheet-like interface for easy adoption and seamless continuity between existing workflows and the platform.
Collaboration Tools: Comprehensive collaboration tools let team members comment on tasks, attach files, and share entire projects.
Project Management Templates: The platform offers a rich variety of ready-to-use project management templates to kick-start any project.
Reporting and Visualization: Smartsheet offers dynamic reporting and charting tools to visualize progress and timelines, and share reports.
Work Automation: Automation capabilities allow users to create simple rules to automate repetitive processes, manage workflows, and accelerate project execution.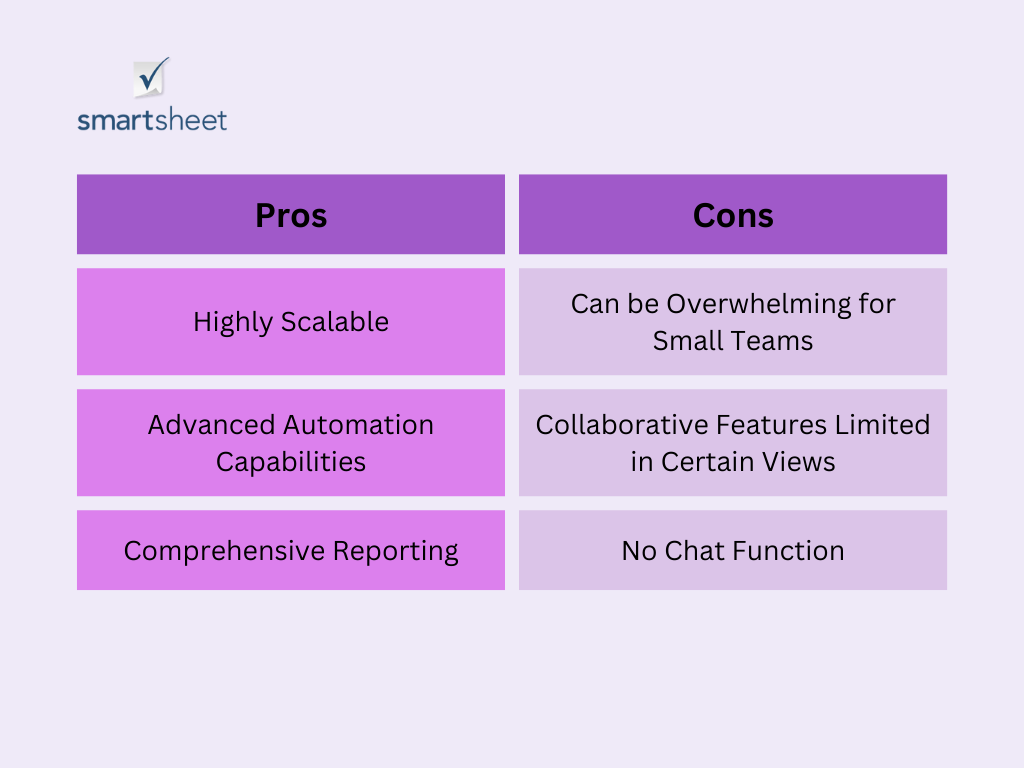 ClickUp is a work management platform that aims to provide a unified solution for productivity and task management.
Described as the "one app to replace them all," ClickUp offers a wide range of features and integrations to streamline and centralize tasks, project management, and team collaboration.
Through ClickUp, teams can manage tasks, docs, and spreadsheets, and enjoy flexible workflows to suit their particular needs.
It supports integrations with many of the commonly used tools in modern workstacks, including Zoom, Google Drive, and GitHub.
This versatile platform is cloud-based, making it accessible anywhere, anytime, fostering better communication, and teamwork.
Key Features
Comprehensive Task Management: Users can create tasks, subtasks, and checklists within ClickUp. Rich editing abilities allow for descriptions, attachments, priorities, assignees, and time estimates.
Customizable Views: ClickUp offers various views, such as a task list, board view (like Trello), calendar view, Gantt chart, mind maps, and more.
Design and Mockup Tools: ClickUp has useful tools for creatives, including a native image and PDF annotation tool. It also integrates with design platforms like Figma and InVision.
Document Collaboration: Docs & wikis provide a place for knowledge management and collaborative editing, akin to Confluence or Google Docs, but within your productivity platform.
Integrations: ClickUp integrates with numerous popular tools including, but not limited to, Slack, Toggl, Google Calendar, Dropbox, Zoom, and GitHub.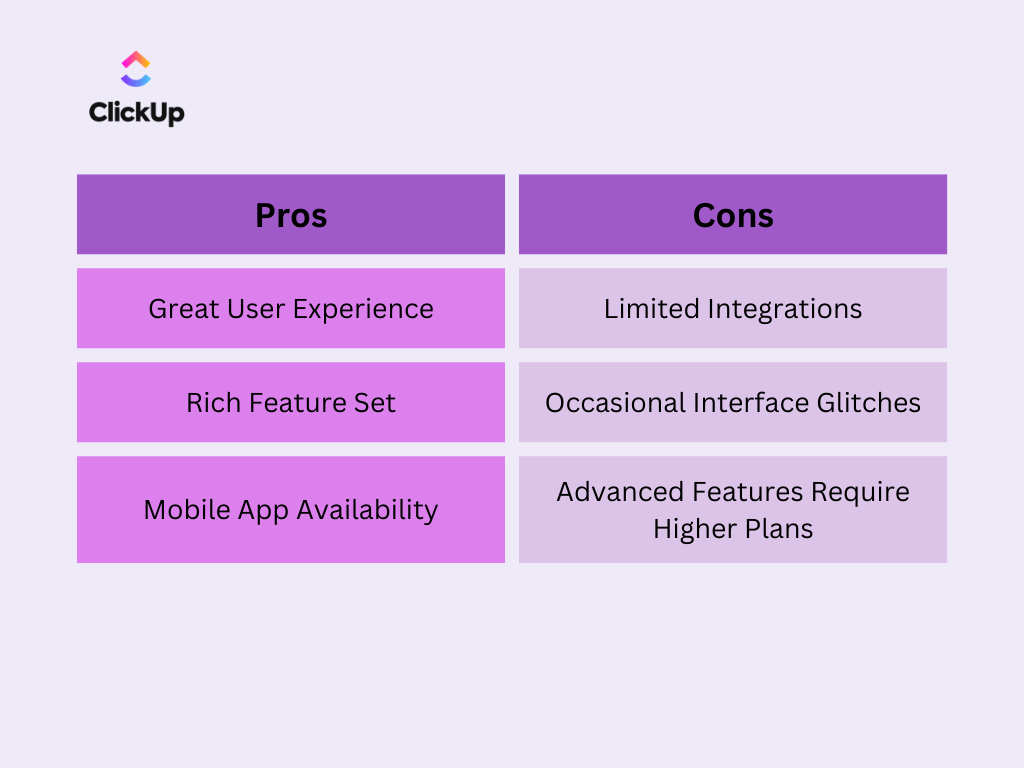 Wrike is a full-scale solution designed for automated workflow planning, data visualization, resource allocation, and more.
This software is available as both a mobile and desktop app, making it accommodating for both local and remote team members.
Wrike is a versatile tool, designed for large and small teams alike, making it a highly useful collaboration tool.
At the heart of Wrike's utility is its functionality that streamlines work processes for maximum efficiency.
This allows teams across all departments to collaborate, manage projects, drive strategic initiatives, and achieve goals.
Key Features
Project Management: Wrike offers detailed project planning & scheduling, time tracking, and budgeting. Users can use Gantt charts, create task lists, set timelines, manage resources, and establish a budget for projects.
Collaboration: Wrike's collaboration features allow for document sharing, editing, and version control. It also supports discussions in tasks, forums, and on a personal communication platform.
Integrations: Wrike integrates seamlessly with leading business apps like Dropbox, Google Drive, and Salesforce. It also provides an open API for custom integrations.
Reporting: With Wrike, you can create comprehensive project and team performance reports that are fully customizable and can be scheduled to auto-generate.
Security: Wrike has robust security measures in place, including data encryption, two-factor authentication, and user access controls.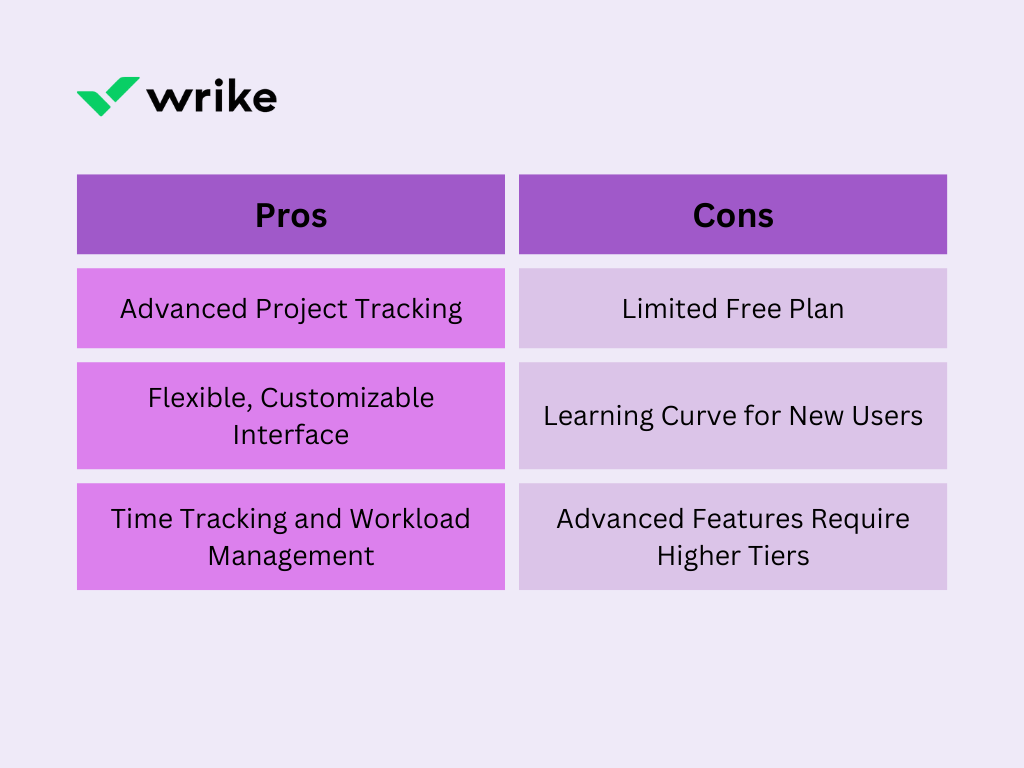 Basecamp is a comprehensive work management platform that emphasizes communication and collaboration within teams.
Designed to help teams manage work more efficiently, Basecamp presents each project on single pages where all the related tasks, documents, discussions, and events are organized.
This makes it easier for everyone on the team to know where to find what they need and express their thoughts and progress.
With Basecamp, teams can assign tasks, share documents, schedule events, and join discussions within their particular workspace.
To avoid constant distractions, Basecamp also includes notification protections so you're only alerted by what's necessary.
A standout feature is Basecamp's real-time chat built into every project, which eliminates the need for separate chat applications.
Key Features
Task Management: Basecamp allows users to create to-do lists for organizing tasks that can be assigned to different team members with due dates, reminders, and notifications.
Message Boards: It features dedicated message boards to initiate discussions on specific topics, thus eliminating long email chains.
Document & File Storage: Basecamp comes with built-in storage for documents and files related to projects. The system allows for easy organization, sharing, and access.
Real-Time Group Chat (Campfires): Campfires are real-time private chats for teams to discuss, brainstorm, or just chat in an informal setting.
Check-Ins: This feature simplifies reporting by automating regular check-in questions for team members.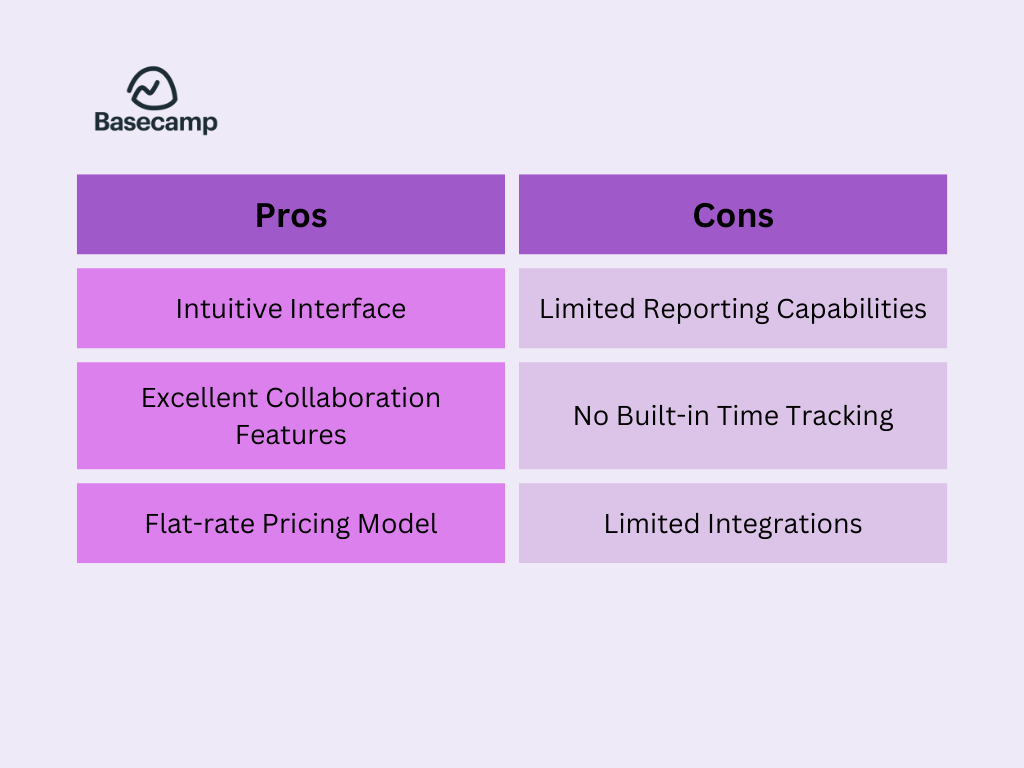 Notion is an all-in-one workspace tool that combines elements of note-taking, task and project management, databases, and collaboration into a single platform.
With Notion's customizable, modular blocks feature, users can create their personalized workspace by combining different types of content, such as text, lists, images, code snippets, and more.
This feature allows users to build everything from simple notes to complex databases and project management workflows.
Notion supports collaboration in real-time, enabling multiple users to work on the same page concurrently.
This aspect makes it easier for teams to share ideas, work together on projects, and maintain documentation effortlessly.
Key Features
All-In-One Workspace: Notion bridges the gap between various tools for note-taking, task management, and databases. It's a unified platform for all these workflows.
Customizable Blocks: Notion offers a unique system of 'Blocks' that users can combine in different ways to build pages. These blocks can be anything from text, to-do lists, images, code snippets, embeds, etc.
Collaboration & Sharing: Notion supports real-time, multi-user collaboration. Users can share any page and work on it concurrently with others.
Templates: Notion offers various templates for different use cases, like task management, note-taking, roadmaps, and more, with the flexibility to create your templates as well.
Integrations: Notion collaborates with a decent number of apps. Users can embed files from Google Drive, Figma, Twitter, and many other popular tools directly into their workspace.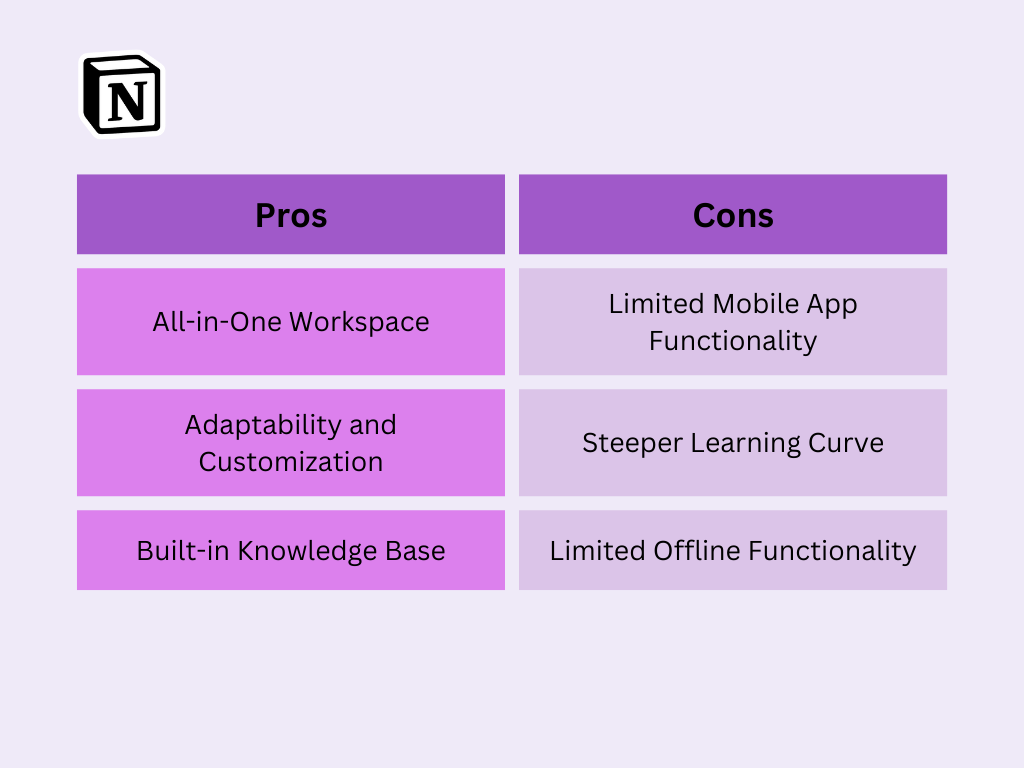 Conclusion
In conclusion, choosing the best work management software for your business depends on your organization's priorities, size, and nature of work.
Evaluate your specific requirements and compare the pros and cons of each tool to find the perfect fit for your team.
No matter the size of your business or the intricacy of your projects, the right work management software can take your productivity and collaboration to a new level.
It merges your tools, tasks, and team into a single digital workspace, streamlining work processes, and facilitating effective communication.
Given the comprehensive functionality and flexibility these platforms offer, the key is to identify your specific needs and choose a tool that best aligns with them. Happy managing!