Introduction
As a professional, your time is extremely valuable. Ensuring maximum productivity and efficiency in your daily work routine is essential to success.
An effective workflow management tool can help streamline processes, reduce wasted time, and boost your productivity.
With so many options on the market, finding the right solution for your needs can be challenging.
This article provides an overview of the top 10 workflow management tools, including key features, benefits, and potential downsides of each to help you make an informed choice.
Read on to determine which option is the best fit for your workflow needs.
What Are Workflow Management Tools and Why Are They Important?
Workflow management tools are software solutions designed to automate and optimize business processes and tasks.
They provide a structured sequence of steps required to complete a process.
It is similar to the Work Management Tool as both types of tools aid in ensuring efficiency and productivity, but the key difference lies in their breadth and scope.
Workflow Management Tools are focused predominantly on defining, controlling, and improving workflows or processes.
On the other hand, Work Management Tools are dedicated to providing a comprehensive solution for managing work and projects, which includes, but is not limited to, workflows.
Our Top 10 Picks for Workflow Management Software
When choosing workflow management software, you have many options to consider. Below are our top 10 picks based on features, pros, and cons.
Sanka is more than a conventional Workflow Management Tool. It provides a comprehensive platform for automating numerous tasks across an organization, boosting productivity by focusing on achieving more with less.
With a wide range of applications and the ability to customize workflow processes, this tool is focused on delivering significant time savings and efficiency for businesses in various operational areas.
Moreover, one of Sanka's crucial features is its capacity to automate workflows. This functionality can be pivotal in enhancing agility and fostering innovation in the corporate environment.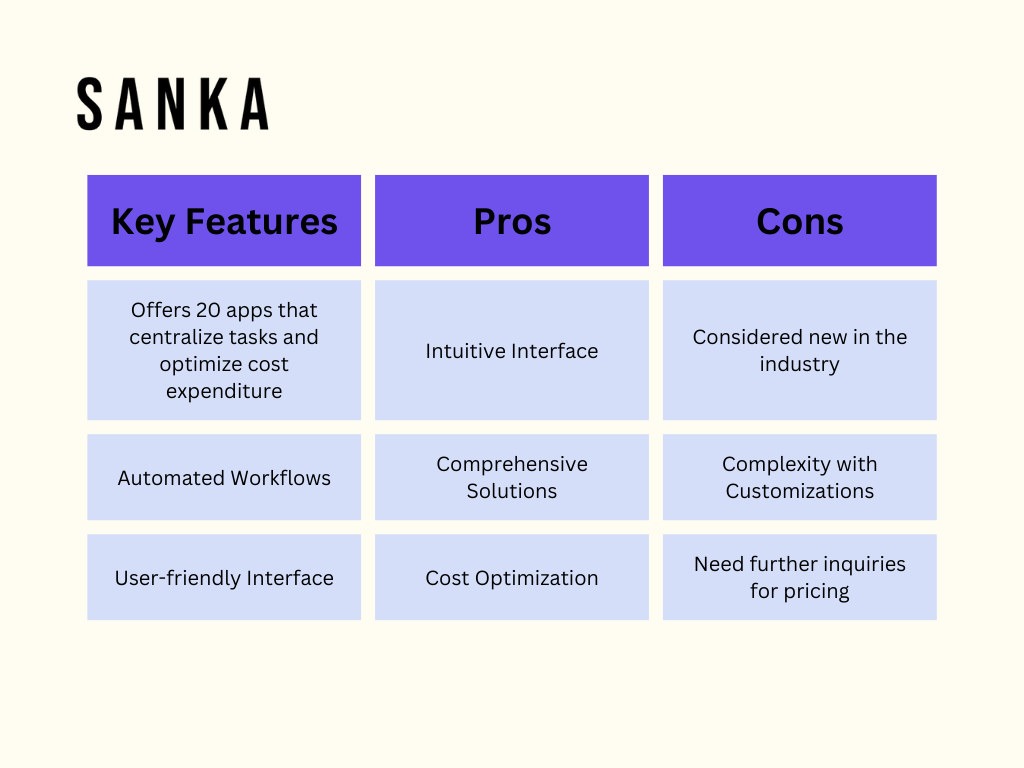 Kissflow is more than just software to build complex processes as it facilitates no-code process creation.
This tool offers the feature to manage workflow processes, including tasks, assignments, and approvals.
A critical aspect of it is the ability to automate these workflows. The automation takes the manual strain off routine and repetitive tasks, improving overall efficiency and productivity.
Kissflow also allows for designing the path your data takes through the process using visual workflow automation.
Also, features like key insights are available with custom dashboards and reports providing data about the workflow processes.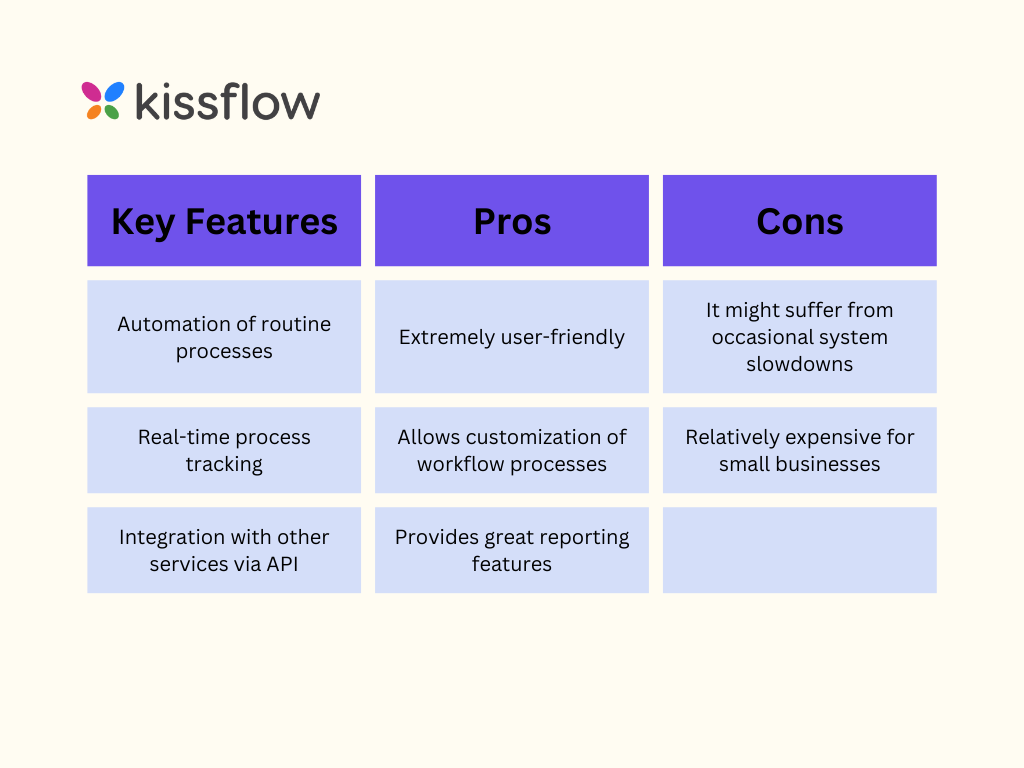 Process Street is a Workflow Management Tool that serves as a platform for creating, tracking, automating, and completing tasks in a streamlined and efficient manner.
It is designed to improve efficiency and task management by providing an integrated solution for the development of checklists, workflows, and standard operating procedures.
Furthermore, Process Street integrates with various popular tools such as Salesforce, Slack, Microsoft Teams, Google Sheets, Jira, DocuSign, and HubSpot.
This allows users to seamlessly incorporate their existing tools and services into the workflows created within Process Street.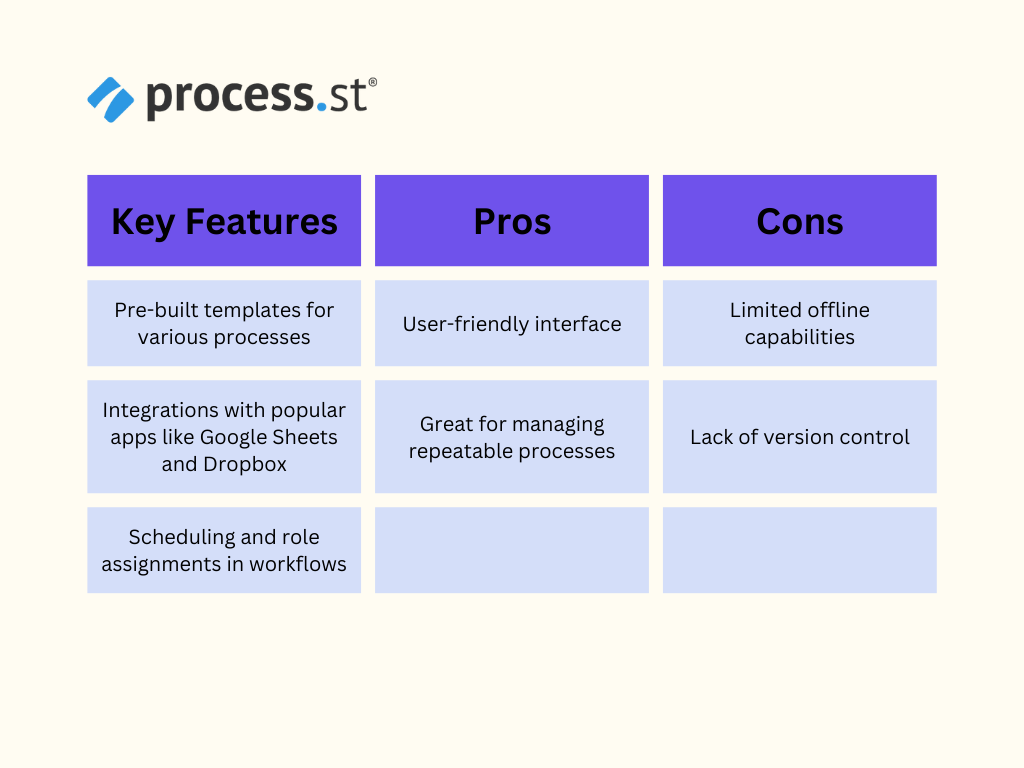 Kintone is a cloud-based, customizable Workflow Management Tool that allows non-technical users to create, customize, and optimize business applications.
This tool enhances effective collaboration within teams by enabling the creation, sharing, and automation of custom workflows and processes.
One key feature of Kintone is the ability to create custom workflows with a drag-and-drop builder, simplifying the workflow creation process and making it user-friendly.
Kintone also allows you to track a project or task's progress, ensuring effective management and oversight of workflows.
The benefit of using a tool like Kintone lies in its ability to keep track of every step of your workflow in one place.
It thereby ensures team members are always aware of the status and where to find pertinent information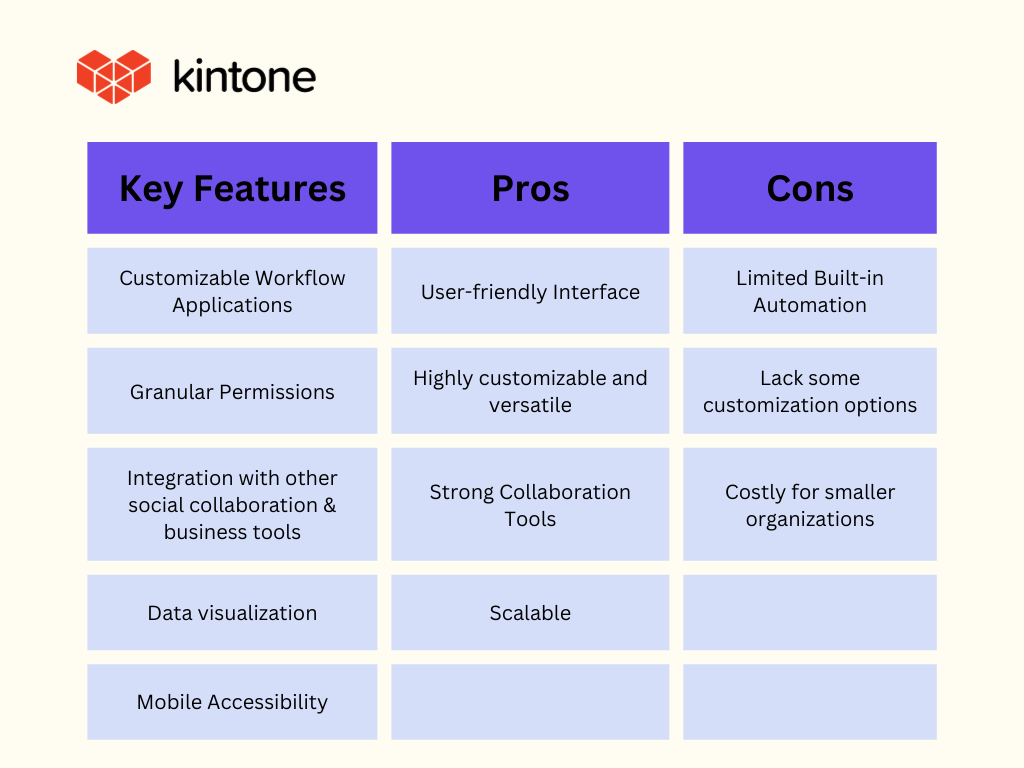 Monday is a comprehensive Workflow Management Tool that serves as an adaptable platform, promoting a new way of working. It enables teams to manage, automate, and streamline their business processes.
These features collectively help centralize all of your team's work processes, tools, collaboration, and files into one Work OS.
By streamlining processes and managing workflows effectively, you can boost your team's alignment and productivity, customize every workflow to fit your needs, maintain one source of truth across your organization, and effectively collaborate organization-wide.
It's important to note that Monday is trusted by over 180000 customers worldwide and is an award-winning platform.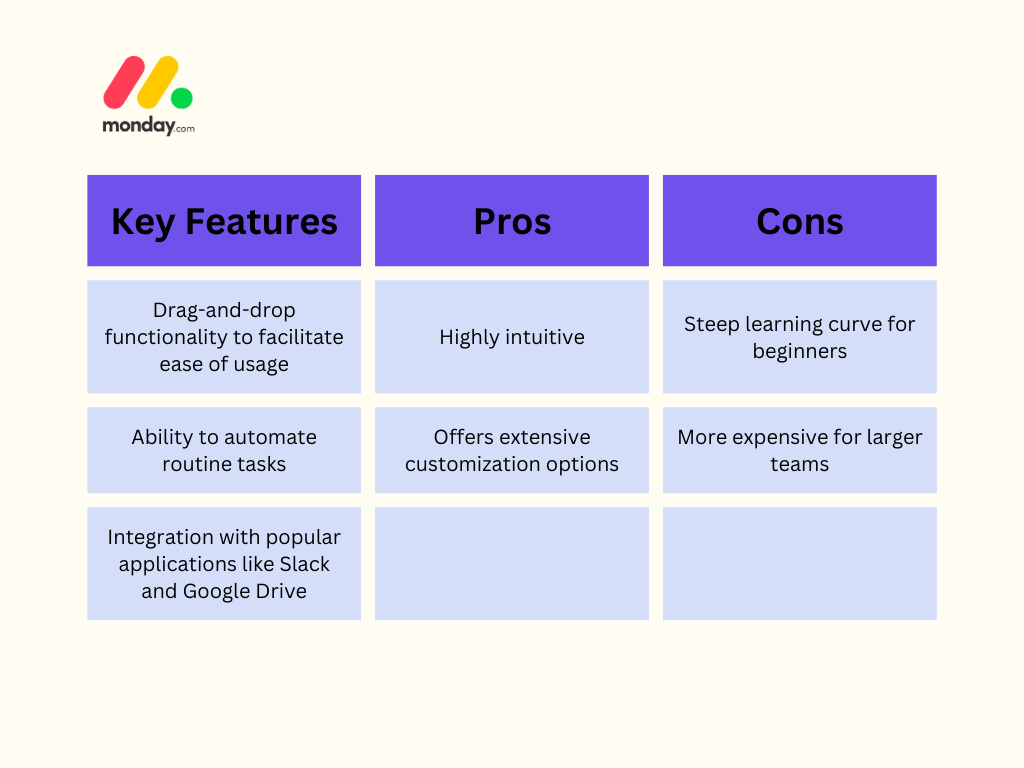 Hive is a Workflow Management Tool designed to facilitate better collaboration, manage projects, and enhance productivity in teams.
This tool centralizes all your work in a single platform, allowing for smoother workflows and improved efficiency.
One of the central features is the Action Cards, which serve as a comprehensive overview of a specific task's details, including its schedule, assigned members, related messages, files, and subtasks.
Hive also offers customizable project layouts, such as Gantt charts, Kanban boards, calendars, and tables, and myriad views to suit different project management preferences.
These configurations facilitate task and project oversight, allowing team members to manage tasks in a manner best suited to their skillsets.
Hive thrives on Integrations, connecting with over 1,000 third-party applications which include Google Drive, Slack, Zoom, and Salesforce, amongst others.
These integrations ensure that workflows remain uninterrupted, enhancing productivity.
Not only does Hive allow for task and project management, but it also comes with robust analytics and reporting features.
With these, teams can gain insight into their productivity levels and identify potential bottlenecks in their workflows.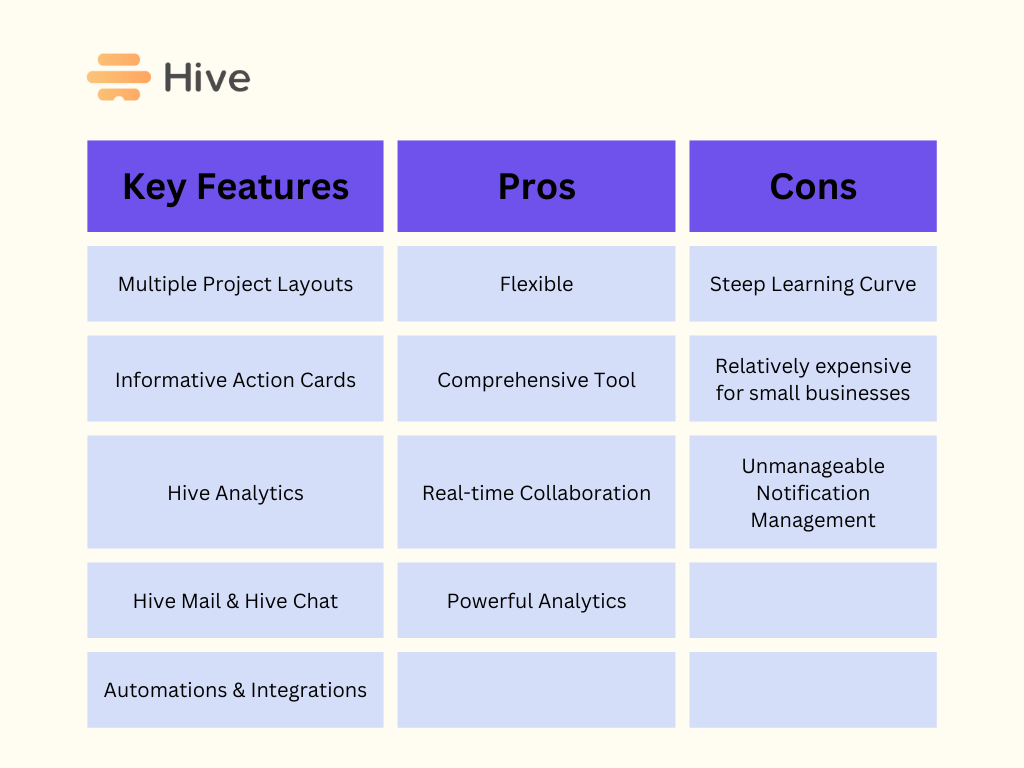 ClickUp is a cloud-based productivity platform that serves as a powerhouse Workflow Management Tool. It streamlines tasks, projects, and processes, making it easier to manage work.
It's designed to replace other work tools, aiming to provide all necessary features in one unified platform.
ClickUp is versatile and can be utilized by any team, from marketing and design to development and sales.
With its capabilities to handle project management, process documentation, and collaboration, ClickUp serves as an all-in-one solution that can cater to various team sizes and industries.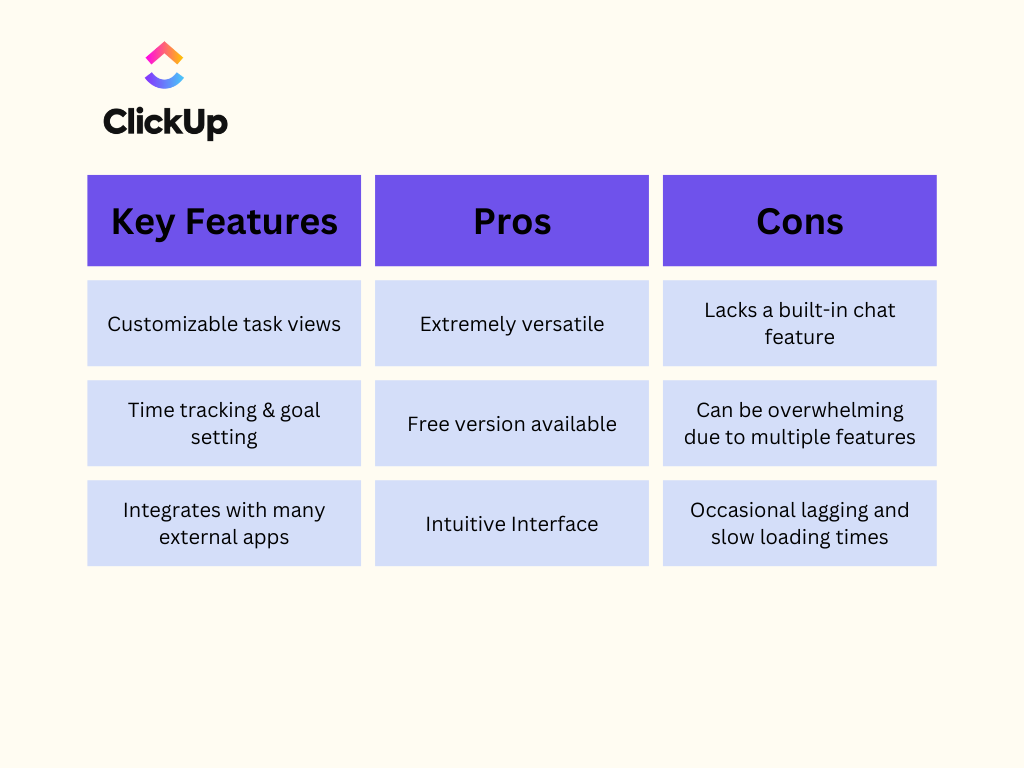 Airtable is a dynamic, flexible, and visually appealing Workflow Management Platform that blends the best of spreadsheets and databases.
Airtable is essentially a hybrid of a spreadsheet and a database. It's designed to be user-friendly, allowing you to organize, link, and analyze data in a way that makes sense to you and your team.
Airtable is designed to adapt to the unique workflow of every team or project. Users can map out their workflows, set team goals, outline the necessary steps, and identify the key information and stakeholders involved in the process.
Besides, it can be used as a project management tool, providing solutions to bring business processes and team collaboration into one platform.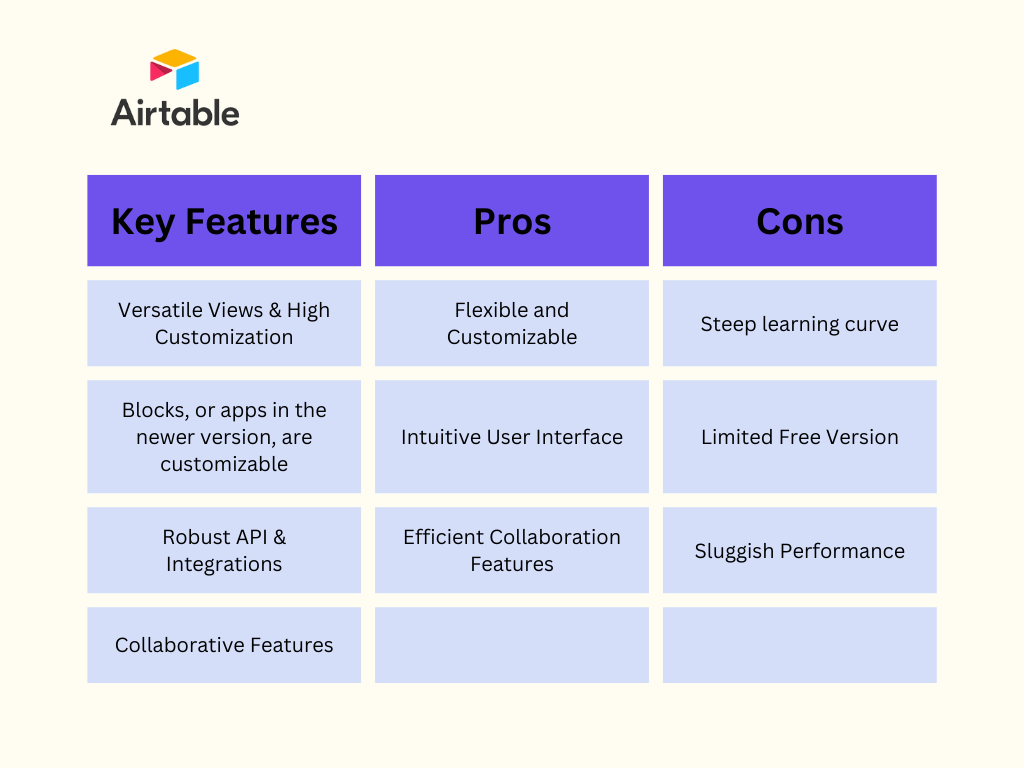 Miro is defined as a Workflow Management Tool specifically designed to facilitate and organize multifaceted work processes.
It creates an interactive space where teams can not only define the multiple steps involved in their processes, but also denote the necessary resources, timeline, and roles crucial to the completion of a project.
This collaborative tool aids teams in visualizing and mapping out their workflows, essentially simplifying complex processes.
Miro provides a digital whiteboard, akin to a boundless canvas, that teams can use to draft project plans, create diagrams, and develop creative ideas.
Additionally, Miro encourages real-time collaboration within teams. Multiple members can simultaneously work on a board, following real-time updates.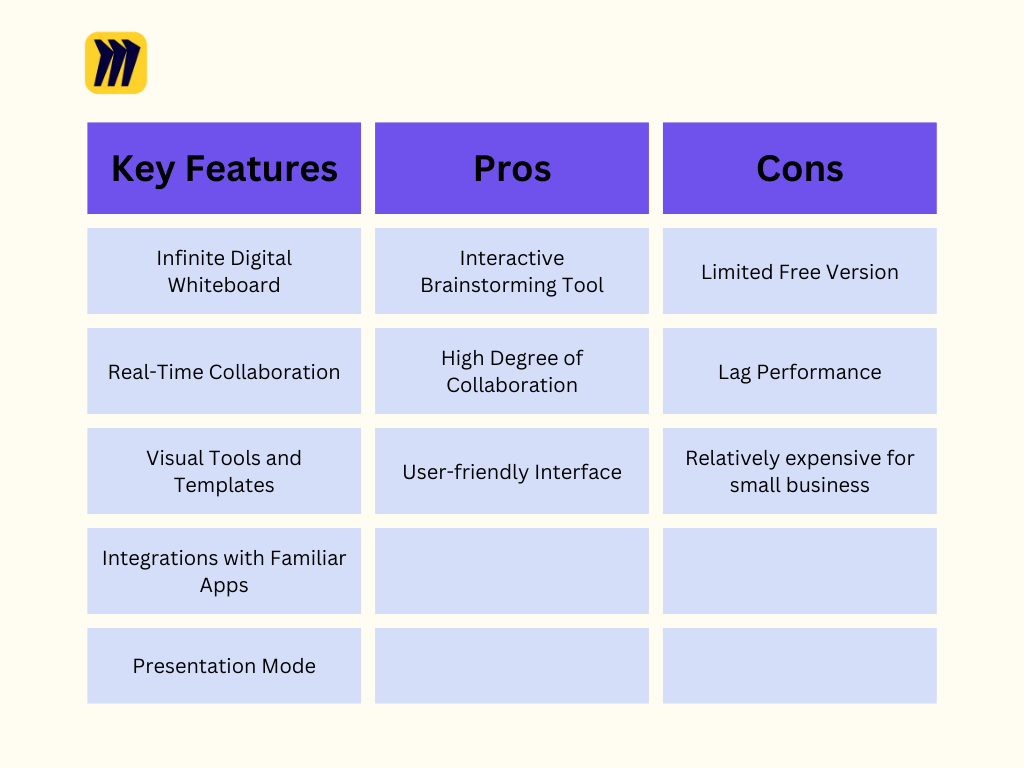 Next Matter is a Workflow Management Tool designed to facilitate and coordinate various work processes with a focus on efficiency and ease of use.
As a Workflow Management Tool, Next Matter provides a no-code platform for automating business workflows, allowing users to map out scenarios and tasks involved in their processes, handle exceptions, manage parallel tasks, and communicate across different channels for diverse stakeholders.
The platform enables end-to-end automation for businesses, ensuring the seamless performance of operations.
Next Matter is designed to cater to operations-intensive businesses, helping them automate complex workflows and scale up efficiently.
Through its user-friendly interface, users can build their unique operations solutions with a minimum viable product (MVP) mindset while maintaining quality.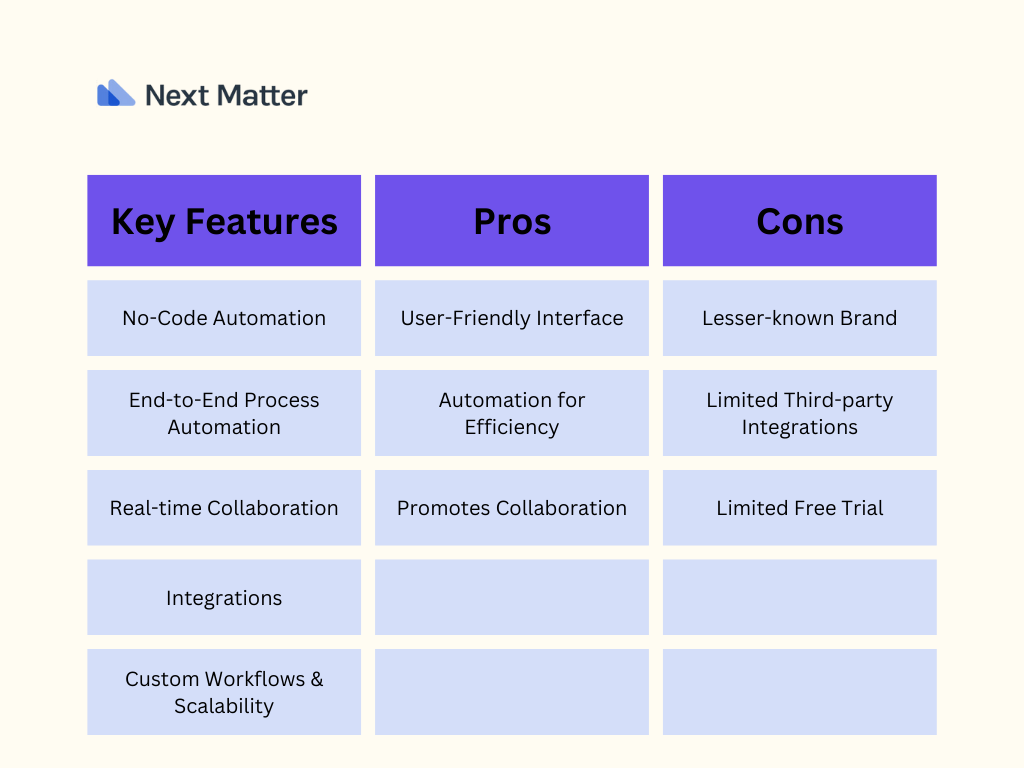 Conclusion
In summary, there are many great options when it comes to workflow management tools.
The key is finding the solution that best fits your needs and budget. Evaluate each tool based on the depth of features, level of customization, ease of use, available integrations, and cost.
Some tools are better suited for large enterprises while others cater more to small businesses.
Do some research to determine what is most important for your organization and team.
With the right workflow management software in place, you'll gain valuable insights into your processes, boost productivity, improve collaboration, and ensure projects are completed on time and within budget.
The options are plentiful, so take your time to find the perfect match. With a little work upfront, you'll reap the benefits of streamlined workflows for years to come.