Table of Contents:
Introduction
Project management tools have become an essential part of modern work environments, helping teams and individuals plan, organize, execute, and track their tasks and projects.
Project management tools have evolved from simple scheduling software into an integrated system capable of managing complete projects.
These tools can provide teams with an efficient work structure and deliver high-quality projects under budget.
In this blog post, we will provide an in-depth analysis of the best project management tools to help you choose the one that best suits your needs.
What is Project Management
Project management is a methodical approach to planning, organizing, executing, and controlling the work of a project team to achieve specific goals and meet success criteria set for a particular project within a specified timeframe.
In essence, project management involves the application of knowledge, skills, tools, and techniques to project activities to meet project requirements.
So, what is the role of Project Management Tools?
Project management tools are software designed to assist an individual or team to effectively organize work and manage projects and tasks.
These tools offer a structured method to manage projects from conception to completion and facilitate in planning, organizing, and managing resources to drive the successful completion of set goals.
They come with functionalities such as scheduling, budget management, communication, collaboration, documentation, resource allocation, quality management, and more.
12 Best Project Management Tools/Software
Sanka is a task automation tool designed to streamline various business operations. Although not solely a project management tool, its features touch on project management by aiding in the automation of certain project tasks, particularly within the Planning & Management category.
Features
Task Automation: Sanka lets users automate repetitive tasks across different business departments, including Finance & Ops, Sales & BD, Recruiting & HR, and Marketing & PR.
Social Media and Content Management: Users can automate tasks related to content creation and social media management, such as the automatic publishing of social media posts when new WordPress content is created.
Job Posting and HR: Sanka can help businesses automate the process of job posting creation and publication, making it a handy tool for HR teams.
Document Management: The platform can convert PDFs to text, categorize them, and upload the data to Google Drive.
Marketing Campaigns: The tool can create and publish Instagram marketing campaigns.
Integration: Sanka integrates well with different popular tools like WordPress, Google Drive, and Instagram. It also provides functionality that allows users to automate and manage projects and tasks using other project management tools like Slack and Asana.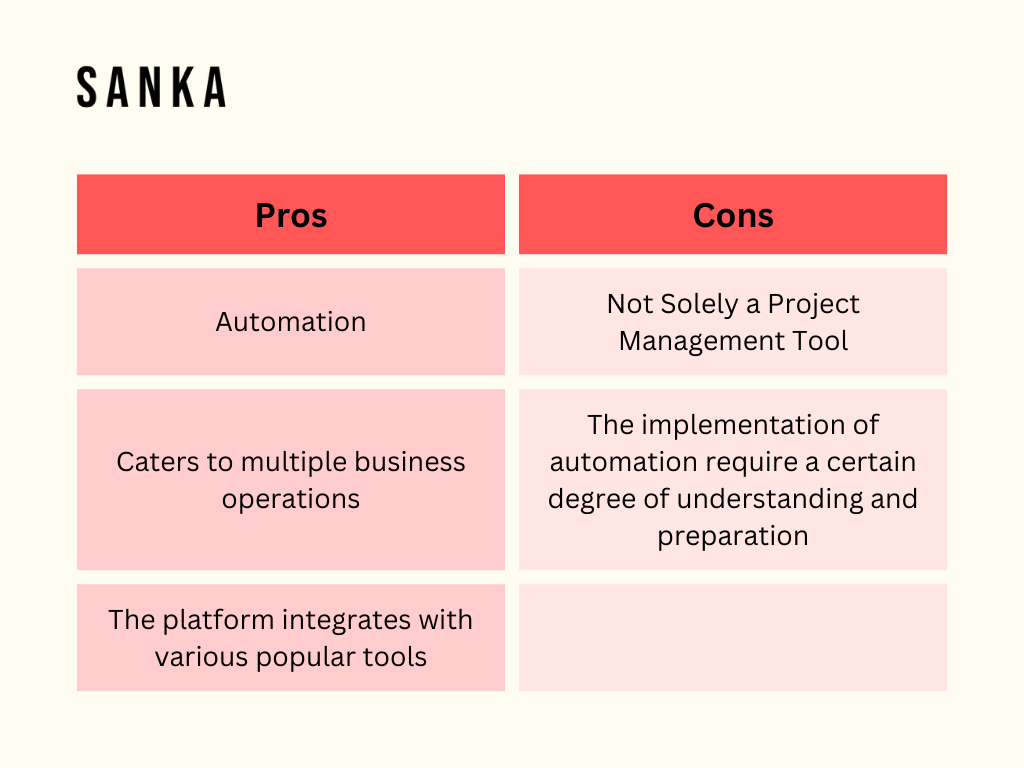 Notion, one of the most flexible and versatile project management tools on the market, is increasingly in demand for its easy-to-use interface and fully customizable functions that cater to any company's specific needs.
Whether you're managing a small project or orchestrating operations for an entire team, Notion is a worthy contender in your tool belt. This feature-rich tool improves organization, collaboration, and productivity.
Features
Workspace Customization: Notion is a blank canvas. You can design and tailor interfaces and workspaces to suit the needs of your project. With customizable layouts, you can structure your workspace as simply or as complex as needed.
Unified Workspace: Notion provides an all-in-one workspace where you can write, plan, collaborate, and organize. It essentially offers a blend of notes, tasks, wikis, and databases.
Kanban Boards, Lists, and Tables: You can create workflow with Kanban boards, manage tasks with to-dos and lists, or structure data with tables and databases.
Templates: Notion offers a variety of templates for a range of team functions, including road mapping, goal setting, content creation, and customer relationship management.
Collaboration: Notion excels at collaboration. Team members can comment directly on tasks, and changes made by any team member are updated in real-time.
Third-party Integration: Notion supports integration with various third-party apps like Google Calendar, Google Drive, Figma, Invision, and more.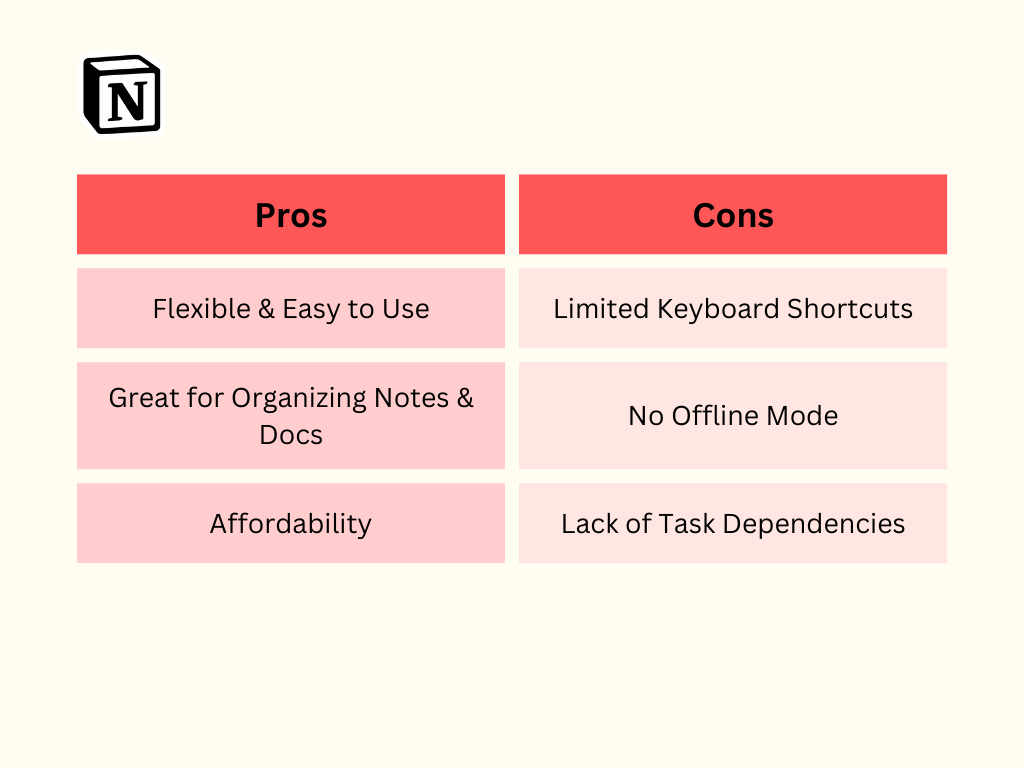 Features
Asana is one of the leading project management tools, known for its easy-to-use interface and multi-functionality.
Asana's importance in the project management world is due to its ability to ensure smoother workflow within teams, from small startups to large corporations.
By having a clear picture of work progress, team members can focus their efforts on what matters.
Features
Tasks: At its core, Asana is a task management tool that allows users to create, assign, follow, and comment on tasks.
Subtasks: For complex tasks, Asana lets you create a a nested list of subtasks, each with their own assignees and due dates.
Timeline: Asana's Timeline view allows you to highlight dependencies between tasks and map out your project visually on a Gantt chart.
Portfolios: With this feature, you can monitor the real-time status of all your team's projects in one place.
Automations: Asana's automation capabilities ("Rules") allow you to automate routine actions, saving time and reducing the likelihood of errors.
Integrations: Asana integrates with a wide variety of tools, including Slack, Google Drive, GitHub, and more.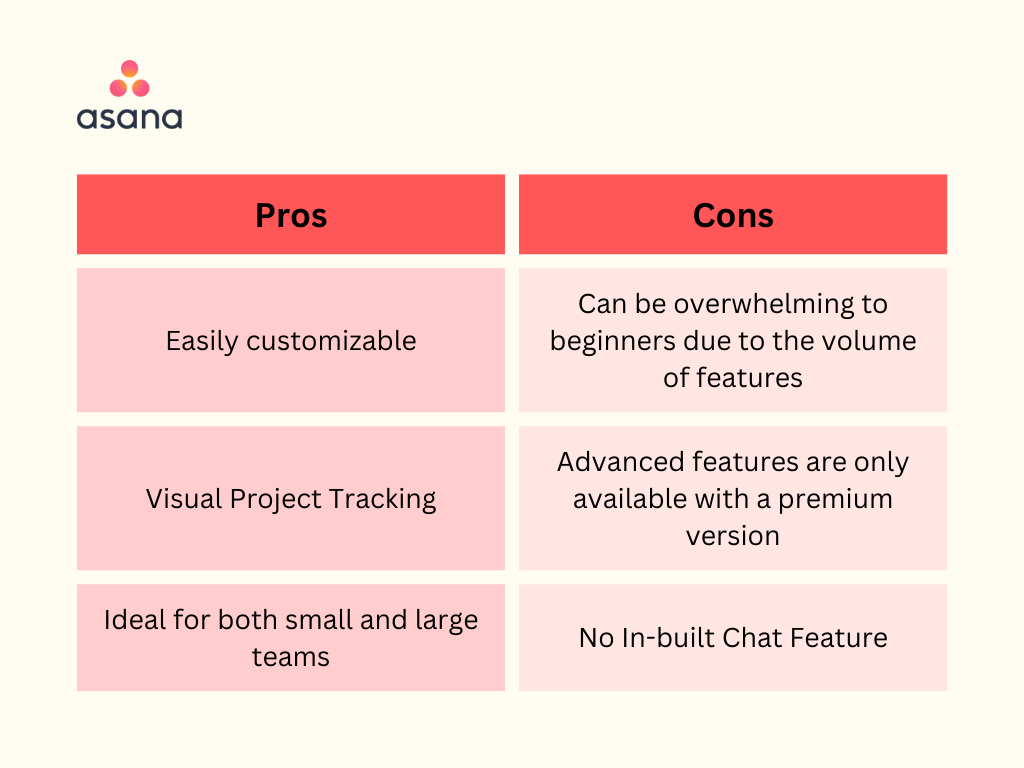 Basecamp is one of the most used project management tools, particularly renowned for its simplicity, functionality, and compelling interface.
Serving businesses of all sizes, Basecamp promotes better communication, organization, and collaboration within teams while ensuring every project is on track.
Features
Tasks and To-dos: Basecamp allows you to create tasks, assign them to team members, set deadlines, and provides a straightforward way to track the progress of each task.
Schedule: Basecamp offers a calendar-like schedule feature where you can plan milestones, deadlines, and events, ensuring every important date is documented and seen by all.
Private Conversations: Through the Basecamp feature called "pings", you can hold private conversations with any member of your team, promoting clear and concise exchanges of ideas.
Message Boards: This feature allows you to post messages and discuss project updates, keeping team communication centralized and organized.
Docs & Files: Basecamp provides a space to organize, share, and store important documents that can be accessed by the team whenever needed.
Real-time Chat: An integrated real-time chat feature is available in every Basecamp project, eliminating the need for a separate chat app.
Third-party Integrations: Basecamp has a variety of third-party integrations, making it easier for you to link up with other services that you use.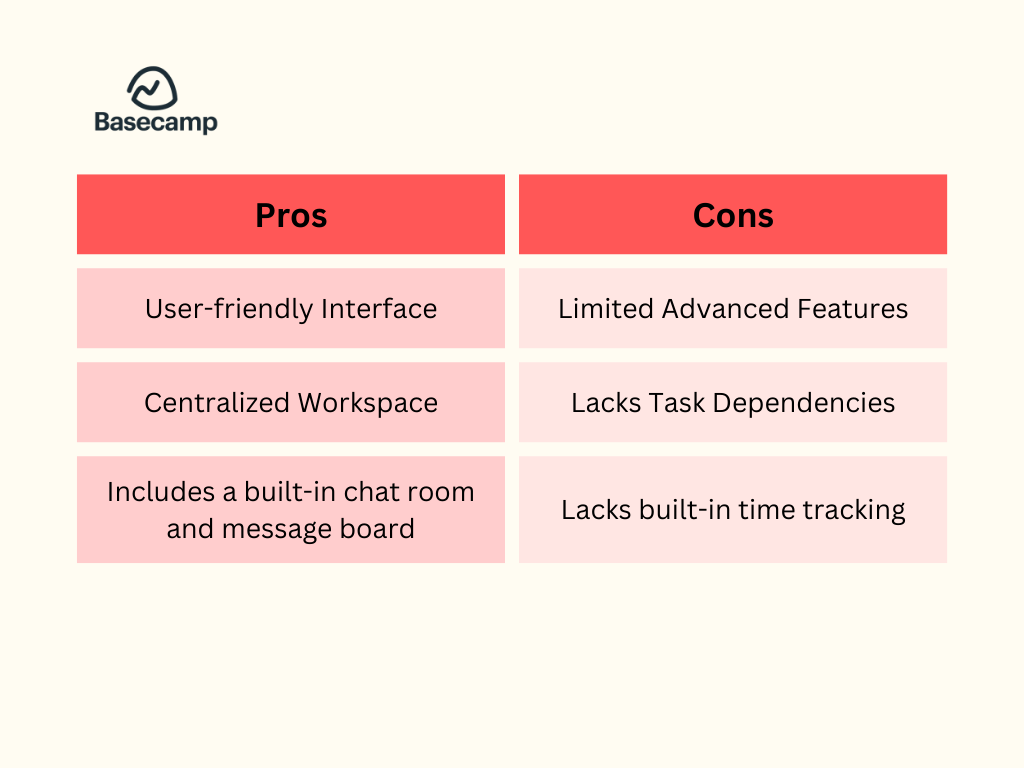 JIRA, developed by Atlassian, is a robust project management tool designed specifically for Agile teams. It is used for bug tracking, issue tracking, and project management purposes.
JIRA is widely adopted by development teams to plan, track, and release software and it is customizable to fit any kind of agile workflow.
Features
Scrum and Kanban Boards: JIRA provides Agile functionalities including Scrum and Kanban boards which pull tasks from the backlog and move them to "done," providing real-time visibility on team progress.
Backlog Prioritization: Backlogs in JIRA allow for robust management of tasks wherein you can easily prioritize tasks through a drag-and-drop feature.
Customizable Workflows: JIRA allows you to customize workflows according to your project requirements. Each step in the workflow can have rules and specific statuses.
Roadmaps: In JIRA Software, the roadmap feature allows you to create, manage, and visualize your strategic plans, ensuring your whole team aligns with your goals.
Reports: JIRA provides comprehensive Agile reporting tools including burndown and burnup charts, sprint reports, and velocity charts.
Integrations: JIRA seamlessly integrates with numerous other tools such as Confluence, Bitbucket, Bamboo, and hundreds of other tools in the Atlassian marketplace.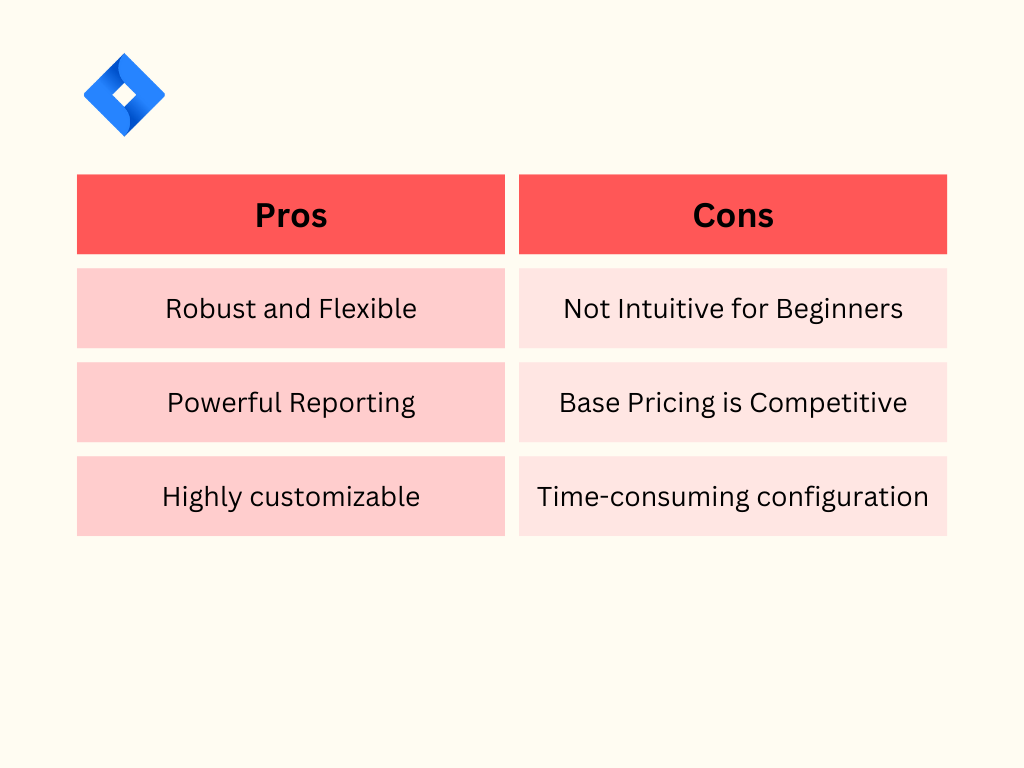 Trello is a visual-based project management tool that is renowned for its simplicity, flexibility, and vibrant appeal.
Spawning from the Kanban philosophy, Trello provides a comprehensive platform that caters to all sizes of enterprises, where you can easily organize tasks into cards and boards making it a go-to tool for teams who like visually oriented project management.
Features
Boards, Lists, and Cards: Trello is built around the concept of boards (to represent projects), lists (to represent project stages), and cards (to represent tasks). You can easily drag and drop these elements around the interface.
Customizable Cards: Each card can be customized with attachments, checklists, labels, due dates, members and comments.
Automation with Butler: Trello's built-in automation feature, Butler, performs simple actions like moving or creating cards based on set triggers and criteria, saving time on repetitive actions.
Labels: You can attach visually striking labels to your cards, helping with quickly identifying and categorizing tasks.
Notifications: Members receive notifications when they are assigned to a card or when there are updates to cards they're associated with.
Power-Ups: Trello integrates with other apps through "Power-Ups" such as Calendar view, Google Drive, Slack, and many more.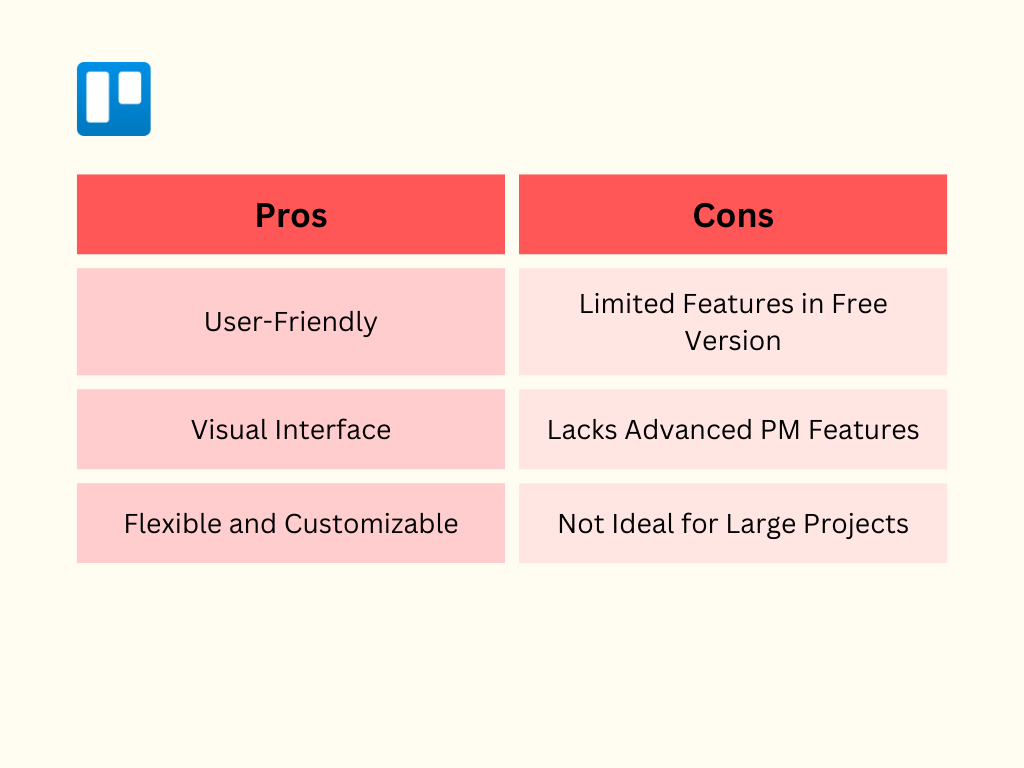 Zoho Projects, whether planning comprehensive projects or tracking tasks, is a cloud-based project management software that provides an ideal solution for project management in general.
It encourages efficient collaboration between teams, wherever they are located, and incorporates numerous features surpassing other project management tools.
Features
Task Management and Automation: Zoho Projects allows you to save time on routine tasks with an easy-to-use drag-and-drop interface that simplifies visualizing and utilizing new automation, whether for straightforward procedures or complex workflows.
Gantt Charts: The Gantt charts facilitate efficient project planning and tracking schedules. Zoho Projects help you stay informed about your crucial tasks and their dependencies while instantly showing any discrepancies between the progress you expected and the actual progress.
Timesheet: Using Zoho Projects, you can log billable and non-billable hours with the timesheet module. Record every moment of your diligent work, either manually or via timer.
Customization: Customize your projects fully to match your needs. With Zoho, you can create personalized fields, layouts, tickets, and workflows to ease your tasks.
Collaboration Tools: Zoho Projects encourages cooperation within teams, regardless of the location of the team members.
Integration: Zoho Projects facilitates integration with a number of Zoho and third-party applications for seamless functionality, including Zoho CRM, Invoice, Docs, and external tools like GitHub, Google, Slack, and others.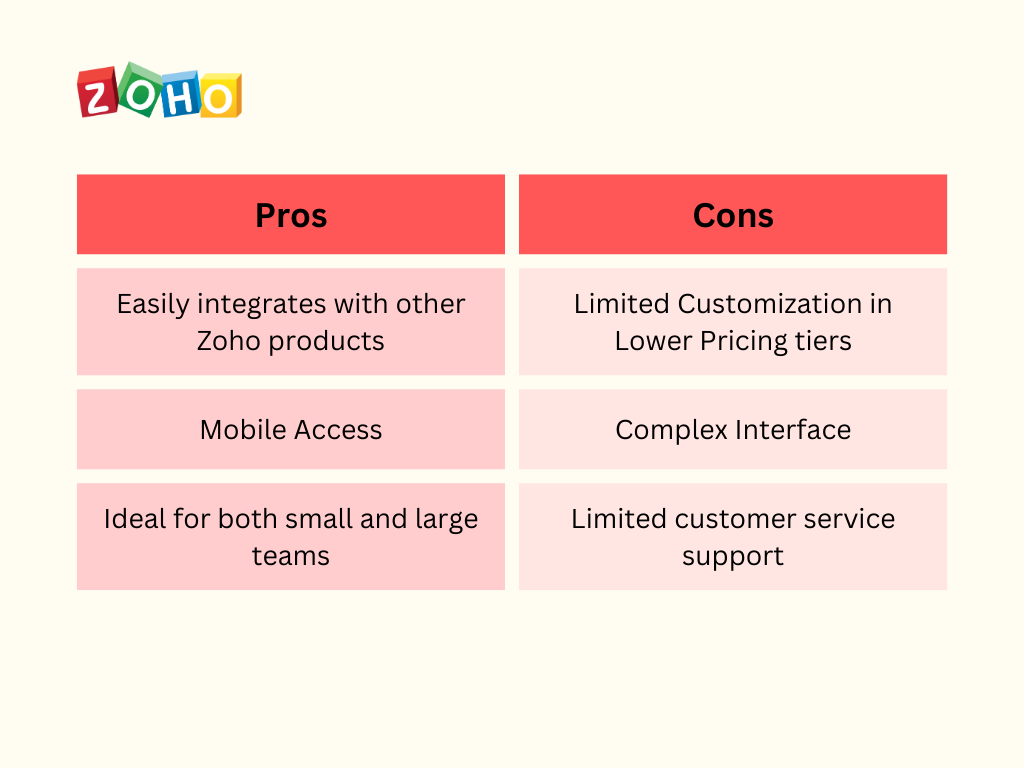 ClickUp is a modern project management tool designed for individuals, businesses, and organizations of all sizes.
Known for its user-friendly and comprehensive features, ClickUp provides a suite of tools designed to enhance productivity and provide a platform for collaboration, tracking, task management and more.
Features
Customizable Views: ClickUp enables you to manage your tasks in a variety of ways, from Lists and Boards, to Gantt charts (Timeline view), Calendar view and Box view (for tracking team performance), offering versatility to tailor your workflow.
Spaces: ClickUp provides users with the ability to create Spaces, which are large organizational structures for setting up high-level categorizations like departments, teams, or big projects.
Tasks and Subtasks: You can create Tasks and Subtasks, assign them to your team, add multiple assignees, due dates, priorities, and tags.
Dependency Management: ClickUp allows you to set task dependencies to ensure critical tasks are completed in the right order.
Document Collaboration: You can create documentation directly inside ClickUp using Docs, which support real-time editing and collaboration.
Automation: ClickUp provides robust automation features for routine tasks, allowing users to spend more time on vital tasks.
Integration: It integrates well with a plethora of applications like Slack, Google Drive, GitHub, and many others.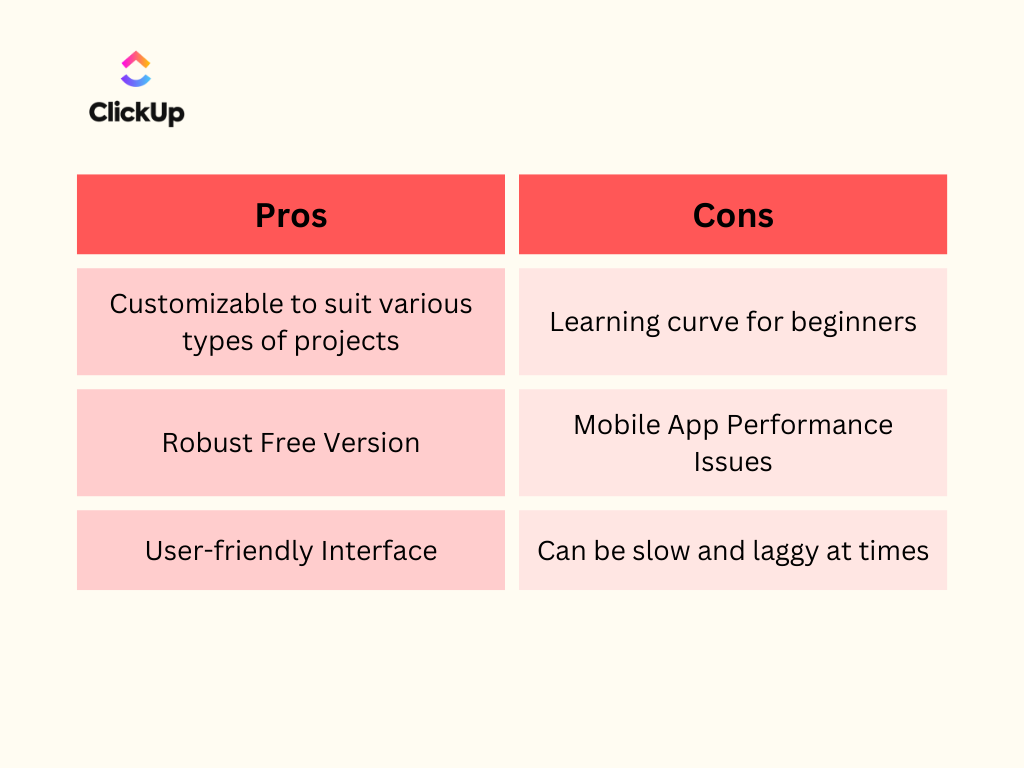 Wrike is an all-in-one project management and collaboration platform that allows teams to collaborate, manage projects, drive strategic initiatives, and achieve their goals.
It's designed to provide maximum efficiency and eliminate wasted efforts via automated workflows.
Features
Efficiency Across All Departments: Wrike streamlines work processes, encouraging teams to collaborate and manage projects more efficiently.
Visibility and Alignment: With Wrike, teams can centralize all their work, increasing visibility and alignment within the team. They can adapt workflows, change views, and tailor their workspaces to their teams' needs and preferences.
Workflow Automation: Wrike allows users to automate workflows, helping to maximize productivity and minimize repetitive work.
Business Outcomes: The platform helps align strategy with execution, improve accountability & transparency, and foster collaboration, all of which contribute to achieving key goals faster. Real-time dashboards support data-led decisions and Agile leadership.
Tailor for Team's Needs: Wrike is versatile enough for any team or department with extensive customization features. It has dedicated solutions for different teams like Marketing and Creative, Professional Services, Project Management Office, and IT & Engineering.
Templates: A range of pre-built templates are provided to save time and swiftly launch projects or campaigns, all of which are adaptable to help teams get to work faster.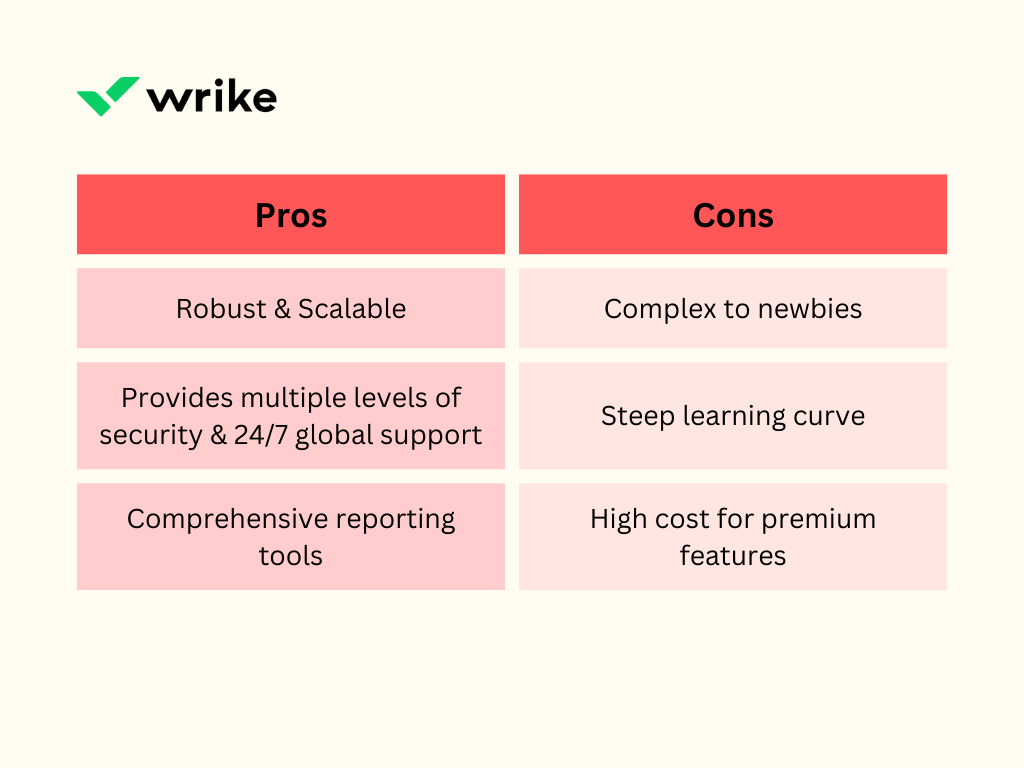 Slack is a popular team collaboration tool that allows users to streamline communication, centralize file sharing, and manage projects, ultimately increasing productivity and efficiency.
While it may not be positioned as a traditional project management tool with features such as Gantt charts or project planning modules, it can still be effectively utilized for managing your projects and teams.
Features
Channels: Slack's core functionality revolves around channels, which can be organized by project, team, department, or other specific purposes. Channels provide a centralized space for communication, enabling team members to prioritize conversations and stay organized.
Integration: Slack boasts many integrations, allowing it to pull external tasks, project updates, notifications, and more from project management tools like Trello, Asana, and Wrike. It also connects with other tools, such as Google Drive, Zoom, and GitHub, to streamline workflows.
File Sharing and Collaboration: Slack users can easily share files, images, and documents within conversations, channels, or direct messages. Additionally, Slack integrates with cloud storage services, such as Google Drive and Dropbox, to centralize file access and sharing.
Task Management: While it does not feature a built-in, full-fledged project management system, Slack has many integrations with task management tools such as Asana, Todoist, and Trello, or even built-in task management applets through Slackbot or third-party apps.
Search: Slack's powerful search functionality makes it easy to find messages, files, and shared documents, enhancing information accessibility.
Video Conferencing and Calls: Slack enables video conferencing and calls directly within channels, keeping communication centralized.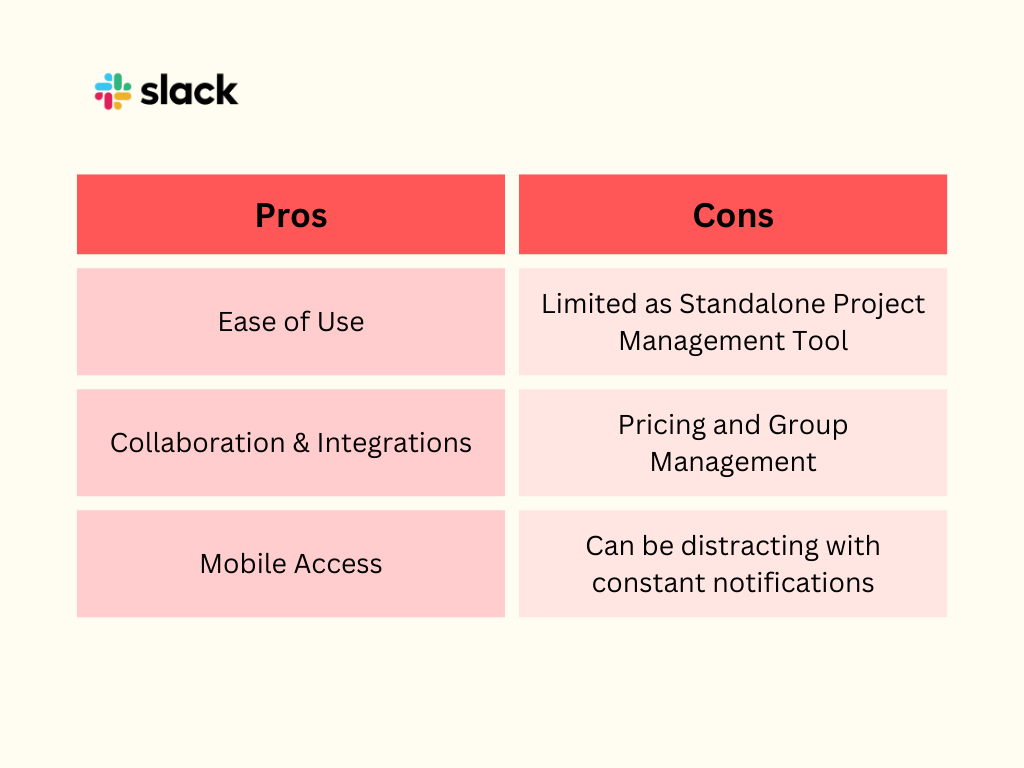 Microsoft Project
Microsoft Project is a powerful project management tool from the Microsoft product suite.
It is designed to assist project managers in developing project plans, assigning resources to tasks, tracking progress, managing budgets, and analyzing workloads.
Features
Project Planning and Scheduling: With Microsoft Project, professionals can manage schedules and costings, set project timelines, and visualize project progress via Gantt charts.
Collaboration: With its integration with Microsoft Teams, Microsoft Project facilitates project collaboration, allowing teams to work, chat, and collaborate all in one place.
Resource Management: It allows managers to monitor project resources, improve allocation, and anticipate resource needs with detailed heat maps.
Reports: Microsoft Project provides in-built customizable reports, such as burndown and portfolio analytics, so everyone can track project progress.
Multiple Projects: You can manage and maintain multiple projects at the same time in a single master plan, viewing them simultaneously and managing resources across all projects.
Co-authoring: Using Project for the web, multiple team members can simultaneously edit a project, enhancing collaboration.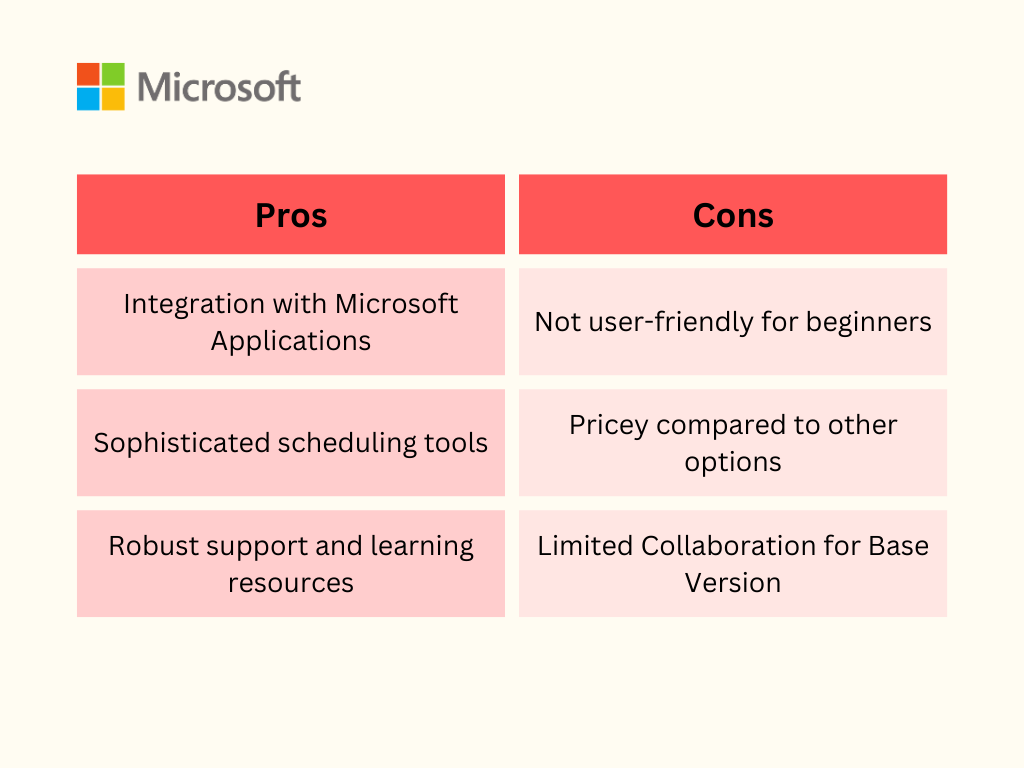 Monday.com is a web-based project management tool that simplifies the way teams work together - manage workload, track projects, move work forward, communicate with one another, and more. Monday.com is known for its highly customizable interface and visually pleasing experience.
Features
Workload View: Monday.com provides a clear visual interface that allows you to plan, track, and manage your team's workload better.
Integrations: Supports a wide range of integrations such as Slack, Google Calendar, Gmail, Google Drive, Jira, GitHub, Trello, Dropbox, LinkedIn, and many more.
Automations: Monday.com has an extensive range of automation recipes that remove the need for manual work, such as status changes or moving items from one group to another.
Dashboard Views: Various dashboards provide visual overviews of projects using charts, timelines, and Kanban boards.
Team Collaboration: Monday.com offers a social-media-like experience which makes it easy to use for collaboration. Users can comment on tasks, mention colleagues, upload files, and create discussion threads.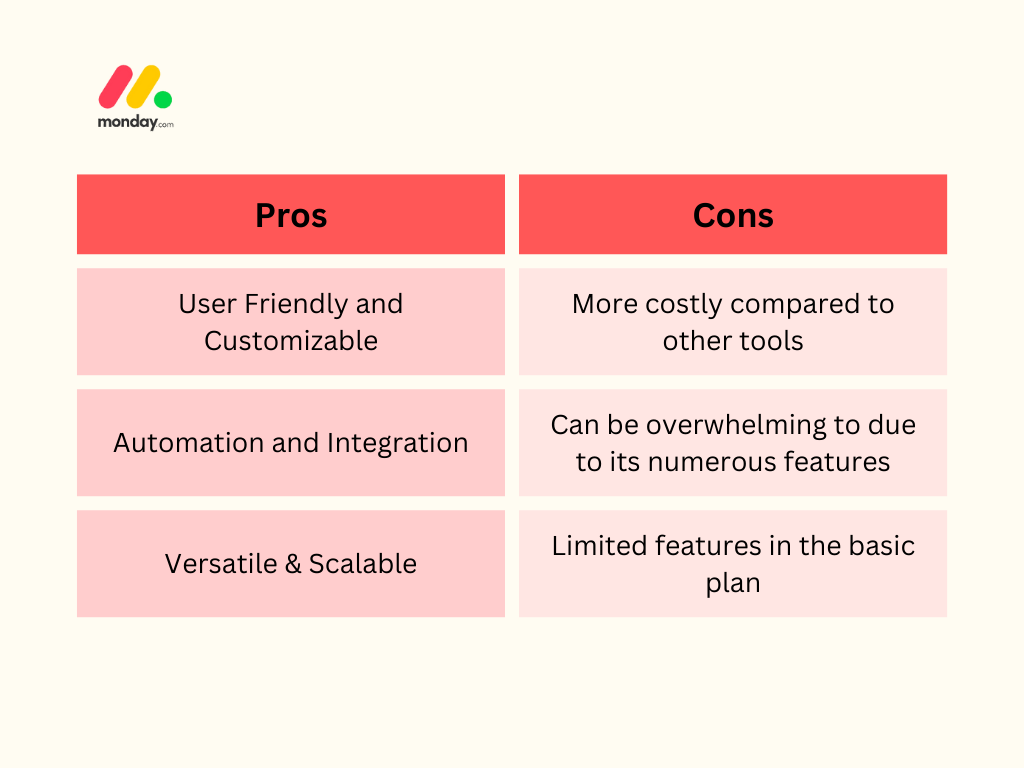 Conclusion
Choosing a project management tool is a critical business decision that depends on various factors – from the budget to the team size to specific functionality requirements.
Businesses must assess not only which tools offer them the most value but also which will effectively streamline processes and increase productivity.
By carefully analyzing the features, pros, and cons of each tool, you can make an informed decision to find the ideal project management platform for your needs.
Remember that most tools offer trial periods or free versions, so give them a try to see if they fit your workflow and work environment before committing to a paid plan.